Tuesday, June 29th, 2010
So much for hopes of an impartial inquiry, if the following is true. Are we to believe that three separate countries, if not more, were accidentally outsourcing torture to middle eastern gulags?
There were reports at the weekend, sourced to the Foreign Office, suggesting that the inquiry would examine only one case — that of Binyam Mohamed — and that Cameron had already concluded that the country's intelligence agencies were guilty only of errors of omission, not commission.
Related: UK: Fresh torture allegations raised over third British man held in Bangladesh | UK Torture claims investigation ordered by Foreign Secretary | UK Government cannot use secret evidence in Guantánamo torture case, court rules | Afghan torture allegations erupt in UK | UK: Government fury as judges attack MI5, security services | MI5 chief denies cover-up claims over detainees | UK Top judge: Binyam Mohamed case shows MI5 to be devious, dishonest and complicit in torture | Britain reveals details of Binyam Mohamed torture | UK: Rights watchdog reveals Pakistani spies pressed by British to torture detainees | UK: Move to withhold evidence in MI5/MI6 torture collusion claim | UK: New evidence in Binyam Mohamed torture case | UK: Secrets of CIA 'ghost flights' to be revealed | UK: CIA 'put pressure on Britain to cover up its use of torture' | Revealed — the secret torture evidence MI5 tried to suppress | Guantanamo's closure window dressing — overseas CIA 'black sites' to stay | 'If I didn't confess to 7/7 bombings MI5 officers would rape my wife,' claims torture victim | MI5 faces fresh torture allegations | UK: Government makes 'unprecedented' apology for covering up Binyam torture | Obama administration: Guantanamo detainees have 'no constitutional rights' | Tortured Guantanamo detainee set free | UK agents 'colluded with torture in Pakistan' | Obama backs Bush: No rights for Bagram prisoners | U.K. resident held at Gitmo alleges Canadian involvement in torture | Senior judges attack US over 'torture evidence suppression'
Patrick Wintour, Ian Cobain, The Guardian
June 29, 2010
Judge-led investigation would examine claims of British complicity in abuse and rendition of terrorism suspects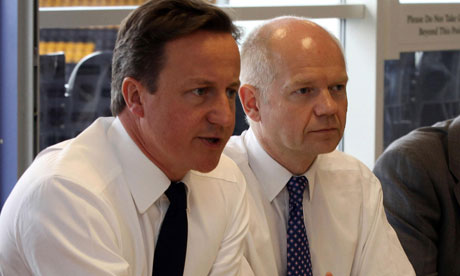 David Cameron and the foreign secretary, William Hague, are understood to have agreed the terms of a judge-led inquiry into claims that British security services were complicit in torture of terrorism suspects.
The inquiry is expected to offer compensation in cases, where necessary, and is likely to be held in private. A judge-led inquiry or commission may have the advantage of bringing together the 13 separate compensation cases currently going through the courts.
Those cases are leading to complex demands for the disclosure of documents that the intelligence services may not welcome, and are finding difficult to control. Some of the litigants have demanded an inquiry as part of their civil claims.
Cameron is understood to have discussed the issue in recent days with President Obama, but no decision is expected very shortly.
While some in Whitehall have said no inquiry can be held while so many alleged victims of torture and rendition are suing the government, most legal experts believe it is possible.