Tuesday, June 29th, 2010
Problem, reaction, solution: globalist bankers have been successful at blowing out the US dollar and the Euro and bringing them to the brink via massive wealth destruction through the sale of fraudulent derivative securities, the monetization of the resultant debt, and "stimulus" inflation. This artificial debt bubble is just about set to pop, and a new solution is being offered by the same people, in much the same way a crack dealer strings along his victims.Want a hit? The first one's free.
Related: RBS tells clients to prepare for 'monster' money-printing by the Federal Reserve | The scary euro? Maybe the most frightening monster is the greenback | Germany could cause euro collapse: Soros | Spain could test the euro to its limit | US money supply plunges at 1930s pace as Obama eyes fresh stimulus | Germany's Merkel Says Euro Is in Danger | Ron Paul: Euro Bailout Will Lead To Currency Collapse | Ontario launches U.S. bond | IMF chief proposes new reserve currency | Man who broke the Bank of England, George Soros, 'at centre of hedge funds plot to cash in on fall of the euro' | Collapse of the euro is 'inevitable': Bailing out the Greek economy futile, says French banking chief | Euro currency union shows strains | The Federal Reserve as Giant Counterfeiter | Current And Former IMF Heads Call For New Global Currency | George Soros Calls for World Currency and "New World Architecture" | U.S. dollar sags on global financial leaders' omission | G20 Meet To Finalize Dumping Of Dollar This Weekend? | Dollar Reaches Breaking Point as Central Banks Shift Reserves | Fisk: Nations to hasten demise of dollar in new world order | US dollar set to be eclipsed, World Bank president predicts | Bilderberg Wants Global Currency Now | Dollar to fall under scrutiny at G20 summit | UN wants new global currency to replace dollar | G20 agrees to continue economic stimulus measures; Geithner shops international reserve accord | China Set to Buy $50 Billion in IMF Notes | Medvedev Unveils "World Currency" Coin At G8 | China calls anew for super-sovereign currency | China explores buying $50bn in IMF bonds | Chinese economists deem huge holding of US bonds "risky" as Geithner visits| U.N. panel says world should ditch dollar | IMF may need to "print money", act as "world's central bank" as crisis spreads | Globalists Exploit Financial Meltdown In Move Towards One World Currency | World needs new Bretton Woods, says Brown
Gabriella Casanas, Mick B. Krever, CNN
June 29, 2010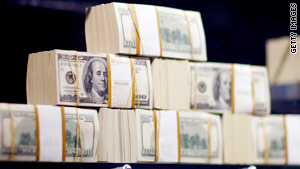 The dollar is an unreliable international currency and should be replaced by a more stable system, the United Nations Department of Economic and Social Affairs said in a report released Tuesday.
The use of the dollar for international trade came under increasing scrutiny when the U.S. economy fell into recession. "The dollar has proved not to be a stable store of value, which is a requisite for a stable reserve currency," the report said.
Many countries, in Asia in particular, have been building up massive dollar reserves. As a result, those countries' currencies have become undervalued, decreasing their ability to import goods from abroad.
The World Economic and Social Survey 2010 is supporting a proposal long advocated by the International Monetary Fund to create a standardized international system for liquidity transfer.
Under this proposed system, countries would no longer have to buy up foreign currencies, as China has long done with the U.S. dollar. Rather, they would accumulate the right to claim foreign currencies, or special drawing rights, or SDRs, rather than the currencies themselves.