It's an incredibly loose definition of 'anarchist' that allies itself with Communists carrying a big banner of Mao around. (Interested researchers should mine the Globe and Mail liveblog carried here over the course of the weekend – it was a Communist group that reportedly provided cover for the Bloc to begin its rampage by lighting a flare in the square) While clearly anarchism is not a monolithic movement, Wikipedia provides a reasonable thumbnail def'n for our purposes: "Anarchism is a political philosophy which considers the state undesirable, unnecessary and harmful, and instead promotes a stateless society, or anarchy. It seeks to diminish or even abolish authority in the conduct of human relations." A quick reading of the history makes it clear that Communism and Anarchism developed concurrently, but were opposed in many of their (confused) principles, with early proponents of both schools of thought exchanging barbs in their correspondence. Clearly, modern anarchism is in something of an identity crisis when it's understood simultaneously as anti-state, Communist, and vandal. While mainstream media coverage of these groups isn't helping to clarify things, modern 'anarchists' should also take a long, hard look at how their destruction discredits any good ideas their founders may have had in the past, shields potential police provocateurs in their midst (see: Montebello, etc), turns the public against them, creates media cover for the brutal repression of peaceful activists (witness the shamefully underreported crackdown in the Queens's Park 'free speech zone' in which people were trampled by horses and the snatch squad grabbed old women who didn't even know what the G20 was) and drives the culture into the arms of militarization and the statist globalists they claim to oppose.
(NB: While the net is clearly afire with both MIHOP (made it happen on purpose) and LIHOP (let it happen on purpose) speculation about the involvement of the G20 ISU in this riot, evidence thus far is obscured by a sort of fog of war, with Judy Rebick among countless others on the #g20report Twitter hashtag suggesting police left cars in the path of the Bloc to be burned on camera. Anarchist media sources suggest this is bullshit, as do the police, and in all fairness the video evidence here – provided by TheYorkLife -  suggests it was some random dumbass that set the car on fire. What do you think? No doubt there's more details waiting to come out in a week or two once the media has moved on.)
Related: G20 protesters clash with Vancouver police | 'Anarchists' leave trail of destruction, peaceful 3hr march forgotten | Black bloc taints anti-Olympic movement | Vancouver Olympics protesters fall silent as Black Bloc ruins it for everyone | Olympic protesters smash store windows | Provocateur Cops Caught Disguised As 'Anarchists' At Pittsburgh G20 | G20 police 'used undercover men to incite crowds' | G20 protests: Riot police, or rioting police? | Rioters Were Paid To Provoke the Police in Bulgaria | Greek Cops Caught on Video Posing as Anarchists | ACLU wants probe into police-staged DNC protest | Ex-Italian President: Provocateur Riots Then "Beat The Shit Out Of Protesters" | Massachusetts Police Get Black Uniforms to Instill Sense of 'Fear' | Police inspector posed as militant protester | Quebec police admit agents posed as protesters | Canadians who trust our secret police should think again | For more, see the G20 Coverage page feature
Jesse Mclean, Toronto Star
June 26, 2010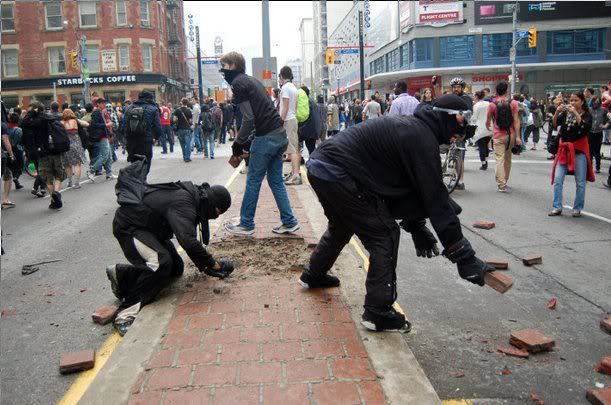 As suddenly as they burst onto the streets, they vanished into the crowd.
The men and women, clad in black clothes, their faces obscured with bandanas, ski goggles and gas masks, had spent the last hour storming through city streets, hurling rocks and debris through the windows of banks and big-chain stores.
They embraced the Black Bloc tactic, a popular sight at almost every international protest since the late 1990s: The crowd, dressed in their black uniforms, moves as a blob, its members indistinguishable from one another. One will run from the pack and lob a rock through a window, before disappearing back into the mob.
On Saturday, as the riot police shuffled closer to the intersection at College and University Aves.– shields up, gas masks on, guns raised – they disappeared again.
Dozens huddled on a patch of grass outside Queen's Park. Protected by their peers, the ones in the middle changed into their street clothes. Within minutes, all that was left was a pile of black garments.
"Don't take a f–king picture of me," said one man, now wearing a brown T-shirt, as he walked away.
As they dispersed through the crowd, onlookers were left wondering: Who are these aggressive protesters?
Many in the black uniforms are self-proclaimed anarchists; some who are members of the Southern Ontario Anarchist Resistance, a group the police say they have been watching for a year.
While Saturday marked their first rampage, many members of the Black Bloc have been attending the more peaceful protests throughout the week, unmasked and limiting their tactics to non-violent actions. Some performed anti-G20 raps; others held banners.
They bided their time and plotted their strategy.
Car loads of protesters arrived from Quebec for the weekend to join the Bloc, members said.
Expressed through an assortment of chants, the group's causes are many: They're anti-capitalist, anti-police, anti-colonial. While the labour members marched to have their voices heard, the anarchists are resolute that world leaders aren't listening and don't care.
Any change has to come at their own hands.
For the most part, their targets are specific and symbolic: As the crowd tore across Queen St., they hammered police cruisers, attacked banks and other corporate companies. Yet they left a record store, a local tavern and an independent hardware shop untouched.
"This isn't violence. This is vandalism against violent corporations. We did not hurt anybody. They (the corporations) are the ones hurting people," one man said.
Others pelted the Zanzibar strip bar with manikin limbs they had snatched from a nearby clothing store.
"This is all part of the sexist, male-dominated war machine we live in," explained one member.
Factions within that group, however, appeared to just relish the mayhem. As the protest marched up Yonge St., they became more indiscriminate in what they damaged.
Two young activists sprinted onto Yonge-Dundas Square and battered the tourist information booth, sparking jeers from some crowd members.
On College St, a pack of masked protesters began to vandalize an empty BMW 4X4. A civilian car, albeit it an expensive civilian car.
"Stop it. They're not our enemies," one protester shouted.
The other retorted: "Yuppies are our enemy."
While the end result seems chaotic, the Bloc is intricately organized. It's made up of smaller groups of 10 or so activists, keeping head counts and decision-making quick and easy. Directions are passed through the mob with codes – on Saturday, "umbrella" was a call to move to the frontline.
And they seize opportunities quickly. After two failed attempts to breach the walls of riot police, the black-clad protesters congregated in the Queen St. and Spadina Ave. intersection. A Communist group set off a flare, distracting the crowd and police alike – and the mob took off across Queen.
One anarchist who identified himself as Roy defended the Black Bloc, saying the tactic makes a division among protesters in the eyes of the police, inherently protecting the "good protesters."
"Because they're there, others are safe. Right from the front (of the march) they were pointing guns at us just walking down the street," he said.
But their presence was criticized by other protesters, who said the destruction was simply justifying the millions of dollars spent on summit security.
"Violence just brings more violence," a woman said into a megaphone as an anarchist set fire to a police cruiser. "What you guys are doing, it's breaking my heart."
Source | Alternate Coverage 1 2 3 | See also under Protest: G20 protesters clash with Vancouver police | 'Anarchists' leave trail of destruction, peaceful 3hr march forgotten | Naomi Klein and 500 marchers crash party at tent city | Protesters flood the streets on first day of Toronto G20 summit | Mass sit-in in Egypt over police killing | Huntsville G8: Military, locked down security, few protesters | Canada flunks on indigenous rights: G20 native protesters | Greek anti-austerity strikes hit tourists | Marcus Gee: Why the G20 protesters won't condemn violence | Hospitals, medics prepare for G20 injuries and tear gas | Peaceful protests continue in Toronto as G20 nears | Iran to send ship through Gaza blockade | Experts Draft Document Critical Of ACTA: Signatures Wanted | Anti-poverty activists occupy ESSO station during Monday G20 protest — for ten minutes | Toronto activists launch G20 alternative media centre | Police add water cannon to G20 arsenal | Ban G20 summit agents provocateurs: activist groups to PM | Oxfam astroturf march leads early G20 protest for bank tax | Russian police seize 100,000 anti-Vladimir Putin books | Activists plan walkout and tent city to protest G8/G20 summits | G20 centre for protesters set to open | Police use teargas on disgruntled World Cup workers | London G20: Jury acquits protester accused of being ringleader in clashes | G20 activists accuse CSIS of intimidation | G20 protesters say they won't be intimidated by police | Egypt says Gaza blockade has failed, border crossing opened in wake of aid flotilla assault to stay | Canadian protesters condemn Israeli raids on aid flotillas | Autopsy: Gaza flotilla activists were shot in head at close range | Bilderberg 2010: Why the protesters are your very best friends | Underground economy emerges in Ontario in response to HST | Gaza flotilla activists unarmed: Canadian | Toronto police show off G20 summit security | Prospective G20 prison camp medics told patients may be faking | Protests in Middle East, Europe, follow deadly Israeli attack on flotilla as UN convenes emergency session | Russian police crush anti-government protests | Israeli troops attack ship carrying aid to Gaza killing 16 | B.C. anti-HST petition hits target weeks ahead of schedule | Toronto police buy four 'sound cannons' for G20 | The Toronto G20 Police State Crackdown | Couchiching First Nation's highway 'toll booth' peaceful: OPP | Toronto banks review G20 security after Ottawa RBC fire | RBC firebombed as protest, group claims | Anarchists plan 'militant' protests at Toronto G20 | Anti-HST petition nears goal in B.C. | HST rage puts B.C. Liberals in a spot | Bid To 'Storm' Irish Parliament During Bailout Protest Foiled | Toronto labour, native protesters ready for G20 demonstrations | Toronto G20 protest area moved to Queens Park | Greece erupts as men from IMF prepare to wield axe | All Toronto G20 protests will be directed to Trinity Bellwoods Park | Halifax G8 protester charged with assault | Protesters and police get ready to square off at G20 summit | Masks off at G8 protest: rally leader | Grassroots summit calls for international climate court | First Nations protest against HST | Greek civil servants strike, challenge EU/IMF talks | BC Govt, Anti-HST Campaigners Dispute Legality of Pro-HST Leaflet | Up to 50,000 protest Charest's tax hikes | HST fight makes allies of B.C. political foes | Toronto braces for G20 logistics crunch | 'Anarchists' Plan to Disrupt April 15 US Tea Party Protests | Thousands protest Quebec budget | Montreal police accused of protest sabotage | 100 arrested at anti police brutality march in Montreal | Former premier Bill Vander Zalm rallies against the HST in BC | General strike cripples Greece as protesters clash with police | EU Parliament votes down ACTA global copyright resolution by overwhelming margin | Athens erupts as Greek austerity plan passes | Anti-prorogation group becomes pro-participation | Downtown Toronto to become a fortress for G20 summit | Black bloc taints anti-Olympic movement | China insider sees revolution brewing | Greek workers stage general strike | Feared police crackdown absent during Games | Toronto braces for G20 disruption, Ottawa to pick up security tab | Vancouver Olympics protesters fall silent as Black Bloc ruins it for everyone | Ivory Coast protesters killed | Convention centre confirmed as location for Toronto G20 summit | Police lines block overwhelmingly peaceful Olympic protest march on BC Place Stadium | Protesters in Vancouver slum force Olympic torch off-course | Clashes reported as Iranians march on 31st anniversary of revolution | Greek workers 'give their reply' to proposed austerity plan with national strike | Activists Shut Down Australian Government Websites in Internet Filter Protest | Protesters target final leg of Vancouver Olympic torch run | Domestic threats biggest Olympic security concern: expert | Kremlin shocked as Kaliningrad stages huge anti-government protest | Pie tossing is terrorism, MP says. Seriously. | Thousands of Canadians protest shuttering of Parliament | Anti-prorogation protest dogs PM | War resister released from U.S. prison | UK: Anti-terror stop and search policy ruled illegal by European human rights court | German 'Fleshmob' Protests Airport Scanners | For more see The Memory Hole — Protest