Okay, fair enough Mr. Strong. Let's have a look at that fine, nuanced, sophicticated distinction between government and governance that we plebes can't possibly grasp. Just for you. From the Merriam-Webster online:
gov·er·nance (n.) \ˈgÉ™-vÉ™r-nÉ™n(t)s\
See government
Perhaps, next, we should look up doublespeak. Or doublethink, for those who buy his line. Who's he kidding? The EU was sold as being merely a system of economic cooperation as well. While the UN and international relations wonks use the term 'governance' in a wider context to apply to "corporate governance, international governance, national governance and local governance", there is no real daylight between the two, unless the intention is to imply states are to be run as corporations. Which, on further reflection, is probably not too far from the truth. Nice try smearing everyone who disagrees with you as 'right wing', though. Tell us another story, Mr. Strong.
Related: Canada commits $400M to climate change fund | Britain pushes for new climate talks; IMF and global taxes to figure into wealth redistribution scheme | IMF chief calls for quota-based global warming slush fund | EU considers general carbon tax | Leaked UN Documents Reveal Plan For "Green World Order" By 2012 | Davos: Global climate fund threatens aid to developing world, campaigner warns | Davos 2010: George Soros warns gold is now the 'ultimate bubble', calls for IMF to handle climate fund | Copenhagen Accord Establishes Global Government Framework | Canada part of Copenhagen climate deal | Final Copenhagen Text Includes Global Transaction Tax | World leaders push for climate deal | UN Chief: We Will Impose Global Governance | Copenhagen climate summit releases draft final text | IMF could fund climate adaptation: Soros | Copenhagen climate summit in disarray after 'Danish text' leak | Bombshell UN Climate Documents Reveal Planned "End Run" Around National Sovereignty | Canada agrees to contribute to $10-billion climate change fund | UK: Brown proposes global fund to kick-start Copenhagen climate change process | Leaked G20 Documents Shed Light on Global Carbon Tax | Everyone in Britain could be given a personal 'carbon allowance' | Czech President: Copenhagen to be 'Largest tax increase in world history' | Friends of the Earth attacks carbon trading as banker scam | Oil Companies Support Global Warming Alarmists, Not Skeptics | Al Gore's Inconvenient Truth sequel stresses spiritual argument on climate, downgrades CO2 threat | EU agrees to pay developing countries 'climate aid' to pass Copenhagen | Copenhagen's Plans for a New 'Government' are Scary | Copenhagen, carbon, and the global corporate agenda | Lord Nicholas Stern: The world's future is being decided this weekend | Thatcher science adviser: Copenhagen goal is world government | German Scientists Call for 'World Climate Bank' | G8 Summit: Rich nations to pay green tab | US Congress Passes the 1,200-page Climate Bill that it was not allowed to read | Climate Cops To Fine "Wasteful" Homeowners & Businesses | Obama targets US public with call for climate action | Obama to stake reputation on fast-tracked climate bill | The great carbon credit con: Why are we paying the Third World to poison its environment? | Ontario unveils cap-and-trade legislation | Economic stabilization may rely on carbon economy, economist says | Climate panel presses for federal cap-and-trade system | NRTEE Carbon Market Panel is 'Round Table on Socialist Planning' | Obama, Gore, tied to Chicago carbon exchange | U.N. 'Climate Change' Plan Would Likely Shift Trillions to Form New World Economy | U.N. Environment Head Wants Global Warming Tax | Time to emulate Roosevelt's New Deal and create green jobs | EU calls for global carbon trading system to fight climate change
Leo Hickman, The Guardian
June 23, 2010
What I do want, says the man self-labelled 'the planet's leading environmentalist', is for nations to co-operate fully on issues they cannot deal with alone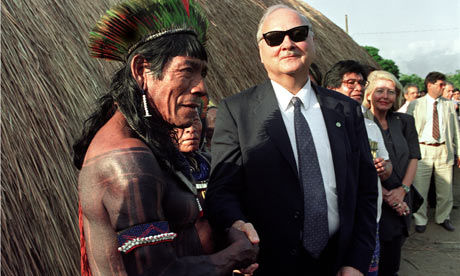 Maurice Strong, the founding executive director of the United Nations Environment Programme and self-proclaimed "world's leading environmentalist", has hit back at his critics in a rare interview with the Guardian.
Responding to internet speculation and repeated attacks by prominent rightwing climate sceptics that he is using the climate change issue to establish a global government, the 81-year-old Canadian, who organised both the Stockholm Conference on the Human Environment in 1972 and the Rio Earth Summit in 1992, said his only motivation was to alert the world that mankind's current actions are environmentally unsustainable.
"I've always made it clear that I do not believe that global government is either necessary or feasible," said Strong, who was a key official at the UN for decades until his retirement in 2005.
"What I do believe is that we need a system of global governance through which nations can co-operate and deal with issues they cannot deal with alone. Maybe that statement is too sophisticated for some, but it shouldn't be."
Last month, Glenn Beck, the conservative Fox News host and popular US talk radio presenter, portrayed Strong as a malevolent figure using his UN contacts to bring about the "collapse" of the world's "industrialised civilisations".
Beck said: "[Strong is] involved in collapsing the global economies into the hands of a global government."
Last year, Lord Monckton, the prominent climate sceptic who recently became the deputy leader of the UK Independence Party, accused Strong during a US TV programme of being a central figure in a "collusion" between UN officials, business leaders and scientists to use climate change as a device to make money.
Strong, a former oil and utilities industry executive who is currently a director of the Chicago Climate Exchange, North America's only exchange trading credits for greenhouse gas emissions, rejected the accusation.
"It's true that I do get a modest fee from Chicago Climate Exchange, which I helped [to found], because I believe the cap-and-trade system, while not perfect, is one of the best ways to ensure that people have the incentive to reduce their emissions at the lowest cost," he said.
"That's a long way from suggesting that I could invent the climate change issue to make profit.
"I have business interests, but they are pretty modest and I believe that business has to contribute to the solutions. To do that, they have to be profitable."
Strong also rejected internet speculation by conspiracy theorists that he is a member of clandestine groups, such as the Bilderberg Group and the Illuminati. "I have got lots of connections, but they're not amongst them," he said.
On the issue of whether humanity can tackle the environmental challenges he believes it now faces, Strong was downbeat.
"Analytically, I'm pessimistic," he said. "I believe the odds are against us for making the changes we need to make in time.
"But, operationally, I'm optimistic because I believe that it is still possible. [It becomes] tougher the longer we delay it.
"That's why I'm trying all these things because I believe we should still be trying as long as it is still possible. My pessimism is based on whether I think we will actually make these changes …
"The combination of population growth and the growth in consumption is a danger that we are not prepared for and something we will need global co-operation on."
Source | See also under Globalization: Canada commits $400M to climate change fund | G20 Bank tax push gains momentum as UK, France, Germany introduce national legislation | Gold reclaims its currency status as the global system unravels | How will democracy fare under the G20's new world order? | Blame Canada: How Paul Martin, Larry Summers sketched out G20 new world order | Oxfam astroturf march leads early G20 protest for bank tax | EU to push for global bank tax at G20 | U.S. seeks international organization in battle against cyber terror | Huntsville G8 will host 10 more countries, says PM | Bilderberg 2010: What we have learned | NGOs meet with G20 sherpas, press for 'green economy' and inclusive IMF | Tucker Bilderberg 2010 Wrapup: Attack on Iran discussed, World Treasury Dept delayed | Bilderberg 2010: Don't call it a pow-wow! | G20 agenda named as "global government" by thinktank, Toronto summit set to sit on hands | Former Nato Secretary-General Admits Bilderberg Sets Global Policy | G20 leaders signal move from aid to business, call for increase to central bank budgets | Bilderberg Agenda Revealed: Globalists In Crisis, Supportive Of Attack On Iran | G20 to delay tough bank tax regulations | Geithner speaketh on the globalization of risk as G20 meets in Seoul | PM takes pre-summit pitch to Europe | G20 now singing different regulatory tunes | The Toronto G20 Police State Crackdown | European Council On Foreign Relations: EU Needs To Use Crisis For Greater Power | Dublin Trilateral attendees let slip need for world govt, war with Iran, Bilderberg oversight | European Powerbrokers Present Proposal For New Economic And Political Order | Toronto G20 should address climate issues: Nicholas Stern, UN | International Copyright Draft Release Was Apparently A One Time Deal: Now We're Back To Secrecy | Lewenza: Canada-EU deal will affect more than trade | Western Central Banks back Trillion Dollar European rescue plan, ECB to manage markets | MPs divided on Canada-Colombia trade agreement | Canada, EU at loggerheads over bank tax | Report: U.S. attempting global censorship of GMO food labeling at CODEX Conference | Greek rescue fears hit global stock markets | Cybersecurity event seeks to spur international talks | Greece erupts as men from IMF prepare to wield axe | European Central Bank chief: Bank of International Settlements to Rule the Global Economy | Greece's near bankruptcy won't scuttle Canada-EU trade talks: minister | Harper calls for global economic governance, lauds G20 as ruling forum | Truth and Reconciliation Commission seeks global forum on abuse of native peoples | Big stakes in Canada-Europe trade talks, but little attention | US prepares to push for global capital rules | World Bank gets $3.5-billion boost, revamps voting structure to make China number 3 | Greek bailout not limited to €45bn, Flaherty warns | Flaherty wins delay in decision on global bank tax at interim G20 meeting | IMF to move quickly on Greek request for loan | Global bank tax urged by IMF | Abdelrazik's bank assets frozen | University of Toronto, Peter Munk to reveal new School of Global Affairs | Oil sands deal gives China crucial voting bloc in bitumen export issue | Thousands condemn secrecy of New Zealand round of internet copyright talks | Nuclear summit urges anti-terror treaty | Terence Corcoran: The rise of global statism | Confidential document reveals Obama's hardline US climate talk strategy | Tucker: Bilderberg To Meet in Spain, Prolong Global Financial Recession For Another Year | Climate talks reopen at Bonn summit | J.P. Morgan rolls into Calgary | Toronto braces for G20 logistics crunch | Hundreds of Toronto G20 delegates granted diplomatic immunity | Britain pushes for new climate talks; IMF and global taxes to figure into wealth redistribution scheme | Clinton's Arctic comments cheer Inuit | Interpol heads to World Cup in record numbers | Lovelock Calls For End to Democracy as Humans 'Too Stupid' to Prevent Climate Change | EU 'Free Trade' and CETA: Advancing the Transatlantic Agenda | CETA worse than ACTA — EU Trade Negotiators Demand Canada Completely Overhaul Its Intellectual Property Laws | IMF struggles to conceal glee at Greek deal | Canadians to get biometric, RFID enabled passports in 2011, security experts voice concerns | Toronto G20 summit security to be 'massive' | Revealed: ACTA to cover seven categories of intellectual property | New ACTA Leaks Complete Picture of Oppressive Global Copyright Treaty | Banking reforms urgent, Harper says at G20 sherpas' meeting | RCMP needs 5,500 rooms during G20 summit | G20 'sherpas' meet with IMF, World Bank on Ottawa | Pacific North American Regional Integration and Control | MEPs vote overwhelmingly for an EU Tobin Tax | 'Doomsday' seed bank growing strongly | IMF chief calls for quota-based global warming slush fund | Frustrated Icelanders vent rage by voting no in referendum | EU considers general carbon tax | Downtown Toronto to become a fortress for G20 summit | IMF chief proposes new reserve currency | Man who broke the Bank of England, George Soros, 'at centre of hedge funds plot to cash in on fall of the euro' | Leaked UN Documents Reveal Plan For "Green World Order" By 2012 | EU executive recommends fast-track membership for Iceland | G8/G20: Gearing up for the biggest security event in Canadian history | Inuit group blasts Cannon over summit | Precedent setting meeting called as Canada's premiers attend Governors Association in Washington DC | Global security to top agenda of G8 foreign ministers | Euro currency union shows strains | G20 security could strangle downtown | Gordon Brown's plan for global bank tax 'a step closer' | EU leaders reach secret Greek bailout deal | Indigenous groups left out of Arctic leaders' summit | G20's Metro Convention Centre location to bump baseball, pride activities | ACTA Is Called An 'Executive Agreement' To Implement Restrictive Copyright With Less Hassle Than A Treaty | A New Generation of ' North American' Citizens | Hollywood loses landmark copyright case in Australia | EU cautions Greece about its deficit | Global Bank Insurance Levy Wins Support over Transaction Tax at Davos | No solution in dispute over Iceland deposits | Harper urges G20 to follow economic accords | Canadian scientist says UN's global warming panel 'crossing the line' | UN drops deadline for countries to state climate change targets | EU urged to adopt bank supertax | Flaherty to use February G7 in Iqaluit (or Ottawa?) to push for global changes to financial system | Iceland says IMF aid likely delayed | The next big scam: Fraud endemic to carbon market | Reading Between The Still Secret Lines Of The ACTA Negotiations | Sarkozy says world currency disorder unacceptable | Iceland blocks central bank debt repayment deal | For more see The Memory Hole — Globalization