Like a piston in its downwards cycle, the intergenerational wealth pump turns again – get ready for your pocket to be picked now in the name of your own salvation. If what you want to do is benevolently unwind government services and encourage the growth of a thriving private sector that meets people's needs without the use of state coercion funded by massive taxation – an outcome that's desirable from a libertarian perspective – you do not start by first looting the public treasury, slashing the public sector to the bone, and handing public services and infrastructure over to cronies, corrupt banks, and public-private 'partnerships' in a sort of free-for-all fire sale. But this, unfortunately, is the approach to 'austerity' that you can likely expect to see in the coming years. So-called conservative governments are notorious for replacing the welfare state with corporate welfare, which if anything is worse.
But global economies have now painted themselves into a corner, and Merkel's approach is to be favoured over Krugman's. But only just barely. The moral thing to do would be to default on the public debts held by central banks, created as they were by fraudulent derivative securities in the Keynesian casino system. When the house has got the game rigged and they own all the chips, the only thing you can do is scotch the entire system and decentralize currency trading. Perhaps it could be done in a graduated series of steps. This, of course, would introduce a different kind of austerity as the virtual bubbles of Keynesian monetary policy deflated to a steady state. But at least it wouldn't result in people being chained by debt and increased taxes in perpetuity to the financial system that created the problem in the first place. Further collapse and the attendant social upheaval are coming anyways, so we may as well get it over with in a way we can rebuild from as free peoples and free nations. Delaying the inevitable will only make it worse.
Related: Soros Sees 'Act II' of Financial Crisis, Blames 'Market Fundamentalism' Again | Double-dip recession 'practically inevitable': UBS | European markets decline for 3rd day | Eurozone plan for common bond issue to head off debt crisis | EU plans to create watchdog to curb credit rating agencies | Germany bans naked short-selling | European debt fears batter TSX | Greece links U.S. banks to debt crisis | European Council On Foreign Relations: EU Needs To Use Crisis For Greater Power | Sarkozy threatened to quit euro in showdown with Germany: Report | Hedge funds vote threatens EU-US rift | Global markets slide on debt fears | Loonie, TSX slip on euro woes | European Powerbrokers Present Proposal For New Economic And Political Order | Europe and America Morally and Financially Bankrupt | EU wants member countries to co-ordinate budgets | EU deal euphoria fizzles out | Ron Paul: Euro Bailout Will Lead To Currency Collapse | 'Shock and awe' euro rescue lifts global markets | Western Central Banks back Trillion Dollar European rescue plan, ECB to manage markets | Euro zone to regulate hedge funds, vows to fend off 'wolf pack' traders at all costs | Euro crisis goes global as leaders fail to stop the rot | Debt crisis: Panic on Wall Street, stonewalling in Europe | Greek rescue fears hit global stock markets | Greece swallows tough medicine in $150B bailout, more spending cuts announced | Greece erupts as men from IMF prepare to wield axe | Greece's near bankruptcy won't scuttle Canada-EU trade talks: minister | New austerity measures essential, says Greek PM | European Central Bank chief: Bank of International Settlements to Rule the Global Economy | Greek debt crisis: Europe feels shockwaves as bailout falters | Standard & Poor's downgrade Greek credit rating to junk status | Greek bailout not limited to €45bn, Flaherty warns | IMF to move quickly on Greek request for loan | Greek PM calls for EU bailout loans | Greek civil servants strike, challenge EU/IMF talks | Soros warns Europe of disintegration | Investors rush to sell Greek bonds | IMF struggles to conceal glee at Greek deal | Greece secures joint IMF/Eurozone bailout program | Greek PM threatens to go to IMF if no EU bailout | General strike cripples Greece as protesters clash with police | Athens erupts as Greek austerity plan passes | Greece unveils radical austerity package | Athen's coffers to run dry in two weeks, more cracks appear in Eurozone | Man who broke the Bank of England, George Soros, 'at centre of hedge funds plot to cash in on fall of the euro' | Goldman role in Greek crisis probed | Greek workers stage general strike | How EU Countries Cooked Books Using Derivatives | Goldman Sachs Helped Greece Obscure Debt Through Currency Swaps | Collapse of the euro is 'inevitable': Bailing out the Greek economy futile, says French banking chief | Euro currency union shows strains | Stimulating our way into debt crises | EU leaders reach secret Greek bailout deal | Will Greece set off 'global debt bomb'? | EU cautions Greece about its deficit | Could Greece drag down Europe? | 'Significant chance' of second financial crisis, warns World Economic Forum | A world awash in debt | Secret report details Nazi plan to create a European Union | Leaked 1955 Bilderberg Docs Outline Plan For Single European Currency | Leaked Agenda: Bilderberg Group Plans Economic Depression | Bilderberg chairman: 'Bilderberg helped create the Euro' | Bilderberg Seeks Bank Centralization Agenda
Toby Helm, Ian Traynor, Paul Harris, The Observer
June 13, 2010
Eurozone finance ministers were still committed to spending their way to recovery only a few months ago. Then came the Greek debt crisis, which threatened to engulf the continent. Despite warnings from the US, Britain and its EU neighbours are braced for unprecedented public sector cuts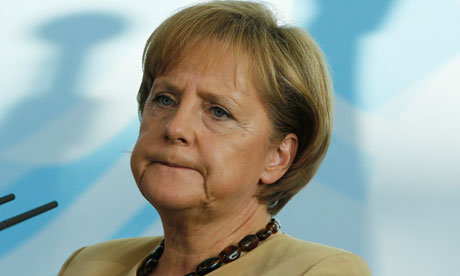 When Angela Merkel talks about budget cuts these days she likes to invoke the "Swabian housewife" — Germany's equivalent of the parsimonious Scot. In that part of south-west Germany they have a reputation for scrimping and saving. Famously, Swabia's cooks make hearty soups out of all the leftovers in the kitchen. To the German chancellor they are the embodiments of good housekeeping.
"You can't keep living beyond your means," says Merkel. "One should simply ask the Swabian housewife."
By extolling the virtues of old-fashioned thrift, Merkel hoped last week to go some way towards explaining to ordinary Germans why they must suddenly swallow the most painful austerity pill administered by their government in generations. Last Monday, with some trepidation, she announced massive cuts of ¤11.2bn in 2011 and plans for a total of ¤80bn by 2014. Yesterday, in Stuttgart and elsewhere, the inevitable protests began on the streets.
Even for a country painfully aware, because of its history, of the danger of debt, the extent of corrective action came as a shock. "Germany has never agreed to an austerity package to this extent, but these cuts have to be made in order for the country to establish a stable economic future," Merkel said.
Across Europe other governments, scared by the Greek debt crisis, the repercussions of which imperil the very existence of the euro, have been doing the same, raising the spectre of mass layoffs in public services in the name of European unity.
On Monday, David Cameron said the state of the public finances was far worse than he had expected as he prepared Britain for the worst. "The decisions we make will affect every single person in our country. And the effects of those decisions will stay with us for years, perhaps decades, to come."
Elsewhere, Italy has approved austerity measures worth ¤24bn over the next three years. There will be public sector pay freezes and salary cuts of up to 10% for the highest earners.
Spain has ordered cuts of ¤15bn this year and next to reduce its deficit by more than 4%. Crowds gathered outside Madrid's economics ministry calling for the prime minister's head. "Zapatero resign!" they shouted. Spain's biggest unions have threatened a general strike. The axe is falling, too, in Hungary, Portugal, Ireland and in Greece, where the government has been bailed out by Brussels and the IMF.
In total, EU governments have announced public spending cuts of around ¤200bn, as well as patching together a mammoth ¤500bn safety blanket for the euro.
"We're entering a long period of economic stagnation," said Guy Verhofstadt, the former Belgian prime minister who leads the Liberal caucus in the European parliament. "That will be the main problem for years. Europe is the new Japan."
To an extent it is the speed and suddenness of change in their governments' approach, as well as the effects on their pockets and job security, that has most worried Europeans.
Just a few months ago, before they had fully digested the implications of the Greek crisis, Europe's G20 nations remained, for the most part, wedded to Keynesian stimuli (maintaining government spending) as the way to nurture their economies back to growth. Olli Rehn, the European commissioner for economic and monetary affairs, admitted last Monday, at a meeting of EU finance ministers in Luxembourg, that the turnaround had been very abrupt.
"One can feel the change of tone in the G20 from fiscal stimulus to fiscal exit, and our policies are an example of this," he said.
In this country, also, political leaders have changed tack with extraordinary speed as Gordon Brown has ceded control of policy to the Cameron-Clegg coalition. Before the election on 6 May, Brown regularly taunted Cameron, saying he was the only politician in Europe calling for cuts at this stage of the economic cycle. At his spring conference in March, Nick Clegg declared: "We think that merrily slashing now is an act of economic masochism. If anyone had to rely on our support, and we were involved in government, of course we would say no."
Now, citing Greece as the reason why everything has changed, Clegg is fully signed up to the Tory-Lib Dem coalition's initial £6.2bn of cuts for this year and embryonic plans for far worse to come. On Monday, when Cameron warned that the economy was in a far worse state than he had imagined, he felt able to say that he was now part of the international economic mainstream. "Almost every major country in the world is focusing on the need to cut their deficits," the prime minister said.
But to suggest there is international consensus is way wide of the mark. Across the Atlantic there is, in some quarters, dismay that EU governments are now taking action in direct contradiction to the approach that the G20 settled upon at the height of the global economic crisis.
Last week the message from the US Treasury department was clear: too much austerity, too fast, could damage the word's fragile economic recovery. Treasury officials circulated comments made by the US treasury secretary, Timothy Geithner, at last weekend's G20 meeting. Geithner had made clear that the US did not want to see big European countries, such as Germany, slashing spending too much lest it damage domestic demand. "The core nations of Europe, the strongest, richest countries in Europe, [should] keep active to help support recovery," Geithner said.
His language was couched in the soft tones of diplomacy. But it was backed up by a chorus of approval from economists and newspaper columnists. From the left and right, leading voices echoed American officials' concerns that Europe's sudden conversion to fiscal austerity would hurt the American economy and strangle Europe's own faltering steps to recovery by killing off global demand for products.
"The wrong message on deficits", thundered an editorial in the New York Times. The piece went on to point out: "The sudden fierce enthusiasm for fiscal austerity, especially among stronger economies, is likely to backfire, condemning Europe to years of stagnation or worse." The New York Times top columnist, Paul Krugman, who has won a Nobel prize for economics, took the same line. He has been a trenchant critic of a rush to austerity, believing that only government stimulus to boost consumer demand will pull the American — and global — economies out of the mire.
Krugman took to his blog to ram home the point. "The right thing, overwhelmingly, is to do things that will reduce spending and/or raise revenue after the economy has recovered — specifically, wait until after the economy is strong enough that monetary policy can offset the contractionary effects of fiscal austerity. But no: the deficit hawks want their cuts while unemployment rates are still at near-record highs… not because the markets are currently demanding it, not because it will make any noticeable difference to their long-run fiscal prospects, but because we think that the markets might demand it (even though they shouldn't) some time in the future. Utter folly posing as wisdom. Incredible."
Even on the American right, there is broad sympathy for Geithner's suspicion of austerity and backing for the Obama administration's desire not to follow Europe's lead. "I have sympathy for Geithner. It just seems to make no sense at all in having all countries engage in severe budget tightening at the same time when the recovery we are having is anaemic," said Desmond Lachman, a scholar at a conservative Washington think tank, the American Enterprise Institute. "For Germany to be engaged in attempting to balance its budget right now just seems nuts," Lachman added.
In this country, too, as Cameron and his chancellor, George Osborne, prepare to announce more details of cuts in next week's emergency budget, there is real concern among economists as to whether the Con-Lib coalition has chosen the right course. The eminent Financial Times columnist Martin Wolf has questioned the wisdom of the strategy in recent articles, asking whether the government has a plan to sustain demand, as well as impose painful cuts. On Friday he published an open letter to Osborne.
"I have been fascinated — if appalled — by the pre-Keynesian approach you and the prime minister have taken to the UK's fiscal challenges," he wrote. "What Keynes called 'the Treasury view' that fiscal policy has no effect on activity, even in a deep recession, is alive and well in Downing Street." Wolf ended by saying: "So remember this: the imposition of futile misery is not an act of wise policy, but rather a sign of folly."
Former chancellor Alistair Darling, in a Guardian interview, said yesterday he also was worried that "fiscal conservatism" had taken hold in Europe. His concern was that, because the euro is not backed by full political and economic union, the effect of German fiscal retrenchment will inevitably be to worsen the plight of poorer euro members by reducing demand, rather than curing the problem.
From the US perspective, Lachman says the key is to boost the recovery in the short term with targeted stimulus spending and in the medium term make a commitment to fiscal stability and more balanced budget. "It is basically a balancing act between the medium term and the short term. We have to come up with something to address the issue of restoring medium-term fiscal stability. But if all of Europe embraces austerity now, we could really see Europe having a major recession again," he said.
However, he doubted that Europe would listen. The dynamics of domestic policy, and the need to keep the European Union and the euro together, would dictate policy, not suggestions from the US Treasury. "They just seem to disregard the US position," Lachman said.
Within the EU, austerity is being sold to the people as the only way to preserve Europe's prized "social model" — the systems of decent welfare, adequate pensions, early retirement, universal health and education and long holidays that most Europeans take for granted.
"Our structural growth rate is not high enough to create jobs and sustain our social model," warns Herman Van Rompuy, the EU president, at every available opportunity.
But even within the EU, debate rages over how, precisely, to react to a crisis that besets it in a eurozone lacking political and fiscal union — in short, how to keep the European idea alive.
Berlin is currently seeking to enshrine budgetary rigour across the EU. The Germans have amended their constitution to compel balanced budgets by 2016. Although the German deficit is far from out of control, relative to many of its neighbours, Berlin sees it as its duty to take the lead for Europe's sake.
But the French are bridling at the German hectoring and were furious at last week's austerity announcements from Berlin. "Dangerous because it risks killing growth," said Patrick Devedjian, President Sarkozy's minister in charge of responding to the crisis. "If we add austerity to austerity, we are going into recession," Sarkozy told his aides, according to Le Figaro.
At odds over the fundamentals of economic reform in Europe, Merkel and Sarkozy had to cancel a Berlin summit last week. They meet tomorrow to try to patch things up ahead of a European summit in Brussels on Thursday that will be dominated by the euro, budget cuts, and a leaner, meaner regime of European "economic governance". Germany, said Dominique de Villepin, the former French prime minister and bitter foe of Sarkozy, "has lost faith in France".
This week Cameron will attend the European summit, his first as prime minister. The issue of "economic governance", how to rein in borrowing and cut deficits, will be awkward for someone who opposed the euro all along. The US will be watching carefully.
Cameron may claim, as he did on Monday, that "almost every country in the world" agrees with his view that austerity is the answer to current woes. He can suggest, if he likes, that austerity is a "no-brainer".
But across the world a growing number of experts would beg to differ.
Source | See also under Economics: First Nations: The Ontario no G20 or G8 leader will see | Japan warns of Greece-like debt crisis | Soros Sees 'Act II' of Financial Crisis, Blames 'Market Fundamentalism' Again | Tucker Bilderberg 2010 Wrapup: Attack on Iran discussed, World Treasury Dept delayed | UN Security Council imposes fourth round of sanctions on Iran | Liberals admit HST will cost families up to $480 a year | G20 agenda named as "global government" by thinktank, Toronto summit set to sit on hands | Double-dip recession 'practically inevitable': UBS | European markets decline for 3rd day | Why Governments Hate Gold | Gold price hits new record as it breaks through $1,250 | Goldman Sachs subpoenaed for failing to cooperate with finance probe | Egypt says Gaza blockade has failed, border crossing opened in wake of aid flotilla assault to stay | Bilderberg Agenda Revealed: Globalists In Crisis, Supportive Of Attack On Iran | Banks Seized by Regulators in Nebraska, Mississippi, Illinois | Bilderberg 2010: Why the protesters are your very best friends | G20 to delay tough bank tax regulations | Geithner speaketh on the globalization of risk as G20 meets in Seoul | Eurozone plan for common bond issue to head off debt crisis |Eurozone plan for common bond issue to head off debt crisis | Underground economy emerges in Ontario in response to HST | Markets finish week with big losses on US employment, Hungarian default fears | Can-EU trade talks look good but face 3 potential sticking points: Spanish envoy | Will Supercorp get off the ground in Ontario? | PM takes pre-summit pitch to Europe | Iran To Dump 45 Billion Euros For Gold Bullion & Dollars | EU plans to create watchdog to curb credit rating agencies | Into the Abyss: The Cycle of Debt Deflation | Global arms spending tops $1.6T | Canada's economy grows faster than expected | EU trade pact may imperil local control over water | Canadian debt: The $1.4 trillion hole we're in | Budget watchdog probing G8/G20 summits' $1-billion price tag | G20 now singing different regulatory tunes | US money supply plunges at 1930s pace as Obama eyes fresh stimulus | Lehman launches court battle against JPMorgan | Global markets rebound as OECD talks up European prospects | UK Coalition ministers and bankers to oppose pan-European bailout fund | New securities watchdog plan allows provinces to opt out | Gold being bought faster than it can be produced | TSX claws back from deep loss, Spain begins bailouts | Obama celebrates banking bill's passage in Senate | Markets, dollar plunge on EU debt fears | Toronto banks review G20 security after Ottawa RBC fire | Germany's Merkel Says Euro Is in Danger | Congress blocks indiscriminate IMF aid for Europe | Germany bans naked short-selling | US claims Security Council backing for Iran sanctions | European debt fears batter TSX | Greece links U.S. banks to debt crisis | Agriculture Canada Report: Farming income gets hammered in 2010 | European Council On Foreign Relations: EU Needs To Use Crisis For Greater Power | Sarkozy threatened to quit euro in showdown with Germany: Report | Hedge funds vote threatens EU-US rift | Global markets slide on debt fears | Loonie, TSX slip on euro woes | European Powerbrokers Present Proposal For New Economic And Political Order | Multiple Wall Street banks investigated over links to ratings agencies | Manitoba looks at debit cards for welfare recipients | Power Financial wary of Toronto-based securities regulation push | British face big spending cuts as coalition shows unity on austerity | Europe and America Morally and Financially Bankrupt | Paul bill to audit Federal Reserve passes as one-shot deal | SEC widens probe of Wall Street to include Morgan Stanley | UK Unemployment up to highest level in 15 years | EU wants member countries to co-ordinate budgets | Bid To 'Storm' Irish Parliament During Bailout Protest Foiled | Toronto labour, native protesters ready for G20 demonstrations | Gold vaults nearly 3% to record high $1234, BMO sees $1600 horizon | EU deal euphoria fizzles out | Ron Paul: Euro Bailout Will Lead To Currency Collapse | 'Shock and awe' euro rescue lifts global markets | Lewenza: Canada-EU deal will affect more than trade | Industry Minister Clement invites input on Canadian digital economy | Western Central Banks back Trillion Dollar European rescue plan, ECB to manage markets | MPs divided on Canada-Colombia trade agreement | Euro zone to regulate hedge funds, vows to fend off 'wolf pack' traders at all costs | Free trade with Europe? | Euro crisis goes global as leaders fail to stop the rot | Debt crisis: Panic on Wall Street, stonewalling in Europe | Audit The Fed Push Strengthened By Second Front In Senate | Gold nears record high as stocks plunge | Canada, EU at loggerheads over bank tax | Quebec public-private wind power project generates turbulence | Greek rescue fears hit global stock markets | Goldman Sachs concedes case for restraining the big banks | Shaw buying up CanWest TV assets from Goldman-Sachs | Greece swallows tough medicine in $150B bailout, more spending cuts announced | Greece erupts as men from IMF prepare to wield axe | European Central Bank chief: Bank of International Settlements to Rule the Global Economy | Greece's near bankruptcy won't scuttle Canada-EU trade talks: minister | New austerity measures essential, says Greek PM | Harper calls for global economic governance, lauds G20 as ruling forum | HST begins taxing Ontario on Saturday | Canada offers Michigan $550M loan for NASCO link bridge | Goldman execs squirm in face of angry U.S. Senators | Greek debt crisis: Europe feels shockwaves as bailout falters | Standard & Poor's downgrade Greek credit rating to junk status | Canadian housing market downturn a possibility, says report | Goldman's Fabrice Tourre: Emails reveal he thought borrowers 'won't last long' | Police State Canada 2010 and the G20 Summit | Big stakes in Canada-Europe trade talks, but little attention | Protesters and police get ready to square off at G20 summit | US prepares to push for global capital rules | World Bank gets $3.5-billion boost, revamps voting structure to make China number 3 | Greek bailout not limited to €45bn, Flaherty warns | In revealed e-mails, Goldman chief says we 'made more than we lost' by betting against market | Flaherty wins delay in decision on global bank tax at interim G20 meeting | IMF to move quickly on Greek request for loan | Greek PM calls for EU bailout loans | Unconstitutional? Ontario government slips another new energy tax in under the radar | Bankers Prepare To Assault Americans With VAT, Transaction Taxes | International World Bank 'Farm-aid' plan gets a modest start | The Obama Banking Regulation: Big Banks Are Too Politically Connected to Fail | Obama scolds Wall Street for fighting reform, pushes new regulation package | Greek civil servants strike, challenge EU/IMF talks | German bank severs Goldman ties | Goldman Sachs Eats Its Young | Foreigners continue to buy Canada | Flaherty stands firm against new bank tax | Canada's brewing debt storm | Goldman Sachs charged with $1bn fraud over toxic sub-prime securities | Flaherty's credit-debit code tougher than expected | Electricity rates surge in Ontario | China sells petrol to Iran while talking at UN about sanctions | Is Japan hurtling toward a debt crisis? | Do you take cash? In UK bills being supplanted by debit, RFID credit as retail revolution grows | Leveraged ETFs Are Under SEC Scrutiny | Oil sands deal gives China crucial voting bloc in bitumen export issue | Soros warns Europe of disintegration | Tucker: Bilderberg To Meet in Spain, Prolong Global Financial Recession For Another Year | Goldman fights accusations of greed | Roadblocks cleared for Windsor continental supercorridor link | Ontario unveils $8B in renewable energy projects | Investors rush to sell Greek bonds | Canada 'enthusiastic rebound' best in G7, OECD says | Small army to protect Toronto during G20 summit | Ontario launches U.S. bond | Paul Volcker: VAT, Carbon taxes may be necessary | Canadian dollar finds a solid resting place at parity | GM dealers sue law firm for conflict — Cassels also had government contract during restructuring | Nova Scotia budget hikes HST rate | J.P. Morgan rolls into Calgary | Auto industry rebound limited: experts | Toronto braces for G20 logistics crunch | Thousands protest Quebec budget | Wall Street: Looting Main Street | Manipulation of Gold Market by Financial Giants Exposed at CFTC Hearing | Britain pushes for new climate talks; IMF and global taxes to figure into wealth redistribution scheme | Obama sets sights on Arctic oil and gas exploration | The prison spending boom | G20 sounds warning over lack of progress on global regulation | EU 'Free Trade' and CETA: Advancing the Transatlantic Agenda | CETA worse than ACTA — EU Trade Negotiators Demand Canada Completely Overhaul Its Intellectual Property Laws | IMF struggles to conceal glee at Greek deal | Greece secures joint IMF/Eurozone bailout program | Facing years of deficits, Ontario freezes wages | Impact of $47B stimulus minimal: Fraser Institute | Canada's GDP growth to top G7 in 2010 | Obama urges Senate to hand total oversight of financial sector to Federal Reserve, eliminate 'Reserve' part | Banking reforms urgent, Harper says at G20 sherpas' meeting | RCMP needs 5,500 rooms during G20 summit | Greek PM threatens to go to IMF if no EU bailout | More stimulus spending coming | G20 'sherpas' meet with IMF, World Bank on Ottawa | Loonie passes 99 cents US | UK: Carbon capture storage lauded, will 'generate 100,000 jobs and £6.5bn a year' | Subsidized solar power projects approved in Ontario | Chinese facing debt time bomb | Pacific North American Regional Integration and Control | JPMorgan, Citigroup Helped Doom Lehman, Report Says | Is China actually bankrupt? | General strike cripples Greece as protesters clash with police | China rejects Barack Obama's call to change yuan policy | Ontario tax collectors get $45K severance, keep jobs in HST federalization deal | Federal budget watchdog disputes Flaherty's forecasts | MEPs vote overwhelmingly for an EU Tobin Tax | Green energy bubbles threaten to pop at both Federal and Municipal levels | Failed Banks May Get State Pension-Fund Backing as FDIC Seeks Cash | IMF chief calls for quota-based global warming slush fund | McGuinty eyes selling shares in LCBO, Hydro One | Frustrated Icelanders vent rage by voting no in referendum | Icelanders to vote no on debt deal | Ontario in no rush to sell Crown assets, minister says | Athens erupts as Greek austerity plan passes | Hope keeps Flaherty's balanced budget afloat | Britain grapples with debt of Greek proportions | Greece unveils radical austerity package | Downtown Toronto to become a fortress for G20 summit | Athen's coffers to run dry in two weeks, more cracks appear in Eurozone | IMF chief proposes new reserve currency | Man who broke the Bank of England, George Soros, 'at centre of hedge funds plot to cash in on fall of the euro' | Goldman role in Greek crisis probed | Bernanke Pushes to Keep Regulation Power as Some Senators Waver | Iceland stares into Icesave abyss | Leaked UN Documents Reveal Plan For "Green World Order" By 2012 | Citibank Controversy Puts Dubious FDIC Guarantee Back In The Spotlight | 702 U.S. banks in danger: FDIC | EU executive recommends fast-track membership for Iceland | Greek workers stage general strike | Tories hand out $75 billion worth of 'spending restraint' | How EU Countries Cooked Books Using Derivatives | Inuit group blasts Cannon over summit | Toronto braces for G20 disruption, Ottawa to pick up security tab | Precedent setting meeting called as Canada's premiers attend Governors Association in Washington DC | Convention centre confirmed as location for Toronto G20 summit | U.S. initial jobless claims rise unexpectedly | Goldman Sachs Helped Greece Obscure Debt Through Currency Swaps | Obama hails stimulus plan, warns of layoffs | Canadian household debt hits record high | Collapse of the euro is 'inevitable': Bailing out the Greek economy futile, says French banking chief | Euro currency union shows strain | B.C., 3 US states sign accord for 'Pacific North America' hours before Olympic kickoff | G20 security could strangle downtown | Shaw Cable moves for acquisition of controlling share in Canwest Global | Gordon Brown's plan for global bank tax 'a step closer' | Stimulating our way into debt crises | EU leaders reach secret Greek bailout deal | GM to add second Oshawa shift early | Indigenous groups left out of Arctic leaders' summit | G20's Metro Convention Centre location to bump baseball, pride activities | Greek workers 'give their reply' to proposed austerity plan with national strike | Will Greece set off 'global debt bomb'? | G7 brings competing visions to the Arctic | The Federal Reserve as Giant Counterfeiter | The US budget: Barack Obama's $3.8 trillion red ink blueprint | EU cautions Greece about its deficit | Global Bank Insurance Levy Wins Support over Transaction Tax at Davos | Consumer debt loads are the new concern | No solution in dispute over Iceland deposits | Bloomberg: Secret Banking Cabal Emerges From AIG Shadows | Davos 2010: George Soros warns gold is now the 'ultimate bubble', calls for IMF to handle climate fund | Harper urges G20 to follow economic accords | Davos: Global climate fund threatens aid to developing world, campaigner warns | Obama Likely to Rebrand Climate Bill as Jobs Bill | Bankers unite against Barack Obama and Gordon Brown in call for world regulation | Geithner Told To Quit After E Mails Reveal Involvement In AIG Cover-up | IMF warns against retreat from stimulus spending | Why Did the 'Stimulus' Fail to Help the US Economy? | One quarter of US grain crops fed to cars — not people, new figures show | Terence Corcoran: Ontario puts $10B in the wind | Banks find gaping loophole in Obama financial reforms | Ontario Premiere McGuinty heralds Samsung 'green energy' deal | Obama talking tough with banks | High dollar to slow recovery, central bank says | EU Embargoes Canada's GMO-sabotaged Flax Industry | Could Greece drag down Europe | EU urged to adopt bank supertax | Record surge in UK inflation | Iceland sets date for Icesave vote | 'Green jobs' are key to U.S., Canadian recovery: US Ambassador | Flaherty to use February G7 in Iqaluit (or Ottawa?) to push for global changes to financial system | 'Significant chance' of second financial crisis, warns World Economic Forum | Iceland says IMF aid likely delayed | Wall Street's leading bankers admit: we made mistakes | The next big scam: Fraud endemic to carbon market | Flaherty's economic plan blasted as leading to taxation or cuts | Idle job market hurting recovery, Flaherty warns | No new stimulus, economy 'stabilized': Harper | Obama ponders bank transaction levy to recoup bailout shortfalls |TSX trades above 12,000 before retreating | Explosive Leaked Emails Expose Treasury Secretary Geithner's Deception in 'Backdoor Bailout' | America slides deeper into depression as Wall Street revels | Tipping point at CanWest | Sarkozy says world currency disorder unacceptable | UK: Interest rates and quantitative easing on hold | Iceland blocks central bank debt repayment deal | Bernanke defends Fed's actions, forecasts interest hikes | For more see The Memory Hole — Economics