Note the revelation halfway through that the new cyberwar cadres found militant islamic websites being run by the CIA and couldn't distinguish them from actual recruitment centres online – further testament to how deeply involved the CIA is in the architecture of terror in the middle east.
Related: NSA head confirmed as chief of US cyber command | Cybersecurity event seeks to spur international talks | Danger Room What's Next in National Security Prospective U.S. Cyber Commander Talks Terms of Digital Warfare | Canadian researchers reveal another botnet in China, call for state cybersecurity | U.S. cybersecurity bill introduced in Senate | Cyberattacks push CSIS to reach out to business | United States weighs massive expansion of Internet monitoring | Cyberwar Hype Intended to Destroy the Open Internet | Google, NSA may team up to probe cyberattacks | UN agency calls for global cyberwarfare treaty, 'driver's license' for Web users | Death Of The Internet: Censorship Bills In UK, Australia, U.S. Aim To Block "Undesirable" Websites | Australia introduces web filters | Obama Wants Computer Privacy Ruling Overturned | UK Internet surveillance plan to go ahead | Security boss calls for end to net anonymity | Case for Internet spying not closed | Planned Internet, wireless surveillance laws worry watchdogs | UK ISPs condemn Internet surveillance plans | UK to found new 'cyber-security' units attached to national eavesdropping centre | ISPs must help police snoop on internet under new bill | UK plans to integrate 'cybersecurity' centre with US, Canada | Cybersecurity Is Framework For Total Government Regulation & Control Of Our Lives | Obama Set to Create A Cybersecurity Czar With Broad Mandate | EU wants 'Internet G12′ to govern cyberspace | UK Home Secretary has secret plan to surveil, 'Master the Internet' | Munk Centre researchers discover botnet, call for international cyberspace 'legal regime' | NSA Dominance of Cybersecurity Would Lead to 'Grave Peril', Ex-Cyber Chief Tells Congress | Do We Need a New Internet? | Defense Contractors See $$$ in Cyber Security | RCMP to helm a Canadian "cyber-security strategy" | Sweden approves wiretapping law | Law Professor tells tech conference: plans to shut down Internet already on deck
Peter Beaumont, The Guardian
May 23, 2010
Pentagon creates specialist online unit to counter cyber attack amid growing fears of militarisation of the internet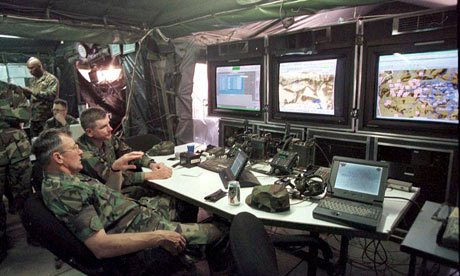 The US military has appointed its first senior general to direct cyber warfare — despite fears that the move marks another stage in the militarisation of cyberspace.
The newly promoted four-star general, Keith Alexander, takes charge of the Pentagon's ambitious and controversial new Cyber Command, designed to conduct virtual combat across the world's computer networks. He was appointed on Friday afternoon in a low-key ceremony at Fort Meade, in Maryland.
The creation of America's most senior cyber warrior comes just days after the US air force disclosed that some 30,000 of its troops had been re-assigned from technical support "to the frontlines of cyber warfare".
The creation of Cyber Command is in response to increasing anxiety over the vulnerability of the US's military and other networks to a cyber attack.
James Miller, the deputy under-secretary of defence for policy, has hinted that the US might consider a conventional military response to certain kinds of online attack.
Although Alexander pledged during his confirmation hearings before the Senate committee on armed services last month that Cyber Command would not contribute to the militarisation of cyberspace, the committee's chairman, Senator Carl Levin expressed concern that both Pentagon doctrine, and the legal framework for online operations, had failed to keep pace with rapid advances in cyber warfare.
In particular Levin voiced concern that US cyber operations to combat online threats to the US, routed through neutral third countries, "could have broad and damaging consequences" to wider American interests.
Plans for Cyber Command were originally conceived under President George W Bush. Since taking office Barack Obama has embraced the theme of cyber security, describing it last year as "one of the most serious economic and national security challenges [the US faces] as a nation".
During his confirmation hearing, Alexander said that the Pentagon's networks were being targeted by "hundreds of thousands of probes every day" adding that he had "been alarmed by the increase, especially in this year".
Cyber warfare has increased rapidly in scale and sophistication with China accused of being at the forefront of prominent recent attacks, including the targeting of Google and 20 other companies last year as well as "Titan Rain" in 2003 — a series of coordinated attacks on US networks. Russian and North Korean hackers have also been accused of large-scale attacks.
Moscow was accused of being behind a massive cyber assault on Estonia in 2007 — the second largest cyber warfare operation ever conducted.
While Alexander has tried to play down the offensive aspects of his command, the Pentagon has been more explicit, stating on Friday that Cyber Command will "direct the operations and defence of specified Department of Defense information networks [involving some 90,000 military personnel] and prepare to, when directed, conduct full-spectrum military cyberspace operations in order to enable actions in all domains, [to] ensure US allied freedom of action in cyberspace and deny the same to our adversaries."
The complex issues facing Cyber Command were thrown into relief earlier this year when the Washington Post revealed details of a so-called "dot-mil" operation by Fort Meade's cyber warfare unit, backed by Alexander, to shut down a "honeytrap website" set up by the Saudis and the CIA to target Islamist extremists planning attacks in Saudi Arabia.
The Pentagon became convinced that the forum was being used to co-ordinate the entry of jihadi fighters into Iraq.
Despite the strong objections of the CIA, the site was attacked by the Fort Meade cyber warfare unit. As a result, some 300 other servers in the Saudi kingdom, Germany and Texas also were inadvertently shut down.
Of equally concern to those who had opposed the operation, it was conducted without informing key members of the Saudi royal family, who were reported to be "furious" that a counter-terrorism tool had been shut down.
The issue of cyber warfare — and how to combat it — has become an increasingly fraught one.
The need to have electronic warfare capabilities, say those who support them, has been proven repeatedly by the apparent success of hostile attacks on government networks, including last year's massive denial of service assault on networks in both the US and Korea.
Last year, hackers also accessed large amounts of sensitive data concerning the Pentagon's Joint Strike Fighter programme.
The difficulties facing the new command were underlined in March by former CIA director Michael V Hayden, who said that the Saudi operation had demonstrated that cyber warfare techniques were evolving so rapidly that they were now outpacing the government's ability to develop coherent policies to guide its use.
"Cyber was moving so fast that we were always in danger of building up precedent before we built up policy," Hayden said.
Source | See also under Internet: Harper government secretly monitoring online chats about politics | Obama Czar Wants Mandatory Government Propaganda On Political Websites | Power Corp. open to charging for online content | NSA head confirmed as chief of US cyber command | Pirate Bay Appeal Judges Cleared of Bias | International Copyright Draft Release Was Apparently A One Time Deal: Now We're Back To Secrecy | Industry Minister Clement invites input on Canadian digital economy | Google attorney slams ACTA copyright treaty | US regulators seek new network neutrality laws | CRTC approves usage-based internet billing | Red Alert: New Canadian DMCA Bill Within Six Weeks | Fox News Caught Aggregating Others Copyrighted Photographs… Something Murdoch Insists Is Illegal | Cybersecurity event seeks to spur international talks | Australian PM shelves web filter legislation until after election | China wants internet firms to inform on clients | Official ACTA Draft Released, Only Very Slightly Less Awful Than Expected | Big Content's dystopian wish-list for the US gov't: spyware, censorship, physical searches and SWAT teams | Danger Room What's Next in National Security Prospective U.S. Cyber Commander Talks Terms of Digital Warfare | Thousands condemn secrecy of New Zealand round of internet copyright talks | Leading UK ISP Says It Will Defy Government's Net Censorship Bill | Nikkei Restricts Links to Its New Web Site | Canadian researchers reveal another botnet in China, call for state cybersecurity | Internet linking rights case to go before Supreme Court | Isohunt Ordered to Remove Infringing Content | CETA worse than ACTA — EU Trade Negotiators Demand Canada Completely Overhaul Its Intellectual Property Laws | UK: Met Police launch net café spy operation | ACTA Draft: No Internet for Copyright Scofflaws | UK Budget 2010: Darling puts emphasis on broadband for all | Entire Text of ACTA Treaty Leaks to Online Rights Website | Google reroutes uncensored search to Hong Kong, raises stakes in row with China | Revealed: ACTA to cover seven categories of intellectual property | New ACTA Leaks Complete Picture of Oppressive Global Copyright Treaty | Net produces new generation of human rights activists in China | U.S. cybersecurity bill introduced in Senate | Copyright conviction raises privacy concerns | U.S. feds snooping on Facebook | MP Charlie Angus Introducing Private Copying Levy Bill, Flexible Fair Dealing Motion | Secret Document Calls Wikileaks 'Threat' to U.S. Army | Pot, Palin and prorogation: Stephen Harper gets grilled on YouTube | Government Internet Censorship Begins In Stealth In New Zealand | PM turns to YouTube — and takes questions | EU Parliament votes down ACTA global copyright resolution by overwhelming margin | Cyber-bullying cases put heat on Google, Facebook | Cyberattacks push CSIS to reach out to business | United States weighs massive expansion of Internet monitoring | Cyberwar Hype Intended to Destroy the Open Internet | UK: Open Wi-Fi 'outlawed' by Digital Economy Bill | Cryptome.org Leaks Microsoft Online Surveillance Guide, MS Demands Takedown Under Copyright Law | Italy Convicts Google Execs over Youtube Video of Downs Syndrome Boy | China launches interview requirement, licensing for personal websites | More Details Emerging About School Laptop Spying, And It Doesn't Look Good | School Spycams Case Explodes As Feds Initiate Probe | ACTA Internet Chapter Leaks: Renegotiates WIPO, Sets 3 Strikes as Model | Pennsylvania schools spying on students using laptop Webcams, claims lawsuit | Google Books Fosters Intellectual, Legal Crossroads | Google Bans Sale of DVD Critical Of Obama Administration | EU Already Has A 'Public/Private' IP Observatory To Watch For Copyright Infringement Online | Google shuts down music blogs without warning | Activists Shut Down Australian Government Websites in Internet Filter Protest | ACTA Is Called An 'Executive Agreement' To Implement Restrictive Copyright With Less Hassle Than A Treaty | Swedish Justice Minister reluctant to store internet user's data | Google, NSA may team up to probe cyberattacks | Hollywood loses landmark copyright case in Australia | Police want backdoor to Web users' private data | Time Magazine Pushes Draconian Internet Licensing Plan | UN agency calls for global cyberwarfare treaty, 'driver's license' for Web users | CBC's new licencing plan: Pay to Print, Email, and Blog, and outsource enforcement to American Copyright Digital Rights Bounty Hunters | ACTA One Step Closer To Being Done; Concerns About Transparency Ignored | Internet companies voice alarm over Italian copyright law | UK MPs frozen out of super-secret ACTA copyright talks | China Google Hack Exploited Security Gaps Introduced By State Surveillance Provisions | Privacy watchdog wants public input on social networking sites | Obama Information Czar Calls For Banning Free Speech | Obama Information Czar Outlined Plan For Government To Infiltrate 'Conspiracy Groups' | China tells web companies to obey controls | Google Considers Leaving China If China Will Not Allow Uncensored Search | Reading Between The Still Secret Lines Of The ACTA Negotiations | Privacy no longer a social norm, says Facebook founder | For more, visit The Memory Hole — Internet