Great – and a good outcome from this investigation would be the banning of CDS, CDO, derivatives, and the rest of the casino securities as inherently fraudulent and an expansion of the investigation to bring the political and economic power compact known as the Bilderberg group to account for their hand in this. What are the chances?
Related: SEC widens probe of Wall Street to include Morgan Stanley | Goldman execs squirm in face of angry U.S. Senators | Goldman's Fabrice Tourre: Emails reveal he thought borrowers 'won't last long' | In revealed e-mails, Goldman chief says we 'made more than we lost' by betting against market | German bank severs Goldman ties | Goldman Sachs Eats Its Young | Goldman Sachs charged with $1bn fraud over toxic sub-prime securities | Goldman fights accusations of greed | Wall Street: Looting Main Street | J.P. Morgan rolls into Calgary | JPMorgan, Citigroup Helped Doom Lehman, Report Says | Goldman role in Greek crisis probed | How EU Countries Cooked Books Using Derivatives | Goldman Sachs Helped Greece Obscure Debt Through Currency Swaps | America slides deeper into depression as Wall Street revels | How Goldman secretly bet on the U.S. housing crash | Goldman Sachs breaks record with $16.7bn bonus pot | More US Bank Failures and The Coming Deposit Insurance Bailout | Arrest Over Software Illuminates Wall St. Secret | The Lords of Time: Goldman Sachs and low-latency trading | Record quarterly profits and bonuses: Goldman Sachs makes out like a bandit on taxpayer's dime | Goldman-Sachs: Pilfered trading code could be used to 'manipulate markets' | Taibbi: NYSE ends transparency to protect Goldman Sachs | Central banks to take off 'training wheels' | Goldman Sachs: The Great American Bubble Machine | 10 U.S. banks to repay U.S. bailout money | Top Senate Democrat: bankers "own" the U.S. Congress | Barclays, Lloyd's, RBS join Goldman-Sachs in the black | Goldman-Sachs to repay TARP loan, resume private operations, bonuses, at "earliest time" possible | Which Banks Will Rule? | Wall Street's Big Takeover | IMF may need to "print money", act as "world's central bank" as crisis spreads | Behind the panic: Financial warfare over the future of global bank power | Goldman-Sachs Alumni Hold Reins of Financial System | What Really Killed Bear Stearns? | Soros points out regulated markets fail to operate on market fundamentals, calls for more regulation | Competition study calls for lowered barriers to foreign ownership, bank mergers | Massive overhaul urged on foreign investment in airlines, media, and banks | Bilderberg Seeks Bank Centralization Agenda
Andrew Clark, Julia Kollewe, The Guardian
May 13, 2010
Inquiry into bid to find whether banks cheated in hunt for high credit ratings includes Citigroup, Goldman Sachs, Merrill Lynch and Morgan Stanley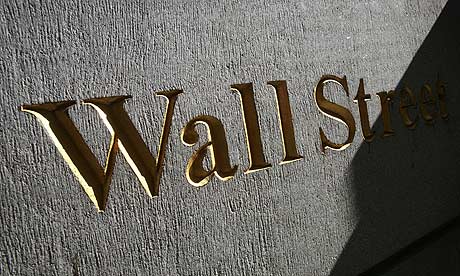 An allegedly "cosy" relationship between top Wall Street banks and credit rating agencies is under investigation by New York's attorney general, who has issued a flurry of subpoenas to examine whether leading financial institutions cheated in the hunt for valuable triple-A grades.
New York's prosecution chief, Andrew Cuomo, is scrutinising the behaviour of eight leading banks, adding to a rapidly spreading web of criminal investigations into Wall Street's questionable ethics in the run-up to the global financial crisis. Many financial experts believe that overly optimistic assessments by ratings firms were a key factor in creating an overblown market for derivatives and mortgage-backed securities.
Sources close to the investigation revealed that the banks targeted by the inquiry are Goldman Sachs, Morgan Stanley, UBS, Citigroup, Credit Suisse, Deutsche Bank, Credit Agricole and Merrill Lynch, which is owned by Bank of America. Subpoenas have also gone to the three major ratings agencies — Standard & Poor's, Moody's and Fitch.
Cuomo wants to see whether banks provided misleading, or incomplete, data to the agencies to get lucrative high ratings for packages of sub-prime mortgages, allowing them to sell them as safe investments to clients. Many such securities became virtually worthless when the US housing market collapsed in 2007 and 2008, as it suddenly became clear that underlying home loans had been written on an irresponsible basis to homeowners without the wherewithal to repay them.
Critics of rating agencies say they were had a conflict of interest because their revenue came from the banks whose securities they were supposed to be rating objectively. The agencies have come under attack for revealing too much of the methodology used in their judgments, which could have allowed banks to "game" the system by providing selective information tailor-made to tick the right boxes.
The New York Times reported that Cuomo was also looking into a "revolving door" of employees between agencies and banks' mortgage desks, to see whether close relationships could have compromised objectivity.
The former chief executive of the defunct Bear Stearns, Alan Schwartz, has cited excessive reliance on flawed credit ratings as one of the biggest causes of the credit crunch: "The whole system was relying on a belief that top-rated tranches of securities were of high quality."
In Congress, politicians have attacked the agencies — Carl Levin, a leading Democratic congressman, released detailed evidence last month on an investigation into Standard & Poor's and Moody's, remarking: "I don't think either of these companies have served their shareholders or the nation well."
But a solution to the problem has proven hard to come by, with little support for radical changes such as transferring responsibility for ratings to regulatory authorities, or moving from to a regime where investors would pay for ratings on the securities they wanted to buy.
Cuomo's probe comes as federal authorities investigate the business practices of a range of financial firms whose clients bought mortgage securities before the collapse of the housing market in 2008. Cuomo's office and the Securities and Exchange Commission (SEC) were "working hand in hand", the Wall Street Journal reported.Lawmakers have urged prosecutors to step up their investigation of the financial crisis, with only a single criminal case so far stemming directly from the meltdown. This case was brought against two Bear Stearns traders, Ralph Cioffi and Matthew Tannin, who were both acquitted last November.
Source | See Also under Corruption: SEC widens probe of Wall Street to include Morgan Stanley | RCMP launches investigation into five officers after in-custody death | Audit The Fed Push Strengthened By Second Front In Senate | Schreiber gets 8 years for tax evasion in Germany | Goldman execs squirm in face of angry U.S. Senators | Goldman's Fabrice Tourre: Emails reveal he thought borrowers 'won't last long' | In revealed e-mails, Goldman chief says we 'made more than we lost' by betting against market | Bombshell: Silverstein Wanted To Demolish Building 7 On 9/11 | German bank severs Goldman ties | George Galloway: leaked papers reveal Canada's torment over banning MP | Goldman Sachs Eats Its Young | Afghan torture allegations erupt in UK | Goldman Sachs charged with $1bn fraud over toxic sub-prime securities | Quebec Liberals accused of judicial graft, Charest orders inquiry | Former Toronto drug squad officers must face trial after all, top court rules | White House approves assassination of cleric linked to Christmas bomb plot | GM dealers sue law firm for conflict — Cassels also had government contract during restructuring | US special forces 'tried to cover-up' botched Khataba raid in Afghanistan | Harkat defence gets bombshell help from declassified U.S. documents | Wall Street: Looting Main Street | Climategate Investigation A Monumental Whitewash | Afghan parliament says no to Karzai bid for more control over election watchdog | New chief Climategate investigator failed to declare eco directorship | Defence Department official used private contractors for spy network in AfPak | JPMorgan, Citigroup Helped Doom Lehman, Report Says | Ontario tax collectors get $45K severance, keep jobs in HST federalization deal | NDP accuses McGuinty of helping developers | Rights & Democracy dissidents fired | A perfect storm is brewing for the IPCC | UK: University at center of Climategate accused of misleading MPs, deleting information | Global warming panel to get independent review | Goldman role in Greek crisis probed | UK: Former Met police detective facing jail over cocaine smuggling plot | How EU Countries Cooked Books Using Derivatives | Hamid Karzai takes control of Afghanistan election watchdog | Nine Months Before Operation Northwoods, Government Leaders Suggested False Flag Terror in the Dominican Republic | N.Y.C.'s former top cop sentenced for felonies | Combine H1N1, seasonal flu vaccines: WHO | Goldman Sachs Helped Greece Obscure Debt Through Currency Swaps | MI5 chief denies cover-up claims over detainees | Climate emails review panellist quits after his impartiality questioned | Blackwater accused of defrauding US government, billing for hooker under 'morale' | Carbon trade phish scam disrupts exchanges | EU Council Health Chair: Swine Flu Pandemic Was A Hoax | Harper government violating Constitution: prof | Ont. top cop pushed for charges against protester | Leaked climate change emails scientist 'hid' data flaws | Blair defends decision to join U.S. in Iraq | Bloomberg: Secret Banking Cabal Emerges From AIG Shadows | Geithner Told To Quit After E Mails Reveal Involvement In AIG Cover-up | Canadian scientist says UN's global warming panel 'crossing the line' | Manufactured 'Science': Another IPCC Scientist Reveals How UN Scientists talked about 'trying to make IPCC report so dramatic that US would just have to sign Kyoto Protocol' | Banks find gaping loophole in Obama financial reforms | The IPCC glacier meltdown: More global warming fraud exposed | Tories win 'in-and-out' ad spending case | Taxpayers' millions paid to Indian institute run by UN IPCC climate chief | Wall Street's leading bankers admit: we made mistakes | WHO to examine its H1N1 response | Explosive Leaked Emails Expose Treasury Secretary Geithner's Deception in 'Backdoor Bailout' | American cash gives Yemen a reason to join the hunt for al-Qaeda | Tories force Elections Canada to accept campaign refund, hope to hit Liberals with bill | Group slams Chertoff on conflict of interest in scanner promotion | For more see The Memory Hole — Corruption