Jean-Claude Trichet, if you'll recall, was just at the CFR pushing the Bank of International Settlement's policy steering council as the head of the international central banking system. His credentials as a sober anti-inflationary bulwark might be more believable if he and the other big banks were not now playing a hand in the liquidation of Europe. They're going to suck Greece dry and ask for seconds.
Related: Greek rescue fears hit global stock markets | Greece swallows tough medicine in $150B bailout, more spending cuts announced | Greece erupts as men from IMF prepare to wield axe | Greece's near bankruptcy won't scuttle Canada-EU trade talks: minister | New austerity measures essential, says Greek PM | Greek debt crisis: Europe feels shockwaves as bailout falters | Standard & Poor's downgrade Greek credit rating to junk status | Greek bailout not limited to €45bn, Flaherty warns | IMF to move quickly on Greek request for loan | Greek PM calls for EU bailout loans | Greek civil servants strike, challenge EU/IMF talks | Soros warns Europe of disintegration | Investors rush to sell Greek bonds | IMF struggles to conceal glee at Greek deal | Greece secures joint IMF/Eurozone bailout program | Greek PM threatens to go to IMF if no EU bailout | General strike cripples Greece as protesters clash with police | Athens erupts as Greek austerity plan passes | Greece unveils radical austerity package | Athen's coffers to run dry in two weeks, more cracks appear in Eurozone | Man who broke the Bank of England, George Soros, 'at centre of hedge funds plot to cash in on fall of the euro' | Goldman role in Greek crisis probed | Greek workers stage general strike | How EU Countries Cooked Books Using Derivatives | Goldman Sachs Helped Greece Obscure Debt Through Currency Swaps | Collapse of the euro is 'inevitable': Bailing out the Greek economy futile, says French banking chief | Euro currency union shows strains | Stimulating our way into debt crises | EU leaders reach secret Greek bailout deal | Will Greece set off 'global debt bomb'? | EU cautions Greece about its deficit | Could Greece drag down Europe? | 'Significant chance' of second financial crisis, warns World Economic Forum | A world awash in debt
Phillip Inman, Nils Pratley, The Guardian
May 6, 2010
Weak ECB statement on debt crisis undermines euro, report of $16bn US trading error adds to market chaos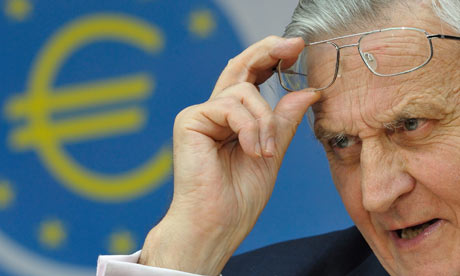 Jean-Claude Trichet, head of the ECB: 'Greece and Portugal are not in the same boat.' Photograph: Uwe Anspach/EPA
Wall Street was gripped by a fresh panic tonight as fears spread that the Greek debt crisis will trigger a new catastrophe for the fragile global banking system.
The chaos was compounded as one major bank was said to have made a big trading "error" by trying to sell a huge number of shares by mistake.
The blue-chip Dow Jones index briefly fell almost 1,000 points, or 9%, dipping below 10,000 points for the first time since early February, before halving its losses in the next 30 minutes. It closed 348 points, or 3.2%, lower at 10514.
The confusion over prices in a dramatic half-hour of trading will alarm regulators. One report said a bank's computer had attempted to sell $16bn of shares instead of $16m. An inquiry is inevitable.
Shares in Procter & Gamble — a blue-chip household name — fell from $62 to $39 in five minutes before rebounding. Shares in Apple and Accenture were also affected. It was unclear whether any trades were executed at the lower prices.
Even before the drama, world stock markets were falling after the European Central Bank gave a statement that investors dismissed as a "do nothing" response to fears of wider contagion from Greece.
The sell-off on Wall Street will cast a long shadow over the City of London, already nervous about the result of the general election. Shares in London — where trading closed before the mayhem in New York — were down, with the FTSE 100 index finishing 81 points lower at 5261, making a near-10% decline since mid-April. Futures markets were flagging big falls on Friday.
Currency markets were also rocked. The euro fell more than two cents against the dollar to $1.26. Sterling lost almost three cents to trade at $1.48.
The European Central Bank governor, Jean-Claude Trichet, said Spain and Portugal were "not Greece", and that the ECB governing council had not discussed injecting extra funds into the eurozone to boost demand and economic growth.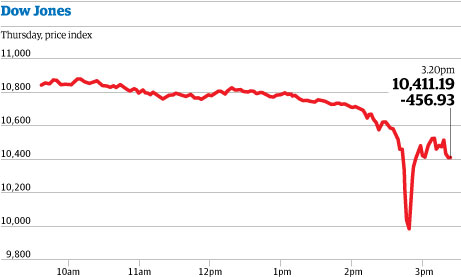 Dow Jones at 3.20pm US eastern daily time Photograph: Graphic
His comments, made as the Greek parliament passed a package of cuts in public services, failed to prevent the euro dropping to a 14-month low. Spain was forced to pay sharply higher interest rates on its debt as investors appeared to dismiss the ECB view that the eurozone was secure. Trichet said: "Greece and Portugal are not in the same boat and this is very visible when you look at the facts and the figures."
Yet leading economists such as the Nobel prizewinner Joseph Stiglitz and Nouriel Roubini, who accurately predicted the credit crunch, have expressed doubts over the survival of the euro in the light of the ECB's rigid interpretation of its remit to maintain low inflation, regardless of the consequences of low growth and rising unemployment in countries forced to take deep cuts in public spending.
Roubini and Stiglitz are sceptical that governments can or should squeeze their spending to fit constraints laid down by the ECB and eurozone rules. Professor David Blanchflower, the former Bank of England monetary policy committee member, said it was "crazy" for highly indebted countries such as Greece, Spain, Portugal and Britain to enter a "death spiral" of spending cuts that would lead to lower growth and more cuts.
"All anyone is talking about is austerity, but all you get is more unemployment and low growth. Then you find yourself in a spiral of debt as low growth forces you to cut spending further," he said.
Analysts also said the ECB was closing its eyes to tensions in the single currency zone.
"The ECB seems more concerned about cracks to its credibility than cracks to monetary union," said Christoph Rieger, co-head of fixed-income strategy at Commerzbank in Frankfurt. "This approach can be considered consistent with the ECB's principles. But it risks that the market will still force the ECB's hand before long."
Spain managed to raise €2.35bn (£2bn) in its latest government bond auction todayyesterday, but had to promise a yield of 3.58% — a fifth more than the rate it paid two months ago. Investors also pushed up the cost of insuring Spanish debt against default, despite assurances from the country's prime minister that it could meet promises to pay down debts.
The yield on Portugal's 10-year bond, which serves as an indicator of the risk of investing in the country's loans, increased by six basis points to 5.95%.
"Investors are genuinely confused and concerned about the level and growth of sovereign indebtedness and what it means for the market," said Luke Spajic, head of European credit at Pimco, the world's largest bond investor. "It's not that the market is testing one country — it's very anxious about the sustainability of debt in general."
Source | Alternate Coverage 1 2 | See also under Economics: Audit The Fed Push Strengthened By Second Front In Senate | Gold nears record high as stocks plunge | Canada, EU at loggerheads over bank tax | Quebec public-private wind power project generates turbulence | Greek rescue fears hit global stock markets | Goldman Sachs concedes case for restraining the big banks | Shaw buying up CanWest TV assets from Goldman-Sachs | Greece swallows tough medicine in $150B bailout, more spending cuts announced | Greece erupts as men from IMF prepare to wield axe | European Central Bank chief: Bank of International Settlements to Rule the Global Economy | Greece's near bankruptcy won't scuttle Canada-EU trade talks: minister | New austerity measures essential, says Greek PM | Harper calls for global economic governance, lauds G20 as ruling forum | HST begins taxing Ontario on Saturday | Canada offers Michigan $550M loan for NASCO link bridge | Goldman execs squirm in face of angry U.S. Senators | Greek debt crisis: Europe feels shockwaves as bailout falters | Standard & Poor's downgrade Greek credit rating to junk status | Canadian housing market downturn a possibility, says report | Goldman's Fabrice Tourre: Emails reveal he thought borrowers 'won't last long' | Police State Canada 2010 and the G20 Summit | Big stakes in Canada-Europe trade talks, but little attention | Protesters and police get ready to square off at G20 summit | US prepares to push for global capital rules | World Bank gets $3.5-billion boost, revamps voting structure to make China number 3 | Greek bailout not limited to €45bn, Flaherty warns | In revealed e-mails, Goldman chief says we 'made more than we lost' by betting against market | Flaherty wins delay in decision on global bank tax at interim G20 meeting | IMF to move quickly on Greek request for loan | Greek PM calls for EU bailout loans | Unconstitutional? Ontario government slips another new energy tax in under the radar | Bankers Prepare To Assault Americans With VAT, Transaction Taxes | International World Bank 'Farm-aid' plan gets a modest start | The Obama Banking Regulation: Big Banks Are Too Politically Connected to Fail | Obama scolds Wall Street for fighting reform, pushes new regulation package | Greek civil servants strike, challenge EU/IMF talks | German bank severs Goldman ties | Goldman Sachs Eats Its Young | Foreigners continue to buy Canada | Flaherty stands firm against new bank tax | Canada's brewing debt storm | Goldman Sachs charged with $1bn fraud over toxic sub-prime securities | Flaherty's credit-debit code tougher than expected | Electricity rates surge in Ontario | China sells petrol to Iran while talking at UN about sanctions | Is Japan hurtling toward a debt crisis? | Do you take cash? In UK bills being supplanted by debit, RFID credit as retail revolution grows | Leveraged ETFs Are Under SEC Scrutiny | Oil sands deal gives China crucial voting bloc in bitumen export issue | Soros warns Europe of disintegration | Tucker: Bilderberg To Meet in Spain, Prolong Global Financial Recession For Another Year | Goldman fights accusations of greed | Roadblocks cleared for Windsor continental supercorridor link | Ontario unveils $8B in renewable energy projects | Investors rush to sell Greek bonds | Canada 'enthusiastic rebound' best in G7, OECD says | Small army to protect Toronto during G20 summit | Ontario launches U.S. bond | Paul Volcker: VAT, Carbon taxes may be necessary | Canadian dollar finds a solid resting place at parity | GM dealers sue law firm for conflict — Cassels also had government contract during restructuring | Nova Scotia budget hikes HST rate | J.P. Morgan rolls into Calgary | Auto industry rebound limited: experts | Toronto braces for G20 logistics crunch | Thousands protest Quebec budget | Wall Street: Looting Main Street | Manipulation of Gold Market by Financial Giants Exposed at CFTC Hearing | Britain pushes for new climate talks; IMF and global taxes to figure into wealth redistribution scheme | Obama sets sights on Arctic oil and gas exploration | The prison spending boom | G20 sounds warning over lack of progress on global regulation | EU 'Free Trade' and CETA: Advancing the Transatlantic Agenda | CETA worse than ACTA — EU Trade Negotiators Demand Canada Completely Overhaul Its Intellectual Property Laws | IMF struggles to conceal glee at Greek deal | Greece secures joint IMF/Eurozone bailout program | Facing years of deficits, Ontario freezes wages | Impact of $47B stimulus minimal: Fraser Institute | Canada's GDP growth to top G7 in 2010 | Obama urges Senate to hand total oversight of financial sector to Federal Reserve, eliminate 'Reserve' part | Banking reforms urgent, Harper says at G20 sherpas' meeting | RCMP needs 5,500 rooms during G20 summit | Greek PM threatens to go to IMF if no EU bailout | More stimulus spending coming | G20 'sherpas' meet with IMF, World Bank on Ottawa | Loonie passes 99 cents US | UK: Carbon capture storage lauded, will 'generate 100,000 jobs and £6.5bn a year' | Subsidized solar power projects approved in Ontario | Chinese facing debt time bomb | Pacific North American Regional Integration and Control | JPMorgan, Citigroup Helped Doom Lehman, Report Says | Is China actually bankrupt? | General strike cripples Greece as protesters clash with police | China rejects Barack Obama's call to change yuan policy | Ontario tax collectors get $45K severance, keep jobs in HST federalization deal | Federal budget watchdog disputes Flaherty's forecasts | MEPs vote overwhelmingly for an EU Tobin Tax | Green energy bubbles threaten to pop at both Federal and Municipal levels | Failed Banks May Get State Pension-Fund Backing as FDIC Seeks Cash | IMF chief calls for quota-based global warming slush fund | McGuinty eyes selling shares in LCBO, Hydro One | Frustrated Icelanders vent rage by voting no in referendum | Icelanders to vote no on debt deal | Ontario in no rush to sell Crown assets, minister says | Athens erupts as Greek austerity plan passes | Hope keeps Flaherty's balanced budget afloat | Britain grapples with debt of Greek proportions | Greece unveils radical austerity package | Downtown Toronto to become a fortress for G20 summit | Athen's coffers to run dry in two weeks, more cracks appear in Eurozone | IMF chief proposes new reserve currency | Man who broke the Bank of England, George Soros, 'at centre of hedge funds plot to cash in on fall of the euro' | Goldman role in Greek crisis probed | Bernanke Pushes to Keep Regulation Power as Some Senators Waver | Iceland stares into Icesave abyss | Leaked UN Documents Reveal Plan For "Green World Order" By 2012 | Citibank Controversy Puts Dubious FDIC Guarantee Back In The Spotlight | 702 U.S. banks in danger: FDIC | EU executive recommends fast-track membership for Iceland | Greek workers stage general strike | Tories hand out $75 billion worth of 'spending restraint' | How EU Countries Cooked Books Using Derivatives | Inuit group blasts Cannon over summit | Toronto braces for G20 disruption, Ottawa to pick up security tab | Precedent setting meeting called as Canada's premiers attend Governors Association in Washington DC | Convention centre confirmed as location for Toronto G20 summit | U.S. initial jobless claims rise unexpectedly | Goldman Sachs Helped Greece Obscure Debt Through Currency Swaps | Obama hails stimulus plan, warns of layoffs | Canadian household debt hits record high | Collapse of the euro is 'inevitable': Bailing out the Greek economy futile, says French banking chief | Euro currency union shows strain | B.C., 3 US states sign accord for 'Pacific North America' hours before Olympic kickoff | G20 security could strangle downtown | Shaw Cable moves for acquisition of controlling share in Canwest Global | Gordon Brown's plan for global bank tax 'a step closer' | Stimulating our way into debt crises | EU leaders reach secret Greek bailout deal | GM to add second Oshawa shift early | Indigenous groups left out of Arctic leaders' summit | G20's Metro Convention Centre location to bump baseball, pride activities | Greek workers 'give their reply' to proposed austerity plan with national strike | Will Greece set off 'global debt bomb'? | G7 brings competing visions to the Arctic | The Federal Reserve as Giant Counterfeiter | The US budget: Barack Obama's $3.8 trillion red ink blueprint | EU cautions Greece about its deficit | Global Bank Insurance Levy Wins Support over Transaction Tax at Davos | Consumer debt loads are the new concern | No solution in dispute over Iceland deposits | Bloomberg: Secret Banking Cabal Emerges From AIG Shadows | Davos 2010: George Soros warns gold is now the 'ultimate bubble', calls for IMF to handle climate fund | Harper urges G20 to follow economic accords | Davos: Global climate fund threatens aid to developing world, campaigner warns | Obama Likely to Rebrand Climate Bill as Jobs Bill | Bankers unite against Barack Obama and Gordon Brown in call for world regulation | Geithner Told To Quit After E Mails Reveal Involvement In AIG Cover-up | IMF warns against retreat from stimulus spending | Why Did the 'Stimulus' Fail to Help the US Economy? | One quarter of US grain crops fed to cars — not people, new figures show | Terence Corcoran: Ontario puts $10B in the wind | Banks find gaping loophole in Obama financial reforms | Ontario Premiere McGuinty heralds Samsung 'green energy' deal | Obama talking tough with banks | High dollar to slow recovery, central bank says | EU Embargoes Canada's GMO-sabotaged Flax Industry | Could Greece drag down Europe | EU urged to adopt bank supertax | Record surge in UK inflation | Iceland sets date for Icesave vote | 'Green jobs' are key to U.S., Canadian recovery: US Ambassador | Flaherty to use February G7 in Iqaluit (or Ottawa?) to push for global changes to financial system | 'Significant chance' of second financial crisis, warns World Economic Forum | Iceland says IMF aid likely delayed | Wall Street's leading bankers admit: we made mistakes | The next big scam: Fraud endemic to carbon market | Flaherty's economic plan blasted as leading to taxation or cuts | Idle job market hurting recovery, Flaherty warns | No new stimulus, economy 'stabilized': Harper | Obama ponders bank transaction levy to recoup bailout shortfalls |TSX trades above 12,000 before retreating | Explosive Leaked Emails Expose Treasury Secretary Geithner's Deception in 'Backdoor Bailout' | America slides deeper into depression as Wall Street revels | Tipping point at CanWest | Sarkozy says world currency disorder unacceptable | UK: Interest rates and quantitative easing on hold | Iceland blocks central bank debt repayment deal | Bernanke defends Fed's actions, forecasts interest hikes | For more see The Memory Hole — Economics