That is a lot of civilians. At this rate, they may as well just firebomb villages. There's compensation for the Peshawari aboriginal ethnic cleansing being offered, though – $220 US for your family – so everything is just fine. And that's exactly what's happening here. This mountain tribe, you know, they believe some crazy stuff, they're independent nomads, they're an irritant in a long standing border dispute with Afghanistan – so why not just wipe them out, herd the villagers into concentration refugee camps? At least we're cashing in on the munitions industry. ZZZZzzzzz. There's a map of the bombing campaign here, if you're interested.
Flashback: WikiLeaks releases video of alleged U.S. helicopter attack on Reuters reporters | 1 in 3 Killed by U.S. Drone Attacks In Pakistan Are Civilians | Afghan ministers voice anger as civilians killed in Nato air strike | Five civilians killed in Nato rocket attack in Afghanistan | Suspected US drone 'kills 12′ in Pakistan | U.S. prods Pakistan to expand offensive | Pakistan anti-Taliban offensive in South Waziristan 'over' | U.S. Military Joins CIA's Drone War in Pakistan | US Air Force confirms new 'Beast of Kandahar' drone | German army chief resigns over Afghanistan air strike | Clinton confronted by Pakistanis over attacks by aerial drones | UN: Drone attacks may violate international law | US drone 'shot down over Somalia' | Refugee flood reveals human cost of South Waziristan's invisible war | 'Taliban' resist Pakistan onslaught | Pakistani troops assault 'Taliban' stronghold | Militants attack Pakistani cities | Pakistan launches air strikes before offensive | NATO pledges probe of deadly Afghan air strike; civilians killed | Pakistan remains silent as U.S. air attack kills 80 | Afghan Airstrike Video Goes Down the Memory Hole | Homing chips are CIA's latest weapon against 'al-Qaida' targets hiding in Pakistan's tribal belt | CIA: Our Drones are Killing Terrorists. Promise | US air strikes kill dozens of Afghan civilians | NATO denies air strike killed Afghan civilians | Don't-ask-don't-tell Policy: Pakistan and U.S. Have Tacit Deal On Airstrikes | Death toll climbs after U.S. air strike in Pakistan
Saeed Shah, Thew Guardian
April 13, 2010
Military refuses to confirm deaths as local government pays out compensation to victims' families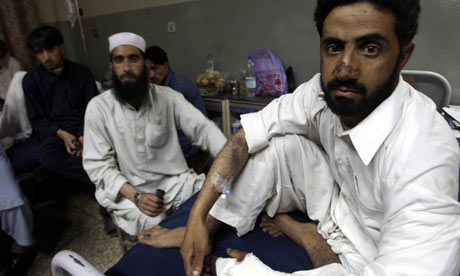 At least 71 civilians were killed by a misdirected air strike in Pakistan's tribal zone against suspected extremists, locals claimed today, as thousands of people flee a western-backed military offensive against Taliban and al-Qaida fighters in the area.
The air strike hit a house on Saturday in a remote part of the Khyber area of the tribal belt, the lawless region that borders Afghanistan. This week, the United Nations warned that more than 200,000 new refugees had been created by Pakistan's latest anti-Taliban offensive, this time mostly from Orakzai, which borders Khyber to the south.
The Pakistani military refused to confirm the deaths but the local government administration paid out 10m rupees (£75,000) compensation, residents said. Military sources said they had targeted bunkers being constructed by extremists in the Tirah valley and it was unclear how a house could have been hit.
The episode is a significant setback to the campaign to win the support of civilians for the offensive. The house hit belonged to a tribal elder belonging to the Kukikhel, a clan loyal to the Pakistani state, and whose three sons serve in the Pakistani military.
The issue of civilian casualties in Pakistan is mirrored in Afghanistan, where Nato-led forces also grapple with poor intelligence and the difficulty of identifying friend from enemy.
"All of those killed were civilians, 100% innocent," said Ikramullah Jan Kukikhel, a tribal elder, speaking by telephone from the area.
"The Kukikhel are with the government. We have never joined the Taliban or any other fundamentalist group. We are normal people who just want peace for the country."
Kukikhel said the death toll had reached 71 yesterday and by now could be up to 80. He said between 20 and 30 others were injured when the house of Hameed Khan, in Sra Vella village, was bombed by the jets, killing women, children and elderly people.
As villagers rushed to the house to dig out the victims, another air strike hit, killing many more.
The chief army spokesman, Major General Athar Abbas, denied that civilians were killed in the episode. The Pakistani military has never admitted to civilian casualties since it launched the current series of anti-Taliban offensives in April last year, with an operation in the Swat valley in the north-west of the country.
Separately, the UN warned this week that aid groups were running out of funds for Pakistan's internally displaced people, with 1.3 million still homeless as a result of military operations, including the offensive in Orakzai which escalated a month ago and has pushed around 200,000 out of their houses.
"This situation is not only forgotten by the international community but by Pakistanis too," said Kilian Kleinschmidt, the deputy director of the United Nations refugee agency in Pakistan. "The crisis here is not over."
International interest in the internal refugee crisis in Pakistan had dried up since the 1.6 million displaced people from Swat returned home last year, he said, with an emergency UN appeal this year only 20% funded.
Source | See also under Pakistan: U.S. officials say Pakistani spy agency released Afghan Taliban insurgents | Defence Department official used private contractors for spy network in AfPak | 1 in 3 Killed by U.S. Drone Attacks In Pakistan Are Civilians | Arrested Terrorist Leader Exposes Extensive CIA Connections | White House welcomes Afghan Taliban No. 2 capture | Report: 'US to expand military centers in Pakistan' | Pakistani Taliban leader reportedly killed in U.S. strike | General McChrystal indicates talks with Taliban to be discussed | No new Taliban crackdowns for 6 months, Pakistan says | Killer of CIA agents in Afghanistan called for revenge for Baitullah Mehsud | Suspected US drone 'kills 12′ in Pakistan | Mumbai terror attack suspect withdraws confession | Mumbai suspect is US double agent, India claims | U.S. prods Pakistan to expand offensive | Pakistan anti-Taliban offensive in South Waziristan 'over' | CIA admits Blackwater presence in Pakistan | U.S. Military Joins CIA's Drone War in Pakistan | Bin Laden not in Pakistan, says prime minister | Pakistan charges 7 in Mumbai attacks | UK: Rights watchdog reveals Pakistani spies pressed by British to torture detainees | Taliban: Blackwater to blame for Pakistan attacks | Taliban Chief Blames Blackwater, ISI for Peshawar Blast | UN: Drone attacks may violate international law | Bomb kills dozens in Pakistan as Hillary Clinton arrives | Pakistani Army working with 'Good Taliban' | Refugee flood reveals human cost of South Waziristan's invisible war | 'Taliban' resist Pakistan onslaught | Pakistani troops assault 'Taliban' stronghold | Militants attack Pakistani cities | Pakistan launches air strikes before offensive | Pakistan hit by another deadly bomb blast | Bloody siege in Pakistan ends with 20 dead | Pakistan to indict suspects in Mumbai attacks | Links to 'Al-Qaeda', Pakistani training camps linger after 'Toronto 18′ member imprisoned | Pakistani militant leader dead: Taliban | Mumbai attack suspect shocks court and own defence lawyer by pleading guilty | Taliban flee new U.S. drive in Afghanistan | Pakistan remains silent as U.S. air attack kills 80 | Whistleblower Who Linked "Taliban" Leader To US Intelligence Is Assassinated | CIA: Bin Laden still in Pakistan | Pakistan army backs citizens fighting Taliban | The Main Result of the "War on Terror": The Destabilization of Pakistan | Homing chips are CIA's latest weapon against 'al-Qaida' targets hiding in Pakistan's tribal belt | Pakistani troops battle Taliban in key Swat Valley city | Canada eyes arms sales to Pakistan | MacKay to discuss security concerns with Pakistan | Caught in the crossfire — the Swat valley's fleeing families | CIA: Our Drones are Killing Terrorists. Promise. | 500,000 fleeing Pakistani airstrikes, fighting, UN reports | Pakistan is 'abdicating to the Taliban,' says Clinton | Mumbai attacks suspect alleges torture, retracts confession | US military may escalate 'war on terror' by striking deeper into Pakistan | Pakistan restores outspoken judge | Pakistani police attack opposition march for independent judiciary | Not very cricket: Witnesses report Pakistani security abandoned convoy prior to attack | Pakistani officers helped plan Mumbai attacks, says India | Report: CIA runs secret bases in Pakistan | Indian Mumbai dossier details gunmen's calls with handlers | India to create national spy agency in wake of Mumbai attacks | Former ISI Chief: Mumbai And 9/11 Both "Inside Jobs" | Indian Intelligence Provided SIM Cards to Mumbai Gunmen | Mumbai Attacks Politicize Long-Isolated Elite | Mumbai terror attacks: Rice calls for 'total transparency' from Pakistan | CIA Foreknowledge of the Mumbai Attacks | "Fair-skinned, blonde" assailants began attack in Mumbai | Mumbai Attacks Blamed On Al-Qaeda As Pretext For U.S. Military Response | Terror strikes Mumbai | Don't-ask-don't-tell Policy: Pakistan and U.S. Have Tacit Deal On Airstrikes | Death toll climbs after U.S. air strike in Pakistan | US Incursion Turned Back by Pakistan Army | Bush secret order to send special forces into Pakistan | Pakistan fury over 'US assault' | Musharraf resigns as Pakistan president | Key Benazir Bhutto assassination witness shot dead | CIA, Pakistani ISI have long, complicated relationship | U.S. Intel Officer: Al Qaeda Leadership Allowed To Operate Freely in Pakistan | Afghanistan suggests Pakistan responsible for embassy bombing | Bhutto report: Musharraf planned to fix elections | Video: 'The most conclusive evidence' Bhutto was shot | Police abandoned security posts before Bhutto assassination | Bhutto assassinated | Benazir Bhutto: Bin Laden Murdered | Terror accused refuses to discuss links to Pakistan secret service, family threatened | London terror plotter was 'hardened' in ISI camp | US Allowed Taliban, Al-Qaeda Airlift Evacuation