So now, having a kill list and foreign agents being run through an assassination program is 'a rare step' rather than an immoral policy decision which would have been greeted with howls of outrage if it was even considered, never mind casually announced in the press even a decade ago. Incitement, which isn't the whole story here – the US have wanted to go into Yemen since just before the staged underwear bombing – is still not a crime punishable by death.
Related: Terror of innocent Britons named as assassins: Why choose us, ask men whose identities were stolen during alleged Israeli hit on Hamas official | Obama Making Plans to Use Executive Power | Crotch Bomber Mutallab's Visa Approved by State Department | Authorities Quietly Reverse Underwear Bomber Official Story | Underwear Bomber's Visa Had Expired, Say Yemeni Authorities | U.S. quietly takes terror war to Yemen | 'Al-Qaeda' in Yemen claims responsibility for attack on plane | Britain 'barred US air terror suspect' | Flight 253 passenger: Sharp-dressed man aided terror suspect Umar Farouk Abdul Mutallab onto plane without passport | Father of Umar Farouk Abdul Mutallab, Nigerian terror suspect in Flight 253 attack, warned U.S. | British student held over alleged airline bomb attempt | Ex-Guantanamo detainee becomes No. 2 for al-Qaeda in Yemen
Mark Tran, The Guardian
April 7, 2010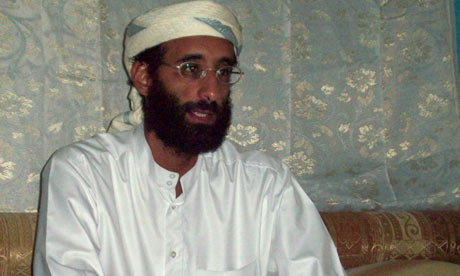 The Obama administration has taken the rare step of authorising the killing of a US citizen, Anwar al-Awlaki, a radical Muslim cleric linked to the attempt to blow up a US airliner on Christmas Day.
The decision to place Awlaki on a US hit list followed a national security council review because of his status as an American citizen.
"Awlaki is a proven threat," a US official told Reuters. "He's being targeted."
Born in New Mexico to Yemeni parents, Awlaki has been accused of encouraging terrorism in his sermons and writings. He is believed to be in hiding in Yemen's rugged Shabwa or Mareb regions, an area that has become a haven for jihadis. He has been linked to Major Nidal Malik Hasan, the army psychiatrist accused of killing 13 people at Fort Hood, Texas, in November, and to Umar Farouk Abdulmutallab, the Nigerian charged with trying to blow up a Detroit-bound airliner on Christmas Day.
It is extremely rare, if not unprecedented, for an American to be approved for "targeted killing", officials told the New York Times. A former senior legal official in the Bush administration said he did not know of any American who was approved for targeted killing under the former president.
The decision to place Awlaki on a hit list took place this year, the paper said, as US counterterrorism officials judged he had moved beyond inciting attacks against the US — he has a large following among English-speaking Muslims — to participating in them.
"The danger Awlaki poses to this country is no longer confined to words," an official told the New York Times. "He's gotten involved in plots."
The policy of targeted killings is controversial. President Gerald Ford issued an executive order banning political assassinations in 1976. However, Congress approved the use of military force against al-Qaida after the 9/11 terrorist attacks. People on the target list are considered to be military enemies of the US and therefore not subject to the ban on political assassination.
In February, the director of national intelligence, Dennis Blairan, alarmed civil liberties groups when he told Congress that the US may, with executive approval, deliberately target and kill US citizens suspected of being involved in terrorism.
Under Obama's watch, the US has stepped up attacks on al-Qaida figures around the world from Somalia to the Afghanistan-Pakistan border through the use of Predator drones or other aircraft. The Pakistani government tacitly permits CIA-operated unmanned aircraft to target terrorist sites and militants up to 50 miles inside the country, and there have been reports of helicopter-borne raids into Pakistani territory.
Source | See also under Terror: Harkat defence gets bombshell help from declassified U.S. documents | Eight U.S. militia members enter not guilty pleas, lawyers expect 'mega trial' | Alt-Media Predictions Borne Out: FBI Agent Discovered at Center of Alleged Hutaree Conspiracy | Undercover agent helped in probe of Hutaree | Mumbai Terrorist Headley Was US Agent | Raid on 'unheard of' Hutaree militia puzzles small town | 9 Hutaree members face federal charges of conspiracy, attempting to use 'weapons of mass destruction' | FBI raids in Washtenaw, Lenawee counties tied to Michigan militia group | British military intelligence 'ran renegade torture unit in Iraq' | Judge: $575M settlement rejected for 9/11 heroes | Former smuggler, DEA informant who helped plot Mumbai attacks faces life in prison | Government Warned 9/11 Commission 'Not To Cross The Line' | Georgia suffering backlash over media-staged Russian attack | Public Safety Canada announces national plan to centralize operations in state of emergency | 'Security Certificate' victim Charkaoui to sue Ottawa for $24 million | 9/11 tentative deal for rescue workers reached | French bread spiked with LSD in CIA experiment | UK Government Ad: Use Cash And Enjoy Privacy? You're A Terrorist | A Guide to the 9/11 Whistleblowers | Military trials possible for Sept. 11 terror suspects | United States weighs massive expansion of Internet monitoring | Gunman shot and killed after shooting 2 Pentagon police officers | Twelve New England towns demand 9/11 reinvestigation | Croissant causes downtown St. Petersburg terror evacuation | Cyberwar Hype Intended to Destroy the Open Internet | Obama gives Patriot Act another year with no privacy protections | Arrested Terrorist Leader Exposes Extensive CIA Connections | UK: Government fury as judges attack MI5, security services | CSIS Agents likely contributed to Toronto man's torture: Inquiry | Washington Times: Architects for 9/11 Truth Present Petition to Congress | Poland releases details on CIA 'black sites' | N.Y.C. bomb plot suspect Zazi makes plea deal after mother threatened | Former terror suspect Hassan Almrei wants apology | Nine Months Before Operation Northwoods, Government Leaders Suggested False Flag Terror in the Dominican Republic | The truth about the Mossad | Anthrax mailing probe closed by FBI | Dubai police call on Interpol to help arrest Mossad head | Terror of innocent Britons named as assassins: Why choose us, ask men whose identities were stolen during alleged Israeli hit on Hamas official | Khadr's lawyers dispute government decision | Ottawa reluctantly asks U.S. for assurances Khadr trial will not use evidence CSIS obtained in violation of rights | Toronto 18 conspirator Shareef Abdelhaleem 'not entrapped', despite evident entrapment: judge | Bruce Anderson: We not only have a right to use torture. We have a duty | 5 Muslims jailed for Australian terror plot | Vancouver police shut down several blocks, shopping mall to blow up fishing rod | Explosive chemicals not stolen prior to Olympics after all: RCMP | CIA Tells Congress al-Qaeda to Attack in Three to Six Months | Domestic threats biggest Olympic security concern: expert | Washington DC transit system holds anti-terror drills | Harkat denies knowing al-Qaeda operative | Harkat denies links to terrorism in court | Pakistani Taliban leader reportedly killed in U.S. strike | Yemen rejects rebel's ceasefire offer; bloodshed continues | Israel denies Gaza war crimes in report to UN | Omar Khadr's rights were violated: Ruling sees top court clash with Tories | Crotch bomber bill before Congress: Treat all 'terrorism suspects' as enemy combatants. Domestically. | UN in secret peace talks with Taliban | 'Bin Laden' slams U.S over global warming, dollar, in another unconfirmed tape | Pentagon to Send More Special Forces Troops to Yemen | Crotch Bomber Mutallab's Visa Approved by State Department | Authorities Quietly Reverse Underwear Bomber Official Story | Bomb plotter blames police in Toronto 18 case | Pie tossing is terrorism, MP says. Seriously. | UK: Airline passengers have 'no right' to refuse naked body scanners | 'Toronto 18′ accused involved in bomb plot through RCMP agent, defence says | Full-body scanner blind to bomb parts | U.S. can't confirm latest 'bin Laden' tape authentic | UK: Photographers protest over terror search laws | UK terror threat raised to 'severe' | Indian airports on alert after report of hijacking plot | No new Taliban crackdowns for 6 months, Pakistan says | Toronto 18 member pleads no contest in preparation for entrapment defence | FBI 'fabricated terror emergencies to get phone records' | The Toronto 18 Publication Ban: Silence affects the core of justice | US magazine claims Guantánamo inmates were killed during questioning | Toronto 18 'mastermind' gets life sentence | Walkom: Mole crucial to terror trial | RCMP hasn't closed book on missing potential explosive as Olympics loom | Harkat challenge of security certificate goes to court | Toronto 18 ringleader says he's sorry | Yemen forces 'kill Al-Qaeda chief' | RCMP ends search — and Wiebo Ludwig opens his door | UK: Anti-terror stop and search policy ruled illegal by European human rights court | Remain vigilant while travelling, Baird tells Canadians | 'Toronto 18′ suspect wanted to profit from bombings: witnes | 'No intention' to invade Yemen: Obama | Wiebo Ludwig arrested 'to protect public': RCMP goes fishing in pipeline bombing case | Killer of CIA agents in Afghanistan called for revenge for Baitullah Mehsud | American cash gives Yemen a reason to join the hunt for al-Qaeda | Obama orders 'strengthened' no-fly list after bomb plot | Spy links with CIA suicide bomber are problem for Jordan | Most U.S. homegrown terror suspects are young men: study | Convicted 9/11 conspirator not allowed to see evidence, loses appeal | US implements travel profiling: Tougher air screening for 'security-risk' countries | UK: Full-body scanners being ordered for airports, says Gordon Brown | Britain, U.S. to fund Yemen anti-terror unit | Underwear Bomber's Visa Had Expired, Say Yemeni Authorities | US plots retaliatory strikes against al-Qaida in Yemen over plane bomber | Detroit bombing: US had received intelligence suggesting Nigerian was planning an attack | US jet plot suspect 'was in Yemen in December' | Airport restrictions denounced as 'security theatre' | Obama vows to step up terror fight | No carry-on bags for flights to U.S., RCMP assisting with screening | U.S. quietly takes terror war to Yemen | 'Al-Qaeda' in Yemen claims responsibility for attack on plane | Britain 'barred US air terror suspect' | Flight 253 passenger: Sharp-dressed man aided terror suspect Umar Farouk Abdul Mutallab onto plane without passport | Father of Umar Farouk Abdul Mutallab, Nigerian terror suspect in Flight 253 attack, warned U.S. | British student held over alleged airline bomb attempt | Mumbai terror attack suspect withdraws confession | Mumbai suspect is US double agent, India claims | Iraq security forces involved in bombings: PM | US Buying Illinois Prison for Guantanamo Detainees | Almrei security certificate struck down | Government will review 'anti-terror' security certificates: Van Loan | CIA admits Blackwater presence in Pakistan | UK: From snapshot to Special Branch: how my camera made me a terror suspect | British Muslim gets life over 'liquid bomb' plot | Mumbai police ignored security alerts, says report | U.S. Military Joins CIA's Drone War in Pakistan | Bin Laden not in Pakistan, says prime minister | UK: Photographer questioned under anti-terror laws for taking pictures of Christmas lights | U.S. 'missed chance' to capture bin Laden in 2001 | Mumbai highlights security on attack anniversary | Blair lied and lied again: Mandarins reveal that 10 days before Iraq invasion PM knew Saddam couldn't use WMDs | Pakistan charges 7 in Mumbai attacks | US pours millions into anti-Taliban militias in Afghanistan | Sears Tower 'bomb plot' ringleader sentenced to 13 years | Guantanamo won't close by January: Obama | Taliban: Blackwater to blame for Pakistan attacks | Federal Privacy Commissioner raises alarm over terror security measures | UK 'backs Taliban reintegration' | Alleged 9/11 mastermind to go on trial in NYC | Omar Khadr to face Military Commission trial in US | How the US Funds the Taliban | UK: Terror 'suspects' could remain on DNA database for life, innocents get 6 years | Public Safety Canada's emergency plan not implemented: Auditor General | China launches 'strike hard' crackdown in Xinjiang | Clinton confronted by Pakistanis over attacks by aerial drones | Top Mountie wants more money to fight terrorism | Canadians blind to terror threat: top spy | Police arrested over Iraq bombing | Taliban Chief Blames Blackwater, ISI for Peshawar Blast | Omar Khadr 'innocent' in death of U.S. soldier | Bomb kills dozens in Pakistan as Hillary Clinton arrives | UK: Move to withhold evidence in MI5/MI6 torture collusion claim | Ex-CIA agent confirms US ties with Jundullah | Pakistani Army working with 'Good Taliban' | Toronto 18 video evidence released | Court orders CSIS to hand over secret file | Iranian commanders assassinated, Iran fingers Western intelligence | Canada's military peers into future, sees drone patrols, draft, insurgency | Pakistani troops assault 'Taliban' stronghold | Danish Prime Minister Knew WTC Would Collapse | Despite provocation taint, absence of plan, five men convicted of 'terror plot' in Australia's longest trial | Militants attack Pakistani cities | Pakistan launches air strikes before offensive | Pakistan hit by another deadly bomb blast | Bloody siege in Pakistan ends with 20 dead | 'Toronto 18′ leader pleads guilty | RCMP warns EnCana bomber may strike this weekend | US 'will' disregard borders in terrorist hunt, says Obama | DHS Video Portrays Average Americans As Terrorists | Kuebler dropped as Omar Khadr's lawyer | Crown appeals Toronto bomb plotter's sentence | Third guilty plea in Toronto 18 'terror plot' | Prosecutor: US terror suspect wanted to carry out attack on 9/11 anniversary | Adil Charkaoui, 'terror suspect', to be freed | More troops on the streets: U.S. terror alert expands to transit and stadiums | 'Al Qaeda' video predicts Obama's downfall | Media hypes terror plot, despite the fact no one is charged with terror | Lawyer for imam charged in alleged terrorism plot says he is a scapegoat | Judge eases restrictions on Harkat | Second Toronto 18 suspect pleads guilty | Canada sees worsening security in Afghanistan | Another dubious Bin Laden tape: Obama 'powerless' in Afghanistan | UK: 'Airline bomb plotters' jailed for life | Charlie Sheen urges Barack Obama to reopen 9/11 investigation in video message | Has Osama Bin Laden been dead for seven years — and are the U.S. and Britain covering it up to continue war on terror? | American dissenters urge: "Stop the 9-11 cover-up" | Able Danger and DIA had advanced knowledge of 9/11 | In wake of 9/11, 'War on Terror' spawned more terrorism | Charlie Sheen Requests Meeting With Obama Over 9/11 Cover-Up | Army defuses huge bomb on Northern Ireland border | 3 U.K. men convicted in airline bomb plot | The making of a homegrown terrorist | Links to 'Al-Qaeda', Pakistani training camps linger after 'Toronto 18′ member imprisoned | NATO pledges probe of deadly Afghan air strike; civilians killed | Supreme Court to hear government's appeal of Khadr case | 'Toronto 18′ member handed 14-year sentence | CIA doctors face human experimentation claims | Sri Lanka journalist gets 20 years in jail for exposing state abuse | Australian Army Base Terrorism Case 'Exaggerated' | Evasive Australian police quizzed whether covert operative was planted among terror suspects | Madsen: CIA collusion with "Al Qaeda" financiers and attack planners | Ottawa to appeal Khadr ruling to top court| 2-year term sought in Toronto 'terror plot' | Charkaoui asks court to toss security certificate case | US Officer responsible for Vietnam massacre finally apologizes | Harper hints at appeal of Khadr ruling | 'Global War on Terror' rebranded as call to address extremism, social change | Canada should stay in Afghanistan: NATO head | 'Imminent' terror strike foiled in Australia | A Sibel Edmonds Bombshell — Bin Laden Worked for U.S. Until 9/11 | US Homeland Security: Terror fight needs public's vigilance | UK: Secrets of CIA 'ghost flights' to be revealed | Mumbai attack suspect shocks court and own defence lawyer by pleading guilty | Pentagon-handpicked 9/11 families want Gitmo kept open | Ex-FBI Agent: Why I Support a New 9/11 Investigation | Dick Cheney 'hid plans to kill al-Qaida operatives abroad' | RCMP pipeline bomber hunt draws harassment compliants, comparisons to secret police | Professor fingers Thermite charges as responsible for 9/11 demolition | Pakistani president Asif Zardari admits creating terrorist groups | Revealed — the secret torture evidence MI5 tried to suppress | RCMP now refer to pipeline sabotage as 'domestic terrorism' | UK: As rumours swell that the government staged 7/7, victims' relatives call for a proper inquiry | Guantanamo's closure window dressing — overseas CIA 'black sites' to stay | Western Governments Funding Taliban & Al-Qaeda To Kill U.S. Troops, Destabilize Countries | Latest EnCana pipeline explosion was deliberate: RCMP | Taliban flee new U.S. drive in Afghanistan | CSIS bungled second terror case | Obama Administration Shuts Down 9/11 Families Lawsuit | Selective enforcement: Charkaoui barred from US airspace on flight from Fredericton to Montreal | Pakistan remains silent as U.S. air attack kills 80 | 'If I didn't confess to 7/7 bombings MI5 officers would rape my wife,' claims torture victim | UN rushes Abdelrazik terror allegations onto website in wake of exoneration | Leaked documents in 9/11 suit show House of Saud links to 'Al-Qaeda', extremism | Harkat raid ruled illegal | Ottawa appeals court order to repatriate Omar Khadr | Whistleblower Who Linked "Taliban" Leader To US Intelligence Is Assassinated | Toronto 18 'terror' accused signs confession, media retreads tales of planned chaos | Ottawa will allow Abdelrazik to return to Canada | DoD Training Manual Describes Protest As "Low-Level Terrorism" | CIA: Bin Laden still in Pakistan | Man with Toronto 18 ties convicted in the U.S. | Pakistan army backs citizens fighting Taliban | CSIS reviews security certificate cases in wake of criticism | UK schoolkids trained to inform on 'extremist' classmates by police DVD | Gitmo protest captured on film | Would-be U.S. jihadist met with 'Toronto 18′ members: prosecutors | The Main Result of the "War on Terror": The Destabilization of Pakistan | CSIS forced to 'reveal' info on secret source in Harkat case | Homing chips are CIA's latest weapon against 'al-Qaida' targets hiding in Pakistan's tribal belt | Blast at Iranian mosque raises tensions in run-up to presidential election | Abu Ghraib abuse photos 'show rape' | Homegrown terror threat still real, Public Safety Minister warns alongside Homeland Security counterpart | Judge orders recall of CSIS witnesses in Harkat case for potential perjury, obstruction | Oppressive anti-terror laws stay despite end of Sri Lankan civil war, Canadian embassy defaced by govt supporters | Public may not hear fate of Greyhound bus killer | Pentagon: One in seven released from Guantanamo involved in terrorism | Skepticism greets launch of Afghan detainee inquiry | Pakistani troops battle Taliban in key Swat Valley city | Man sentenced, then freed, after involvement in Toronto 'bomb plot' | How MI5 blackmails British Muslims | Supreme Court of Canada won't hear Afghan detainee torture case | New York "Terror Plot" Another Government Provocateured Set-Up | US arms sent to Afghan forces 'in Taliban hands' | UK Police, MI-5 stretched too thin to stop London bombings: report | Abuse 'endemic' in Irish Roman Catholic schools: Report | Quarter of a million Sri Lankans face two years in camps | Tamil Tiger leader killed, insurgency crushed: officials | MacKay to discuss security concerns with Pakistan | Caught in the crossfire — the Swat valley's fleeing families | Medics helpless, 'safe zone' hospital shelled 2nd time in Sri Lanka | Scouts Train to Fight Terrorists, and More | Reversing himself, Obama seeks to block abuse photos | CIA: Our Drones are Killing Terrorists. Promise. | 'More than 1,000 civilians killed' in attacks on Sri Lanka safe zone | 500,000 fleeing Pakistani airstrikes, fighting, UN reports | US air strikes kill dozens of Afghan civilians | Toronto 18 member pleads in bomb plot | Al-Qaeda Chief In Iraq: Captured, Killed, Never Actually Existed, Now Captured Again | PM must press U.S. for Khadr's return from Guantanamo, court rules | Pakistan's army: as inept as it is corrupt | UN satellite imagery attests to shelling of Tamil 'safe zone' | Memo: 9/11 Commission Witnesses Were Intimidated By Government "Minders" | Trio not guilty of helping 7/7 London bombers | rom Guantanamo, court rules | British soldiers 'tortured and murdered 20 Iraqis, then covered it up with firefight claim' | Pakistan is 'abdicating to the Taliban,' says Clinton | All 11 men arrested during anti-terror raids released without charge | CIA waterboarded 2 al-Qaida suspects 266 times | Tamil civilians slaughtered as army shells 'no-fire zone' | UK: Government makes 'unprecedented' apology for covering up Binyam torture | Psychologists Helped Guide CIA Interrogations | 'Toronto 18′ teen to be sentenced as adult | Mumbai attacks suspect alleges torture, retracts confession | 9/11 Commission Counsel: Government Agreed to Lie About 9/11 | NATO denies air strike killed Afghan civilians | Secret Homeland Security Threat Assessment Labels Gun Owners Potential Terrorists | UK: Terror bomb plot 'intelligence' came from MI6's Pakistan operation | Khawaja appeals terrorism conviction | China executes two men, 'guilty' of killing 17 police before Olympics | Police feared 'Al-Qaida terror attack' on UK was planned for Easter | Police arrest 12 in anti-terror raids in Britain | Document lays bare CIA torture techniques | Khadr's military lawyer reinstated | Study claims 'highly engineered explosive' found in WTC rubble | Netanyahu: We may be forced to attack Iran | NYPD seeks to expand anti-terror program to midtown | Watchdog rejects government bid to delay Afghan detainee inquiry | London Police Encourage Citizens To Inform on Neighbour's Garbage | Judge finds no entrapment of suspects in Toronto 'terror' case | UK Home Secretary unveils civilian anti-terrorism security force | Intelligence made it clear Saddam was not a threat, diplomat tells MPs | Israeli military whistleblowers: troops fired on children | US military may escalate 'war on terror' by striking deeper into Pakistan | Security certificate detainee requests prison over intrusions on family | Obama administration: Guantanamo detainees have 'no constitutional rights' | Supporters defy law, buy plane ticket for Montrealer stuck in Sudan | Khawaja sentenced to 10½ years in prison | Tories aim to bring back anti-terrorism provisions | Security guards stood by as gunmen killed Northern Ireland soldiers | Not very cricket: Witnesses report Pakistani security abandoned convoy prior to attack | 'Accidental' Contamination Of Vaccine With Live Avian Flu Virus Virtually Impossible | Military readies reservists for threats to 'domestic front' | Against protocol, bus decapitation accused released from Ontario institution in 2005 | CIA destroyed 92 interview tapes | New book details Mossad false flag assassination attempt on Canadian passports | Obama tries to kill lawsuit challenging wiretapping program, fails | Pakistani officers helped plan Mumbai attacks, says India | Tortured Guantanamo detainee set free | Obama backs Bush: No rights for Bagram prisoners | Canadians tortured overseas sue government | 'Bomb plot' case jury dismissed | Report: CIA runs secret bases in Pakistan | Terrorist plot was to blow up seven airliners, prosecutor tells court | Former MI5 chief: UK Ministers 'using fear of terror' to restrict civil rights | UK: Calling the police to account for anti-photography law | Crown seeks lengthy sentence for Khawaja | RCMP mole in Toronto 18 case says he felt 'bad' in terror sting | Australian 'terrorist leader' sentenced to 12 years | Former President Jimmy Carter Supports Call For New 9/11 Investigation | Toronto 18 Terror case: RCMP agent Shaikh was instigator who broke law: defence | Publication ban law too broad, top Ontario court rules | Pentagon's terror 'recidivism' claims blasted as 'propaganda' | Ex-Guantanamo detainee becomes No. 2 for al-Qaeda in Yemen | Obama shuts network of CIA 'ghost prisons' | Swiss nuclear-smuggling suspect says CIA made him do it | Pakistan lauds arrest of 7/7 militants on US tip, Britain denies suspect's involvement | Israel admits troops used phosphorus shells in Gaza | Woman swats children on plane, charged with Terrorism | Newly Uncovered WTC 7 Video Betrays More Foreknowledge Of Collapse | Khadr trial date up in air after 'secret' refiling of charges: defence lawyer | Indian Mumbai dossier details gunmen's calls with handlers | India signs new anti-terror laws in wake of Mumbai attack | Five muslims face life for Fort Dix 'terror plot' orchestrated by FBI | FDNY Lieutenant Admitted Plan To 'Take Down' WTC 7 | Australian Citizen Journalist Charged for Filming Police under Anti-Terror Law | India to create national spy agency in wake of Mumbai attacks | Conspiracy against Arar reached to highest levels, U.S. court told | Sept. 11 suspects want to "confess" | Former ISI Chief: Mumbai And 9/11 Both "Inside Jobs" | Blackwater Guards facing Charges in Case of 17 Dead Iraqi Citizens | Indian Intelligence Provided SIM Cards to Mumbai Gunmen | CIA Foreknowledge of the Mumbai Attacks | Counterterrorism squad rounds up UK opposition member over whistleblower incident | "Fair-skinned, blonde" assailants began attack in Mumbai | Experts doubt Al Qaeda link in Mumbai attacks | Mumbai Attacks Blamed On Al-Qaeda As Pretext For U.S. Military Response | Terror strikes Mumbai | Former US congresswoman, presidential candidate Cynthia McKinney barred from boarding plane to human rights conference | German Intelligence Agents Caught Staging False Flag Terror in Kosovo | IntelCenter Releases Video of Former CIA Employee Zawahiri Threatening America | Don't-ask-don't-tell Policy: Pakistan and U.S. Have Tacit Deal On Airstrikes | Ottawa moves to block Afghanistan detainee torture hearings again | Ex-Italian President: Provocateur Riots Then "Beat The Shit Out Of Protesters" | Khawaja radicalized by insurgent dreams, convicted on terror connections but not intent | Tortured trio say report 'vindicates us' | China names 8 alleged Olympic terrorists | Ex-CSIS Agent, 'Security Expert', Paints Pipeline Explosion as "Terror" | If released, security detainee Almrei to be surveilled, wiretapped, and GPS-tracked | Security expert: Weak accusations against Almrei, held 7 years on security certificate | Activists seen as potential threat to Vancouver Games | Lawyers say UK Guantánamo suspect has no hope of fair trial | Doubt Arises in Account of pre-Olympic 'Uighur' Attack in China | Globe: "No evidence" of plot in terror conviction, "wide net" cast by strong new laws | 'Mens rea' intention test questioned prior to Toronto 18 terror verdict | Youth found guilty in Toronto terror trial despite RCMP mole's entrapment role | Feds ordered to share evidence with defence in Harkat security case | American Intelligence Contractors Leak Canadian Toronto 18 'Terror Training' Video to Web | Ottawa balks at travel permit for man trapped in Sudan | Prosecuters fail to secure airborne liquid bomb convictions, conspiracy charges stick | Troops in the Streets: Army Brigades Standing By to Assist in Disasters, Help Quell Dissent | Blackwater-linked firm to train Canadian troops | Canadian troops continue gearing up, to receive US counter-insurgency training | US Government Questioned on Forged Letter Linking Saddam to 9/11 | Crown can't tie Khawaja to British bomb plot, lawyer argues | Pentagon Front Groups Release Laughable Olympics "Terror" Video | Prosecutors weigh options after hung jury in 7/7 UK terror trial | Bombs explode, Washington-based Intelcenter releases yet another terror video, China cracks down on transport security | Cheney Considered False Flag Operation to Justify War with Iran | Terrorism claims against Khawaja stunned his ex-fiancée | Terror suspect's inflammatory personal EMails judged admissable | 3 men plead guilty to lesser charges in 'liquid bomb' airline plot | US scales up covert destabilization efforts in Iran, continues funding 'al-Qaeda' | Afghanistan suggests Pakistan responsible for embassy bombing | Informant 'never discussed' fertilizer bomb plot with accused in Ottawa 'terror trial' | Third Mole Surfacing in Toronto Terror Trial? | Crown turns on own witness in 'terror' trial | Report: U.S. Gave Green Light For Taliban Prison Attack | Trial of Canadian charged in UK fertilizer bomb plot gets underway | Third Mole Surfacing in Toronto Terror Trial? | RCMP informant says accused in militant plot was naive | Paid CSIS Informant Says Public Not Upset Enough about Toronto 'Terror' Plot | Latest Toronto 18 'Terror' Wiretaps Confirm Youths Goaded by Reservist, Paid Police Informant | Toronto 'Terrorists' Agree on Decapitation Plot, Fail to Open Tuna Tin | Many Question if Toronto "Terrorists" Were Led by Informants as Case Weakens | Crown presents evidence in Toronto terror suspect trial | Terror case begins to emit ripe aroma | Purported bin Laden tape decries Israel's anniversary | Homegrown intelligence gap | Australian 'Terror Plot' Case Bears Remarkable Similarities to 'Toronto 18′ | Canada's anti-terror law unconstitutional, defence says | Toronto's Terrorism Case: For the Families, Fear and Bewilderment | CSIS informant admits cocaine, marijuana use during investigation | Ex-Italian President: Intel Agencies Know 9/11 An Inside Job | Declassified: Israel, USA Attempted Deliberate Sinking of USS Liberty During Mideast War | Terror trial proceedings troubling | New Bin Laden Video: 100% Forgery | FBI Informant in British terror trial given immunity, proceedings raise question of what MI5 knew about 2005 London bombings | Five guilty in UK bomb plot | Alleged Toronto terror plot included two police agents | Investigative Reporter Seymour Hersh: US Indirectly Funding Al-Qaeda Linked Sunni Groups in Move to Counter Iran | Alleged Toronto terror plot included two police agents | U.S. Government Caught Red-Handed Releasing Staged Al-Qaeda Videos | Terror accused refuses to discuss links to Pakistan secret service, family threatened | London terror plotter was 'hardened' in ISI camp | Fertiliser claim in terror trial | Canadians who trust our secret police should think again | Toronto Terrorist Ringleader Has Military Connections | Canadian 'Terror Plot' Begins To Unravel | Police arrest terrorist suspects in Toronto | Terror informant names plotters | Former British Ambassador Says Liquid Bomb Terror Alert Is "Propaganda" | British Special Forces Caught Carrying Out Staged Terror In Iraq? | George W Bush Authorized 911 Attacks Says Government Insider | British 'Terror Suspects' Were in Contact With MI5 | Eight held in British anti-terror raids | Swiss scientists 95% sure that Bin Laden recording was fake | US Allowed Taliban, Al-Qaeda Airlift Evacuation | Operation Northwoods Declassified: U.S. Military Wanted to Provoke War With Cuba| RCMP bombed oil site in 'dirty tricks' campaign