Well, that's good to know. Did the US ever plan on nuking small state actors foolish enough to lob a few slings and arrows its way? It seems unlikely as the global outrage would have been magnitudes of intensity higher than the sort of present languid disapproval of the expanding war in Iraq/Afghanistan/Pakistan we've seen. However, this all begins to look a little more like an attempt to preemptively claim the moral high ground on both sides when one recalls the fact that Iran affirmed a desire for nuclear disarmament a month and a half ago – the same day that Russia announced continued sales of defensive conventional SA missiles to Iran in support of the Iranian domestic nuclear program. Anyways, it remains to be seen what will come of this, there are a lot of pieces in play. At least it has the appearance of a virtuous circle – a disarmament race would be a welcome change from the usual. So let's practice a little prescriptive optimism today (in defiance of all rational expectation.)
Update (same day): Ah. The CBC is now reporting that US Defence Secretary (and former CIA head) Robert Gates has announced that "the policy, known as the Nuclear Posture Review, would not apply to North Korea, Iran or other countries that refuse to co-operate with the international community on nonproliferation standards." So it's just more of the sort of political maneuvering we saw in the lead-up to the Iraq war.
Related: Russia claims breakthrough in historic nuclear reduction agreement with US | Israeli preparations for war with Iran troubling | Russia to push ahead on Iran missile deal | US media omission: Iran calls for global nuclear disarmament | Obama threatens actions against Iran over nuclear program | UN sanctions urged over Iran's uranium plans | Western powers voice scepticism over Iran uranium offer | U.S. deploys land and sea-based missile shield in the Gulf to deter attack from Iran | UK: Tony Blair attempts to shift focus to Iran as 'global threat' at Iraq war inquiry | IAEA members question Iran nuclear intel authenticity | US military could strike Iran, but at what cost? | Another War in the Works | Iran to allow nuclear site inspection | Iran plays into Obama's hands with disclosure of nuclear facility | UN approves nuclear 'disarmament' resolution | Obama scales back missile defence shield in Europe | Israel 'will attack Iran this year' if West does not cripple Tehran with sanctions | Brookings Publication mentions possibility of 'Horrific Provocation' to Trigger Iran Invasion | Blast at Iranian mosque raises tensions in run-up to presidential election | Netanyahu: We may be forced to attack Iran | Proposed Missile Shield seen as Provocation by Russia | Neo-cons still preparing for Iran attack | Russia threatens to 'strike' Poland in wake of U.S. missile plan | Cheney Considered False Flag Operation to Justify War with Iran | US scales up covert destabilization efforts in Iran, continues funding 'al-Qaeda' | Israelis 'rehearse Iran attack' | Israeli official says attack on Iran 'unavoidable' | Bush 'plans Iran air strike by August' | U.S. Navy starts exercises in Gulf waters | U.S. National Intelligence Estimate: Iran stopped nuclear weapons work in 2003 | Cheney Orders Media To Sell Attack On Iran | U.S. sending third aircraft carrier to the Middle East | US aircraft carriers in Persian Gulf | Investigative Reporter Seymour Hersh: US Indirectly Funding Al-Qaeda Linked Sunni Groups in Move to Counter Iran | How the USA Gave North Korea The Bomb | Former CIA Officer — US Plans Nuclear Attack On Iran
Mark Tran, The Guardian
April 6, 2010
Revamped strategy to rule out use of atomic weapons in response to attacks from non-nuclear states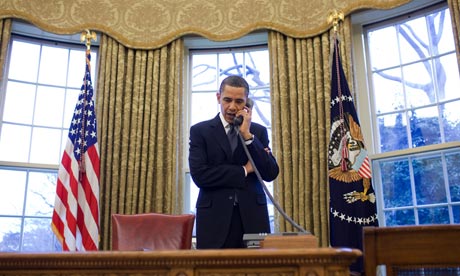 The US will not use nuclear weapons against non-nuclear states that comply with the nuclear non-proliferation treaty, even if it is attacked with biological or chemical weapons, Barack Obama is expected to announce today.
However, the US president is expected to stop short of declaring that the US would never be the first to launch a nuclear attack, as many arms control advocates had recommended.
Obama will describe the purpose of weapons as "primarily" or "fundamentally" to deter or respond to a nuclear attack. But even as he limits the conditions for a nuclear strike, the president will make an exception for states such as Iran and North Korea, which have violated or renounced the NPT.
In an interview with the New York Times, before today's unveiling of the new US nuclear strategy, Obama described his policy as part of a broader effort to achieve a world free of nuclear weapons.
Obama can expect an onslaught from conservatives who believe that such an approach undermines US national security. At the other end of the spectrum, liberals will be disappointed that he stops short of renouncing the first-strike option altogether.
"We are going to want to make sure that we can continue to move towards less emphasis on nuclear weapons," Obama told the New York Times, "while making sure that our conventional weapons capability is an effective deterrent in all but the most extreme circumstances".
There are five declared nuclear states: the US, Britain, France, Russia and China. Three states with nuclear weapons have refused to sign the NPT — India, Pakistan and Israel — and North Korea renounced the treaty in 2003.
Iran remains a signatory, but the UN security council has repeatedly found it in violation of its obligations, because it has hidden nuclear plants and refused to answer questions about allegations that it was working on a warhead.
The new strategy, known as the nuclear posture review, comes amid a flurry of nuclear diplomacy. Obama plans to fly to Prague to sign a new arms control agreement with Russia on Thursday to slash nuclear arsenals by a third. The following week, he will host 47 world leaders in Washington for a summit meeting on nuclear security.
Obama's new strategy marks a break with the Bush administration's more hawkish policy set out in its 2002 review, threatening the use of nuclear weapons to pre-empt or respond to chemical or biological attack, even from non-nuclear countries.
Those threats, Obama said, could be deterred with "a series of graded options" — a combination of old and newly -designed conventional weapons. In another departure from his predecessor, Obama will commit the US to no new atomic arms development, US officials said.
The US will, however, increase investment in upgrading its weapons infrastructure, which one White House official said would "facilitate further nuclear reductions".
In line with an in-depth review of US nuclear weapons policy, the administration also hopes to persuade Russia to agree to open talks on mutual cuts in nuclear arsenals that go beyond the Strategic Arms Reduction Treaty (Start) treaty to be signed in Prague.
The White House hopes to overcome Russia's expressed reluctance to move beyond Start, signed at the end of the cold war in 1991 and which expired in December, especially if it means cutting Moscow's arsenal of tactical, or short-range nuclear arms. Russia considers these so-called theatre nuclear weapons vital to its defence strategy and an important bargaining chip on security issues.
"We are going to pursue opportunities for further reductions in our nuclear posture, working in tandem with Russia but also working in tandem with Nato as a whole," Obama told the New York Times.
An early test will be the estimated 200 tactical nuclear weapons — considered largely obsolete — the US still has stationed in western Europe. Russia has called for their removal, but Obama said he wanted to consult his Nato allies before such a commitment.
Source | See also under Militarization: Controversial use of mercenary forces surges in Afghanistan | Afghan tension mounts as NATO offensive looms | US Airline Security Moves to Known Threat Descriptive Profiling | Recent mass grave of the 'disappeared' uncovered in Columbia | Cop Cleared By Grand Jury For Tasering Great Grandmother During Speeding Stop | Officers suspended after using Taser on 10-year-old | Raid on 'unheard of' Hutaree militia puzzles small town | The prison spending boom | Full Afghan withdrawal 'wrong,' top Tory says | Ontario report rewrites stun gun rules, somewhat | FBI raids in Washtenaw, Lenawee counties tied to Michigan militia group | Massive fortress Ottawa in the works | UK: Police Taser use 'doubled' in third quarter of 2009 | U.S. to press for Canada to keep troops in Afghanistan | Russia claims breakthrough in historic nuclear reduction agreement with US | Toronto G20 summit security to be 'massive' | British military intelligence 'ran renegade torture unit in Iraq' | RCMP needs 5,500 rooms during G20 summit | U.S. cybersecurity bill introduced in Senate | Body scans eventually mandatory, TSA official says | Planned random DUI checkpoints a violation of rights | Secret Document Calls Wikileaks 'Threat' to U.S. Army | Defence Department official used private contractors for spy network in AfPak | Public Safety Canada announces national plan to centralize operations in state of emergency | While Government Treats Citizens As Terrorists, Mexican Military Invades U.S. | Chicago police expanding Taser use | Cyberattacks push CSIS to reach out to business | An American Detention Bill You Ought to Read More Carefully | Canada wanted Afghan prisoners tortured: lawyer | Military trials possible for Sept. 11 terror suspects | Fingerprints Now Required to Shred (That Means Skateboard, Dude) | United States weighs massive expansion of Internet monitoring | UK: Mobile fingerprint scanner for English and Welsh police | Plan to put more police on Toronto transit | 1 in 3 Killed by U.S. Drone Attacks In Pakistan Are Civilians | Israeli preparations for war with Iran troubling | Downtown Toronto to become a fortress for G20 summit | Pentagon Discloses Hundreds of Reports of Possibly Illegal Intelligence Activities | Australia to fingerprint, face-scan visitors from Muslim nations | G8/G20: Gearing up for the biggest security event in Canadian history | Toronto braces for G20 disruption, Ottawa to pick up security tab | The truth about the Mossad | Iran could be making nuclear warhead, says new director of IAEA | USA: Fourth Amendment Trashed As Airport Tyranny Hits The Streets | RCMP to test Taser cameras | Report: France 'deliberately' used soldiers as 'nuclear guinea pigs' | UK Police use spy drone for first domestic arrest — without airspace clearance | Global security to top agenda of G8 foreign ministers | Five civilians killed in Nato rocket attack in Afghanistan | NATO's novel battle tactic spawns opposite effects as 12 civilians killed | Russia to push ahead on Iran missile deal | Obama Making Plans to Use Executive Power | NATO, Afghan troops launch largest air assault of Afghan war | Report: 'US to expand military centers in Pakistan' | Vancouver police shut down several blocks, shopping mall to blow up fishing rod | Marjah, Afghanistan: Countdown To A Battle | Future police: Meet the UK's armed robot drones | Obama threatens actions against Iran over nuclear program | Troops Randomly Patrol Streets In Pittsburgh in Wake of Snowfall, Respond To "Domestic Disputes" | CFB Trenton commander charged with murder | UN sanctions urged over Iran's uranium plans | Elite Toronto police squad stops and questions thousands | Pentagon Looks to Breed Immortal 'Synthetic Organisms,' Molecular Kill-Switch Included | US Interrogation Squad Doing 'Scientific Research' | Domestic threats biggest Olympic security concern: expert | Washington DC transit system holds anti-terror drills | Hitchens: North Korean's stature, worldview stunted by authoritarian hate and ignorance | U.S. deploys land and sea-based missile shield in the Gulf to deter attack from Iran | UN agency calls for global cyberwarfare treaty, 'driver's license' for Web users | UK: Tony Blair attempts to shift focus to Iran as 'global threat' at Iraq war inquiry | Winnipeg police caught on video beating man | Blair defends decision to join U.S. in Iraq | Crotch bomber bill before Congress: Treat all 'terrorism suspects' as enemy combatants. Domestically. | Toronto Star Columnist Fiorito: The cops came and took my gun | Pentagon to Send More Special Forces Troops to Yemen | Military probes beating of Afghan prisoner | Obama's War for Oil in Colombia | Pentagon calls for 'Office of Strategic Deception' | British and US troops to launch new Afghanistan offensive | The War on Terrorism and the Countdown to the 2010 Olympics | General McChrystal indicates talks with Taliban to be discussed | UK police plan to use military-style spy drones | UK: Photographers protest over terror search laws | Texas Schoolkids Tagged With GPS Tracking Devices | No new Taliban crackdowns for 6 months, Pakistan says | Congressman Ron Paul: After 'CIA coup,' agency 'runs military' | Olympic surveillance cameras causing concern | BATF Notice Bans Private Gun Sales In Texas | Regina police probe RCMP torture claims | War resister released from U.S. prison | Yemen forces 'kill Al-Qaeda chief' | UK: Anti-terror stop and search policy ruled illegal by European human rights court | Obama Executive Order Stokes Martial Law Fears | A North American Security Perimeter Coming Into View | North Korea calls for peace treaty with US | 'No intention' to invade Yemen: Obama | US Domestic Espionage Alert: Spy Drone Discovered | American cash gives Yemen a reason to join the hunt for al-Qaeda | Canada no longer a haven for war resisters | Ex-Blackwater contractors charged with Afghan killings | Airport security starts in the parking lot | PM Harper downplays detainee torture scandal, prorogation | Suspected US drone 'kills 12′ in Pakistan | Body scanners coming to Canadian airports | UK: Full-body scanners being ordered for airports, says Gordon Brown | Group slams Chertoff on conflict of interest in scanner promotion | Britain, U.S. to fund Yemen anti-terror unit | US court dismisses charges against Blackwater security guards | The 'Israelification' of airports: High security, little bother | Taser inquiry can rule on RCMP misconduct | U.S. ruling limits how police can use Tasers | Obama vows to step up terror fight | Prominent Chinese reformer on trial for subversion | Sri Lankan guards 'sexually abused girls' in Tamil concentration camp | Police State Canada 2010 and the Olympic Crackdown | U.S. prods Pakistan to expand offensive | Pakistan anti-Taliban offensive in South Waziristan 'over' | CIA admits Blackwater presence in Pakistan | Dr Peter Watts, Canadian science fiction writer, beaten and arrested at US border | RCMP had no grounds to use Taser on N.W.T. girl: report | Blackwater guards linked to secret CIA raids | Chomsky says Israel, 'US military base' | Blackwater's Erik Prince: Tycoon, Contractor, Soldier, Spy | U.S. Military Joins CIA's Drone War in Pakistan | US Air Force confirms new 'Beast of Kandahar' drone | Scathing report concludes RCMP used TASERs prematurely in Vancouver airport death | Another 7,000 NATO troops going to Afghanistan | U.S. police taser 10-year-old | Russia has no evidence of Iran nuclear bomb-Putin | Obama sends 30,000 more troops to Afghanistan | Condi set sights on Iraq as 9/11 unfolded: UK diplomat | Border guards are now Olympic thought police — Amy Goodman detained | Mumbai highlights security on attack anniversary | Nato will send 5,000 more troops to Afghanistan, says Brown | The Culture of the Warrior: Canada's military invisible no more | US Cop Tasers and Arrests a 10-Year Old Girl For Throwing a Fit | Is G20 more than Toronto can handle? | Guantanamo won't close by January: Obama | Israelis Want a Pain Ray of Their Own | British PM says 5,000 more NATO troops may be deployed in Afghanistan | UK Citizen snoopers recruited to spy on Londoners | Vancouver police get military sound cannon just in time for Olympics | Nobel Peace Laureate Obama Will Send 40K More Troops To War | Report: Blackwater approved plan to pay off Iraqi officials | UK University student fined £80 for dropping matchstick on Oxford pavement | Ask military to help with H1N1: Ottawa councillor | RCMP defend Taser use on girl, 16 | Public Safety Canada's emergency plan not implemented: Auditor General | China launches 'strike hard' crackdown in Xinjiang | Psychic computer shows your thoughts on screen | Chinese media claims Beijing snow 'artificially induced' | Clinton confronted by Pakistanis over attacks by aerial drones | The universality of war propaganda | U.S. artists slam use of music in Guantanamo interrogations | No way to escape Afghan combat post-2011, Hillier says | UK: Paramilitary police placed on routine foot patrol for first time | UK: Secret files reveal covert network run by nuclear police | Glitch at Vancouver Olympic security exercises | U.S. Spies Buy Stake in Firm That Monitors Blogs, Tweets | Canada's military peers into future, sees drone patrols, draft, insurgency | Pakistani troops assault 'Taliban' stronghold | Con Man Who Lost Montana Jail Deal to open Military Centre | UK anti-terrorism strategy 'spies' on innocent | UK to send more troops to Afghanistan, hints Obama to follow suit | PQ wants probe after Taser used on mentally challenged man | US 'will' disregard borders in terrorist hunt, says Obama | DHS Video Portrays Average Americans As Terrorists | Con Man Who Lost Montana Jail Deal to open Military Centre | Spy agencies now free to eavesdrop on Canadians abroad | Embryonic EU security office set up in secret talks under Lisbon Treaty | Laptops fair game for border searches | Military chopper lands in Kenora for burgers | Portable heat ray weapon may end up in police hands | Another War in the Works | Private Paramilitary 'American Police Force' Corporation Takes Over Small Town Police Force and Prisoner-Less Jail | US military could strike Iran, but at what cost? | Honduras suspends civil liberties as ousted President calls for resistance | G20 Police & Military Savagely Attack Peaceful Protesters In Pittsburgh Park | Guantanamo January closing deadline may slip | Military Police Kidnap G20 Protester, Shove Him Into Unmarked Car | 250-Foot Long Hybrid Airship Will Spy Over Afghanistan Battlefields in 2011 | G20 protesters blasted by sonic cannon | American Citizens Attacked With Military Sound Cannons & Tear Gas At G20 | Tory plans for U.S.-style prisons slammed in report | RCMP tests Tasers that record video | Report: Massive FBI database set to quadruple in size | Maximum Alert: U.S. Troops Now Occupying America | More troops on the streets: U.S. terror alert expands to transit and stadiums | As Olympics loom, B.C. wants to force homeless into shelters in extreme weather | U.S. commander warns of failure in Afghanistan, calls for more troops | Merced police used TASER on unarmed, legless man in a wheelchair | Business as usual: SWAT team breaks down mayor's door, shoots dogs, ransacks home, refuses to apologize | Massachusets Says Forced Injections, Quarantines For Any "Rapidly Spreading Germ" | Obama scales back missile defence shield in Europe | US Spec Ops operates psychological warfare websites targeted at UK | US Police to get access to classified military intelligence | CF-18s join B.C. Olympic security drill | Top US commander signals troop increase in Afghanistan | UN condemns 'war crimes' in Gaza | Police training to forcibly take blood in Texas, Idaho | UK: Now Big Brother targets helpful parents — 1 in 4 Britons vetted for giant new child protection database | Sonic weapons used in Iraq positioned at congressional townhall meetings in San Diego county | Ground broken on $3.4 billion Homeland Security complex | Military helicopters over downtown Montreal for exercise | China's crackdown for patriotism on 60th anniversary | Border guards resorting to force more often | Obama's effort in Afghanistan 'just beginning': U.S. defence secretary | Bill would give president emergency control of Internet | Outcry in South America over US military base pact | Olympics push army to edge | UK Government to consider internet disconnection policy, restrictions | Rendition still happening on Obama's watch | Obama approves new interrogation unit | UK: Police may be issued with new high-power Taser | TASER files court motion to quash Braidwood probe's findings | Ex-employees claim Blackwater pimped out young Iraqi girls | Canada should stay in Afghanistan: NATO head | Alabama County May Call In Troops To Perform Law Enforcement Duties | Blackwater Founder Erik Prince Implicated in Murder | 'Coalition of the willing' comes to end in Iraq | Prominent protesters stand trial in Iran | U.S. military seeks 'second surge' for Afghan mission | Arctic borders will be defended: MacKay | Handgun bans and the world of make-believe | US Homeland Security: Terror fight needs public's vigilance | US Military To Work With FEMA During Swine Flu Pandemic | Arctic expert questions Canada's northern strategy | Government of Canada Participates in Major US Homeland Security Exercise | TASER introduces 3-shot semiauto | Northwest Passage surveillance study halted | Microwave weapon will rain pain from the sky | Israeli soldiers allege abuses against Palestinians | Dick Cheney 'hid plans to kill al-Qaida operatives abroad' | UK PM Gordon Brown plans troops surge in Afghanistan | Toronto TAVIS special police corps demanding ID on city streets | RCMP pipeline bomber hunt draws harassment compliants, comparisons to secret police | BC Bars swipe patron IDs, collect data | Safety Tests MIA for Taser's Shocking New Shotgun | 2010 Olympic security plans include 'free speech' zones | Military to get $5B for armoured vehicles | Western Governments Funding Taliban & Al-Qaeda To Kill U.S. Troops, Destabilize Countries | Taliban flee new U.S. drive in Afghanistan | US FEMA emergency management, Israeli IDF team up for martial law exercises | Cynthia McKinney Demands Immediate Release After Her Gaza-Bound Boat is Seized by Israeli Navy | Iraq Marks Withdrawal of U.S. Troops From Cities | Psiphon braintrust: Ottawa needs a strategy for cyberwar | US 'concerned' over cyber threat | 50 Toronto high schools to have armed police presence | Selective enforcement: Charkaoui barred from US airspace on flight from Fredericton to Montreal | Pakistan remains silent as U.S. air attack kills 80 | UK to found new 'cyber-security' units attached to national eavesdropping centre | Illegal Victoria Transit bag searches reinstated under new policy for Canada Day | North Korea threatens to 'wipe out' U.S. | Volunteer snitches man cameras in Lancaster, PA. | Violence on the streets of Tehran as police beat back protesters | Mounties discussed Tasing Dziekanski prior to altercation | Toronto police ready to take over transit patrols | Military spycraft patrols Ontario border from Fort Drum | Mounties discussed Tasing Dziekanski prior to altercation | Toronto police ready to take over transit patrols | ISPs must help police snoop on internet under new bill | UK plans to integrate 'cybersecurity' centre with US, Canada | Military spy blimp watched Indy race from on high | Incoming CSIS chief to seek biometric data at border | New $3B Defence Department plane contract requirements written to favour Italian vendor | New video shows officer shove, then taser 72-year-old great grandmother | Pakistan army backs citizens fighting Taliban | Mohawk protesters block Ontario bridge over arming of border guards | UK: Spy bugs may be deployed for 2012 Olympics | US: Ruling allowing Taser use to get DNA may be nation's first | UK schoolkids trained to inform on 'extremist' classmates by police DVD | Akwesasne natives protest armed border guards, border crossing closed in retaliation | New border rules create 'invisible Berlin Wall': mayor | Homing chips are CIA's latest weapon against 'al-Qaida' targets hiding in Pakistan's tribal belt | Homeland Security to scan fingerprints of travellers exiting the US | Government Experiments on U.S. Soldiers: Shocking Claims Come to Light in New Court Case | New US border technology directed at insidious threat: Canadians | Toronto police board challenges chief on CCTV deterrence, demands 'phase-in' | Canada eyes arms sales to Pakistan | Next up for France: police keyloggers and Web censorship | Clinton defends new border restrictions | 'AmeriCorps' Domestic Paramilitary Propaganda Ad | New US brigade 'bringing in plenty of firepower' to Afghanistan | Caught in the crossfire — the Swat valley's fleeing families | Scouts Train to Fight Terrorists, and More | Canadian military to spam Afghan's cell phones | Lunchtime lockdown to promote healthier eating: T.O. school plan | CIA: Our Drones are Killing Terrorists. Promise. | UK: New biometric security checks could include brain scans, heart rhythm fingerprinting | US air strikes kill dozens of Afghan civilians | Mutiny, Georgian war games feed tensions between Russia, NATO | 3 B.C. men allege abuse by RCMP in 2008 raid | SMS texts being data mined in France: Man strip searched, held after joke | Swine Flu: In Mexico, an outbreak of police-state opportunism | Military's 'Polar Breeze' cloaked in secrecy | Alberta bars could collect names, photos under proposed bill | Killer robots and a revolution in warfare | Olympics-Cruise ships set for security in 2010 Games | RCMP 'sorry' for errors in taser briefings | British Army to Police Medicine Hat During Urban Warfare Drills | Tamil civilians slaughtered as army shells 'no-fire zone' | Israeli troops kill apartheid wall protester | Urban warfare drills coming to Medicine Hat | Afghan front lines take mental toll on military and RCMP | 'Say please' at U. S. border nets pepper spray | Military may patrol bar zone in Barrie | Time to emulate Roosevelt's New Deal and create green jobs | New World Order Crony Gary Hart Calls for "Civic Duty" | British Secret Service, Army Alert on Bank Riots | UK: Government 'using fear as a weapon to erode civil liberties' | Australian web censorship plan to begin trial despite house opposition | Justin Trudeau introduces National Voluntary Service motion | US Democrats Introduce Public National Service Bills | UK security whitepaper urges 'end of privacy' | All officers need Tasers, police associations say | Remote-controlled planes could spy on British homes | US Urban Warfare Drills Linked To Coming Economic Rage | Family furious after police raid East Vancouver home | Obama backs Bush: No rights for Bagram prisoners | Predator drones patrolling border irk Manitoba MLA | Schools seek more police as crime drops | National Guard to invade Iowa town in door-to-door gun confiscation drill | U.S. set to launch Predator drones to monitor Manitoba border | Blackwater, mired in Iraq controversy, changes its name to 'Xe' | The Spy Factory: The New Thought Police | Tasers potentially lethal, RCMP commissioner tells MPs | Olympic security good for Canada, IOC head says | Military and police practice integration during Olympic security exercises | Obama's Change: Expanding the Power of the NSC and Shadow Government | Police presence in high schools makes the grade | Chinese Learn Limits of Online Freedom as the Filter Tightens | Ban stun gun use on young people, Ontario child advocate urges | 24 star Keifer Sutherland opposed to torture, questions role of series in inspiring interrogations | Military to be out in force for Vancouver Olympics | Official: Blackwater contract for Iraq not renewed | RCMP destroyed evidence, charges dismissed in second torture case for officers | Tories seek extra $331-million for Afghan mission | UK Terror Law To Make Photographing Police Illegal | New Legislation Authorizes FEMA Camps In U.S. | Obama eyes 3 more brigades for Afghanistan | Montreal may ban insults to police | U.S. study raises more questions about TASER safety | CSIS invites academic community into the fold | Whistleblower: NSA even collected credit card records | Israel admits troops used phosphorus shells in Gaza | Woman swats children on plane, charged with Terrorism | Unusually Large U.S. Weapons Shipment to Israel | Video shows proof of phosphorous bombs in Gaza | A decade later, Lastman proud he called in army | Israel ignores ceasefire plea, pounds Gaza | Canadian military getting 1,300 new heavily armoured trucks for 'domestic use' | Washington to be locked down for inauguration | Vets Sue CIA Over Mind Control Tests | Military challenge: Make spy data more accessible | They hate us for our bombs | Defense Contractors See $$$ in Cyber Security | India signs new anti-terror laws in wake of Mumbai attack | Private firm may administer UK surveillance database | Toronto surveillance project to enter new phase pending review | US police could get 'pain beam' weapons | Bush Signs New Unified Command Plan for 'Synchronized Global Planning' | Army 'Strategic Shock' Report Says Troops May Be Needed To Quell U.S. Civil Unrest | Military Tech on the Home Front: Predator drones to begin surveillance of Canada-US border | Some tested Tasers fire stronger current than company says: CBC/Radio-Canada probe | Pentagon earmarks 20,000 additional troops for American streets | Pentagon hires British scientist to help build robot soldiers that 'won't commit war crimes' | Hoverdrone to be deployed to Iraq | US Cops Tase 54 Year Old Woman For Sitting In Wrong Seat At Football Game | Don't-ask-don't-tell Policy: Pakistan and U.S. Have Tacit Deal On Airstrikes | Two More U.S. Military Units Assigned For Homeland Security | Police will use new device to take fingerprints in street, vendors say face scanning next | Germany rejects full-body scans at airports | US military targets social nets | Homeland Security Assuming Broad Powers, Turning Swaths of U.S. into "Constitution-Free Zone" | Pentagon Wants Packs Of Robots To Detect "Non-cooperative Humans" | Interpol wants facial recognition database to catch suspects | Army Orders Pain Ray Trucks; New Report Shows 'Potential for Death' | Tasers being used for pain compliance during interrogation, suit alleges | New surveillance program will turn military satellites on US | Representatives Were Threatened With Martial Law In America Over Bailout Bill | American Rail Passengers Subject to Random Searches, Police Presence | 'Pre-crime' detector shows promise | Frequent school lockdowns raise questions | Secret killing program is key in Iraq, Woodward says | Troops in the Streets: Army Brigades Standing By to Assist in Disasters, Help Quell Dissent | Armed police officers heading to high schools | Citizens Witness Gunplay, Black Uniforms as 'Flashpoint' Shoots Drama in Heart of Toronto | Suddenly, Denver 'like a police state' | NYC Residents Furious over Invasive Surveillance Grid | Rounded up into torture camps: the 'undesirables' China doesn't want you to see | Kids to Help Create Drones, 'Fuzzy' Line to Be Drawn between Military and Civil Spheres | News crew crashes Denver's DNC 'concentration camp' | Unmanned spy planes to police Britain | Troops patrolling Italian cities alongside police | Saskatchewan adopting US-mandated ID card, to include RFID chip, facial recognition | Eye scans, fingerprints to control NZ borders | Turning Toronto into a nanny state | Drivers licences with chips spark heated debate | UK Surveillance Commissioner calls for intelligence officers to work with municipalities | Illinois governor suggests National Guard help with Chicago gun crime | Toronto artist seeks explanation for police raid | RCMP conducts random search and seizure on Canada Day | TASER bracelets considered for airline passengers | Papers Please: UK cops stopping millions in streets | Air passengers to undergo 'virtual strip search' | US Counterinsurgency Manual Leaked, Calls for False Flag Operations, Suspension of Human Rights | Youth Worker Subjected to Warrantless Raid on Secret Evidence | Tanks, Face-Scanning Cameras Part of 'Discreet' 2010 Games Security | Tasers pose risk to heart, MDs testify | Peel and Stick' Tasers Electrify Riot Control | Israel startup uses behavioral science to identify terrorists | Machine Gun-Toting Officers To Patrol NYC Subway | Massachusetts Police Get Black Uniforms to Instill Sense of 'Fear' | CBC Radio Broadcasts Expose of North American Police State | Canada, U.S. agree to use each other's troops in civil emergencies | U.S. Northern Command, Canada Command establish new bilateral Civil Assistance Plan | Chicago study calls Taser's safety claims into question | Tasers: the next generation | Austin police testing unmanned spy drones | Nunavut taken aback by military plan for drone patrols | U.S. to patrol Manitoba border with drone aircraft | RCMP, U.S. Army block public forum on the Security and Prosperity Partnership | Fascist America, in 10 easy steps | Revolution, flashmobs, and brain chips. A grim vision of the future | Harper pledges to boost military presence in cities | Project Paperclip: The US Nazi Amnesty | Ontario Police Chiefs travel to Israel to study police tactics | Much of Britain sprayed in secret germ warfare tests