It's Soros and the international financiers back to save the day. Because they care so much about the environment. Of course, this has nothing whatsoever to do with boosting the power of the global central banking architecture – fie, perish the thought.
Flashback: IMF chief calls for quota-based global warming slush fund | EU considers general carbon tax | Leaked UN Documents Reveal Plan For "Green World Order" By 2012 | Davos: Global climate fund threatens aid to developing world, campaigner warns | Davos 2010: George Soros warns gold is now the 'ultimate bubble', calls for IMF to handle climate fund | Copenhagen Accord Establishes Global Government Framework | Canada part of Copenhagen climate deal | Final Copenhagen Text Includes Global Transaction Tax | World leaders push for climate deal | UN Chief: We Will Impose Global Governance | Copenhagen climate summit releases draft final text | IMF could fund climate adaptation: Soros | Copenhagen climate summit in disarray after 'Danish text' leak | Bombshell UN Climate Documents Reveal Planned "End Run" Around National Sovereignty | Canada agrees to contribute to $10-billion climate change fund | UK: Brown proposes global fund to kick-start Copenhagen climate change process | Leaked G20 Documents Shed Light on Global Carbon Tax | Everyone in Britain could be given a personal 'carbon allowance' | Czech President: Copenhagen to be 'Largest tax increase in world history' | Friends of the Earth attacks carbon trading as banker scam | Oil Companies Support Global Warming Alarmists, Not Skeptics | Al Gore's Inconvenient Truth sequel stresses spiritual argument on climate, downgrades CO2 threat | EU agrees to pay developing countries 'climate aid' to pass Copenhagen | Copenhagen's Plans for a New 'Government' are Scary | Copenhagen, carbon, and the global corporate agenda | Lord Nicholas Stern: The world's future is being decided this weekend | Thatcher science adviser: Copenhagen goal is world government | German Scientists Call for 'World Climate Bank' | G8 Summit: Rich nations to pay green tab | US Congress Passes the 1,200-page Climate Bill that it was not allowed to read | Climate Cops To Fine "Wasteful" Homeowners & Businesses | Obama targets US public with call for climate action | Obama to stake reputation on fast-tracked climate bill | The great carbon credit con: Why are we paying the Third World to poison its environment? | Ontario unveils cap-and-trade legislation | Economic stabilization may rely on carbon economy, economist says | Climate panel presses for federal cap-and-trade system | NRTEE Carbon Market Panel is 'Round Table on Socialist Planning' | Obama, Gore, tied to Chicago carbon exchange | U.N. 'Climate Change' Plan Would Likely Shift Trillions to Form New World Economy | U.N. Environment Head Wants Global Warming Tax | Time to emulate Roosevelt's New Deal and create green jobs | EU calls for global carbon trading system to fight climate change
John Vidal, The Guardian
March 31, 2010
Ed Miliband concedes ground and offers to sign new Kyoto treaty in unilateral attempt to heal rift between rich and poor countries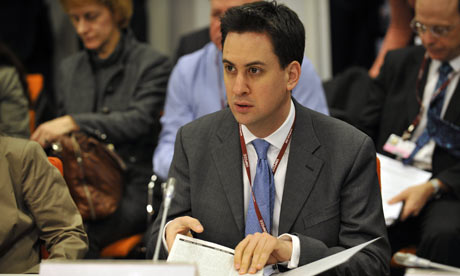 Britain brandished a diplomatic olive branch today as it tried to restart global climate change negotiations with an initiative to heal the rift between rich and poor countries following the failure of the Copenhagen summit.
Climate secretary Ed Miliband conceded considerable ground, offering to sign a new Kyoto treaty as developing countries' demand, but while also requiring that those nations enshrine their commitments to tackling global warming in international law.
Britain's unilateral move addresses the key issue that doomed Copenhagen — that the rich accept the legally binding commitments to cut greenhouse gas emissions enshrined in Kyoto.
The initiative could lead to two separate global treaties on climate change. It also offers a challenge to China, India and other major developing countries, who have been unwilling to commit legally to acting on climate change because the Kyoto agreement specifically exempts them.
"We are asking that developing countries internationalise in a legally binding agreement the actions they take domestically," said the government action plan, published today in advance of formal UN negotiations that reopen next week in Bonn.
"We would not envisage developing countries being subject to any punitive compliance measures," it added.
The move is the strongest signal yet that rich countries' attempts to sideline or even abandon the Kyoto treaty have failed and that the negotiations will continue within the 192-nation UN climate body and not in smaller groups of countries as the US and other nations had wanted.
"We hope by doing this we can take away the myth that developed countries were trying to destroy Kyoto," said Miliband.
"We are determined to unblock the negotiations. We are willing to offer a second agreement under Kyoto, provided there is a separate legal treaty covering all other countries."
The move was immediately welcomed by Bharrat Jagdeo, president of Guyana. But he warned that developing countries would not accept an agreement if rich countries — who have emitted by far the most carbon pollution — did not commit to further deep cuts in emissions.
Referring to the US, he said: "There are countries who stick out and clearly need to do more work. If the largest [developed] country emitter falls so far below the minimum, it makes it far harder for other countries, and you lose the element of justice and fairness."
The diplomatic moves came as Gordon Brown met billionaire financier George Soros; Obama's economic adviser Larry Summers; economist Lord Nicholas Stern and other finance ministers to find ways to raise $30bn (£20bn) a year immediately and $100bn a year by 2020 to enable developing countries to adapt to climate change.
The high-level advisory group on climate change financing, convened by UN general secretary Ban Ki-moon and chaired by Brown and Ethiopian prime minister Meles Zenawi, will consider at least six ways of raising up to $1tn dollars for climate change adaptation. These include:
- a small levy on all international aviation and shipping
- enlarging existing carbon cap-and-trade markets
- imposing a small "Robin Hood"-type tax on all financial transactions
- using the International Monetary Fund's special drawing rights.
The group of 19 financial leaders have been asked by Ban to report back by November, when UN climate talks take place in Cancun, Mexico.
Environment and development groups welcomed the British initiative. Andy Atkins, Friends of the Earth's executive director, said: "It's positive that the government has restated its commitment to the Kyoto protocol, which enshrines the responsibility of rich countries, as the biggest historical polluters, to slash their emissions first and fastest."
Joanne Green, head of policy at development agency Cafod, said: "This shows that Gordon Brown is listening to the concerns of developing countries. This is a first stride in rebuilding the trust desperately needed between developing and developed countries."
And Melanie Ward, Christian Aid's UK political adviser, said: "The positive language needs to be matched by the necessary political choices.
"These include using international finance to support clean development in poor countries, rather than more dirty coal power stations, and demanding much deeper cuts in EU emissions levels."
Source | See also under Environment: Obama sets sights on Arctic oil and gas exploration | Lovelock Calls For End to Democracy as Humans 'Too Stupid' to Prevent Climate Change | New chief Climategate investigator failed to declare eco directorship | Nicolas Sarkozy under fire after carbon tax plan shelved | Arctic winds and not global warming 'responsible for much of record loss of sea ice' | UK: Carbon capture storage lauded, will 'generate 100,000 jobs and £6.5bn a year' | UK climate change ads pulled as 'misleading' | Subsidized solar power projects approved in Ontario | Pacific North American Regional Integration and Control | 'Doomsday' seed bank growing strongly | Green energy bubbles threaten to pop at both Federal and Municipal levels | IMF chief calls for quota-based global warming slush fund | EU considers general carbon tax | Baffin Bay polar bear hunting quota to be cut despite Inuit claim of rising numbers | Will This Little GMO Piggy Go to Market? | A perfect storm is brewing for the IPCC | UK: University at center of Climategate accused of misleading MPs, deleting information | Global warming panel to get independent review | Leaked UN Documents Reveal Plan For "Green World Order" By 2012 | Climate scientists withdraw journal claims of rising sea levels | Obama proposes Great Lakes cleanup | Climategate U-turn as scientist at centre of row admits: There has been no global warming since 1995 | B.C., 3 US states sign accord for 'Pacific North America' hours before Olympic kickoff | Climate emails review panellist quits after his impartiality questioned | Carbon trade phish scam disrupts exchanges | Leaked climate change emails scientist 'hid' data flaws | Canada files 'continental' Copenhagen emissions target with UN | Natural water vapour largely responsible for Global Warming: NOAA, NASA | 'Bin Laden' slams U.S over global warming, dollar, in another unconfirmed tape | Davos: Global climate fund threatens aid to developing world, campaigner warns | Obama Likely to Rebrand Climate Bill as Jobs Bill | Canadian scientist says UN's global warming panel 'crossing the line' | Manufactured 'Science': Another IPCC Scientist Reveals How UN Scientists talked about 'trying to make IPCC report so dramatic that US would just have to sign Kyoto Protocol' | Glacier scientist: I knew data hadn't been verified | UN wrongly linked global warming to natural disasters | One quarter of US grain crops fed to cars — not people, new figures show | Terence Corcoran: Ontario puts $10B in the wind | Ontario Premiere McGuinty heralds Samsung 'green energy' deal | UN drops deadline for countries to state climate change targets | EU Embargoes Canada's GMO-sabotaged Flax Industry | The IPCC glacier meltdown: More global warming fraud exposed | 'Green jobs' are key to U.S., Canadian recovery: US Ambassador | Taxpayers' millions paid to Indian institute run by UN IPCC climate chief | Monsanto's GMO Corn Linked To Organ Failure, Study Reveals | The next big scam: Fraud endemic to carbon market | Canadian Gold giant faces Honduras inquiry into alleged heavy metal pollution | French Carbon Tax Law Struck Down | Review panel green-lights Mackenzie pipeline | Climategate: A 2,000-page epic of science and skepticism – Part 2 | Copenhagen climate summit: plan for EU to police countries' emissions | Questions over business deals of UN climate change guru Dr Rajendra Pachauri | Climate summit showcases new world order | Copenhagen Accord Establishes Global Government Framework | Climategate: Al Gore lies | Climategate: A 2,000-page epic of science and skepticism – Part 1 | Canada part of Copenhagen climate deal | Final Copenhagen Text Includes Global Transaction Tax | World leaders push for climate deal | UN Chief: We Will Impose Global Governance | Copenhagen: the sound of silence | UN Goons Silence Journalist Who Questions Gore On Climategate | If Climategate Is No Big Deal, Why Are Questions About It Met With An Armed Response? | Copenhagen climate summit releases draft final text | Copenhagen: Global Population Control Program Suggested To Stop Climate Change | IMF could fund climate adaptation: Soros | US Environmental Protection Agency Threatens "Command-and-Control" Economy to Push Climate Change Agenda | Diane Francis: We need a global one-child policy | Copenhagen climate summit in disarray after 'Danish text' leak | Copenhagen climate summit: past decade warmest on record, claims Met Office | Alberta disputes study exposing carcinogens downstream, downwind of oilsands | Climategate: Investigations into climate fraud fixed | 'Independent' United Nations panel to examine Climategate evidence | Australia's Parliament defeats global warming bill | UK energy smart meter roll-out is outlined | Bombshell UN Climate Documents Reveal Planned "End Run" Around National Sovereignty | Climategate: Global Warming scientists placed under investigation | Latest Climategate revelation: Climate change data dumped | Climate change: this is the worst scientific scandal of our generation | Canada agrees to contribute to $10-billion climate change fund | UK: Brown proposes global fund to kick-start Copenhagen climate change process | Jim Prentice: Implement A 'North American Climate Change Regime' | Obama vows greenhouse gas emissions cuts | Obama's 'Science Czar' John Holdren Friend of Climate Deception Lab | "Climategate": Peer-Review System Was Hijacked By Warming Alarmists | Top Climatology Lab Hacked, E-Mails Reveal Biased Science | Copenhagen climate talks: No deal, we're out of time, Obama warns | Leaked G20 Documents Shed Light on Global Carbon Tax | Plant experts unveil DNA barcode | UK University student fined £80 for dropping matchstick on Oxford pavement | Everyone in Britain could be given a personal 'carbon allowance' | Big Oil makes case for carbon-capture subsidies | Canada commits to continental wilderness deal | UK: Two-year-olds at risk from 'gender-bending' chemicals, report says | Czech President: Copenhagen to be 'Largest tax increase in world history' | Friends of the Earth attacks carbon trading as banker scam | Court upholds aboriginal fishing rights on Vancouver Island | Can we manipulate the weather? | Oil Companies Support Global Warming Alarmists, Not Skeptics | US puts climate debate on hold for five weeks despite plea by Merkel | Al Gore Set To Become First "Carbon Billionaire" | Al Gore's Inconvenient Truth sequel stresses spiritual argument on climate, downgrades CO2 threat | Chinese media claims Beijing snow 'artificially induced' | Final round for UN climate talks open in Barcelona | EU agrees to pay developing countries 'climate aid' to pass Copenhagen | Exaggerated claims undermine drive to cut emissions, scientists warn | Canada sets aside its boreal forest as giant carbon vault | Copenhagen's Plans for a New 'Government' are Scary | Canada's flax crop mysteriously contaminated by GM seeds | Protesters disrupting question period detained and bloodied by hill security | Copenhagen, carbon, and the global corporate agenda | UK: A bedtime story about drowning kittens and puppies… Labour's £6m campaign to highlight the dangers of climate change | Pass climate bill before UN summit, Layton says | Britain will starve without GM crops, says major report | Lord Nicholas Stern: The world's future is being decided this weekend | IPCC Crushes Scientific Objectivity, 91-0 | Thatcher science adviser: Copenhagen goal is world government | It is too late to shut the door on GM foods | Water demand puts Canadian rivers at risk | What happened to global warming? | IPCC case for global warming melts on multiple fronts | More defects, exclusions in key climate warming data are uncovered | UK: Garbage spies alarm neighbourhood | Ont. gives green energy price guarantee | Climate change complacency `global suicide pact,' UN told | UN plans 'shock therapy' for world leaders at Copenhagen summit | Washington Post Meteorologist: A Skeptical Take on Global Warming | Sarkozy launches carbon tax to help 'save the human race' | UN chief warns of climate-related disaster | German Scientists Call for 'World Climate Bank' | Baby emissions fuel global warming | Global warming is the new religion of First World urban elites | Aging Shanghai pushes for more babies | Warming oceans mean less cloud cover | Global Warming or Global Cooling? A New Trend in Climate Alarmism | Counterpoint: Climate skepticism for beginners | Ontario to subsidize electric cars as auto-sector boost | UK Ecotowns to get go-ahead despite local opposition | Obama Science Advisor Called For "Planetary Regime" To Enforce Totalitarian Population Control Measures | G8 Summit: Rich nations to pay green tab | Canada to match U.S. climate change rules | E-mails indicate EPA suppressed report skeptical of global warming | Polar bear expert barred from conference by global warming advocates | US Congress Passes the 1,200-page Climate Bill that it was not allowed to read | Climate Cops To Fine "Wasteful" Homeowners & Businesses | Chemical ban targets toys, rubber duckies | Rutgers Professor Warns Geoengineering Could "Create Disasters," Global Famine | Obama targets US public with call for climate action | Black ooze at old Cold War station frightens Labrador town | Canada, U.S. will renegotiate Great Lakes water treaty | US cities may have to be bulldozed in order to survive | Prentice tables bill to expand NWT park under UNESCO | Obama to stake reputation on fast-tracked climate bill | The great carbon credit con: Why are we paying the Third World to poison its environment? | Ontario unveils cap-and-trade legislation | Genetically modified monkeys pass traits to offspring | Bee population feels sting of cold, parasites as N.B. population drops | Toronto council approves stringent green-roof rules | Economic stabilization may rely on carbon economy, economist says | Google PowerMeter to track home energy usage in Toronto test drive | Meet — and eat — the modified Atlantic salmon | 'Smart meters' set to boost prices, track your power consumption by time of day in Toronto | Bee expert takes issue with dated UN data minimizing honeybee deaths | Researchers working on swine flu 'vaccine corn' | Global warming alarmists out in cold | Revealed: Antarctic ice growing, not shrinking | NRTEE Carbon Market Panel is 'Round Table on Socialist Planning' | Toronto: New bin regime spawns new rules, confusion for avid recyclers | Climate panel presses for federal cap-and-trade system | David Attenborough becomes patron for population reduction | Carbon tax resurfaces in Liberal policy proposal | Nature, not just man, to blame for global warming: scientists | Obama, Gore, tied to Chicago carbon exchange | U.N. 'Climate Change' Plan Would Likely Shift Trillions to Form New World Economy | UK population must fall to 30m: Optimum Population Trust | U.N. Environment Head Wants Global Warming Tax | Changes to law could affect navigation of Canadian waters, critics say | Scientists warn global warming accelerating | Terence Corcoran: Ontario's green energy plan sneaks in feed-in taxes | Time to emulate Roosevelt's New Deal and create green jobs | Gordon Brown's amazing patent cure-all globalization deal | Top Japanese Scientists: Warming Is Not Caused By Human Activity | Doomsday seed vault's stores are growing | Genetically Modified Seeds: Monsanto is Putting Normal Seeds Out of Reach | Google to enter market for energy use tracking | EU calls for global carbon trading system to fight climate change | Canadian, U.S. energy policies to be inextricably linked: Prentice | As in Canada, gender-bending chemicals in UK rivers grow more potent | UK Slips New Garbage Bin Taxes into Climate Bill | Obama to visit Canada, Tories to propose 'integrated carbon market' | Researchers unlock secrets of 1918 flu pandemic | Detroit granted water extraction exemption due to 'historical precedent' | Chemicals feminizing males, study suggests | Major report to reveal male gender under threat from pollutants | GM Crops Climb to Nearly One-Tenth of Global Crop Production | Toronto council approves plastic bag charge, bottle ban | UN Climate Change Conference open with call for 'co-operation' | Genetically engineered meal close to your table | IPCC caught with false figures, doubt cast on accuracy of global temperature record | Harper ready to harmonize with U.S. on climate change | CBC broadcasts "The Disappearing Male", an expose of hormone-disrupting plastics | Harper Govt. to push North American carbon market plan with Obama | The GM genocide: Thousands of Indian farmers are committing suicide after using genetically modified crops | Europe's secret plan to boost GM crop production | UN announces green 'New Deal' plan to rescue world economies | UN: financial crisis must not stop climate change action | Mobile phones to track carbon footprint using GPS | Bayer on defensive in bee deaths | Shun meat, says UN climate chief | Bilderberg-connected Desmarais dynasty thinktank supports exporting Canada's water | Sensitive government document found on rainy Ottawa street | GM crops could lead to 'disaster': Prince Charles | Climate hysterics v heretics in an age of unreason | Pesticides, pollutants threaten Canadian tap water, researchers suggest | 40,000 sq km to be signed over to UNESCO | Population control thinktank to Britons: Have less children | Water pact will deplete Great Lakes, expert fears | Small Farmers Pushed to Plant GM Seed | Ontario joins continental WCI cap-and-trade scheme | American thinktanks sowed seeds of food crisis | Canada expanding parkland at 'extraordinary' pace | China wages war on Olympic weather | Ontario places vast boreal area under protection, 22% of province off limits to development | Get set — the future starts now | Canada's made in America energy policy | Manitoba's boreal forest touted for UNESCO status | Sludge biosolids decried as 'toxic stew', used as fertilizer | Sarkozy urges climate change action on first day as EU president | B.C. carbon tax kicks in on Canada Day | Today's suburbs, tomorrow's slums? | Home-grown veg ruined by toxic fertiliser | Agribusiness positions GM crops as panacea to predicted global food shortage | Oil, oil everywhere? Well, just maybe | Dion begins selling green plan | Lakes across Canada face being turned into mine dump sites | Road tolls, a bitter pill that works | They call it cap and trade, but it's just another fuel tax | World has enough oil reserves, says BP boss | House of Commons adopts Layton's Kyoto Plus bill | Monsanto Plans to Save World with its Biotech Crops | Quebec, Ontario sign historic climate pact | Every adult in Britain should be forced to carry 'carbon ration cards', say MPs | Beware thirsty Americans, Kennedy tells Canada | The tiny, useful particle that could also be a health problem | Dion begins selling carbon plan | Time has come to put 'price on waste and pollution': Dion | Man-made clouds to change the sky | Is it time for toll roads? | Bin Brother is watching you | Scientist who claimed GM crops could solve Third World hunger admits he got it wrong | CEOs call for 'aggressive' action on climate change | Vancouver to import road tolls from UK | UK proposes national road tolls to cut congestion | Technology Exists to Redirect Hurricanes, Naval Physicist Says | Weather War? | NASA Funds Sci-Fi Weather Control Technology | Motorists to pay London toll