Sunday, March 28th, 2010
It's your big national terror story du jour. Has the DHS finally dredged up (or manufactured) a candidate for the elusive 'white Al-Qaeda' we're always being warned about? And does this precipitate the beginning of a wider crackdown on the militia movement in the US – an historical movement strongly tied to defending the tradition of state sovereignty within the Union? (It should be stressed to gun-shy Canadian audiences that citizen militias are perfectly legal. The modern militia movements throughout the 90s were, however, plagued by their attraction of fringe elements and government provocateurs.)
Flashback: DHS Video Portrays Average Americans As Terrorists | US Police to get access to classified military intelligence | US Homeland Security: Terror fight needs public's vigilance | DoD Training Manual Describes Protest As "Low-Level Terrorism" | UK schoolkids trained to inform on 'extremist' classmates by police DVD | 'AmeriCorps' Domestic Paramilitary Propaganda Ad | Scouts Train to Fight Terrorists, and More | Secret Homeland Security Threat Assessment Labels Gun Owners Potential Terrorists | UK Home Secretary unveils civilian anti-terrorism security force | US Urban Warfare Drills Linked To Coming Economic Rage | Army 'Strategic Shock' Report Says Troops May Be Needed To Quell U.S. Civil Unrest | US Counterinsurgency Manual Leaked, Calls for False Flag Operations, Suspension of Human Rights | 'Lone wolf' terror threat on rise, report warns | US Experts Can't Agree on Whether 'Al-Qaeda' Poses a Threat, Look to 'Leaderless Jihad' in America | Fascist America, in 10 easy steps
Lee Higgins, AnnArbor.com
March 28, 2010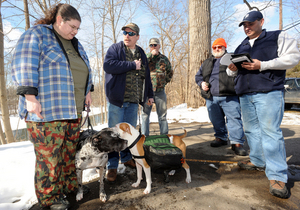 Michigan Militia member James Schiel, second from left, told AnnArbor.com today that five people were arrested in the raids. He is pictured with Hutaree member Wendy Lineweaver, a member who goes by the name Chainsaw, a member named Kevin, and Will Bachman. In the photo, they were helping local law enforcement officials search for a Bridgewater Township man who was missing in February.
The FBI conducted raids Saturday night in Washtenaw County and Lenawee County in an investigation involving members of Hutaree, a Christian-oriented militia group based in Lenawee County, AnnArbor.com has learned.
The nature of those raids has not been made public. FBI Special Agent Jason Pack, who is based in Washington, D.C., said he did not know how many people were taken into custody. Gina Balaya, a spokeswoman for the U.S. Attorney's Office in Detroit, could not be reached for comment today.
"I can confirm that there is ongoing law enforcement activity in the Ann Arbor general area," Pack said in a written statement. "Since the federal warrants are under court ordered seal, legally we cannot provide further comment at this time."
Local Michigan militia member Jimmy Schiel said he was told five people were arrested – including one known member of Hutaree. Schiel said the five were reportedly arrested during a raid at a service in the Ann Arbor area for a Hutaree member who died recently. Schiel was told about eight Hutaree members were present. He didn't know who organized the service. Schiel, who said he was invited but did not attend, spoke to a Hutaree member who was there, he said. The member told him people were questioned about guns.
Hutaree members couldn't be reached for comment today. As AnnArbor.com reported last week, several Hutaree members were recently involved in searches in Bridgewater Township after two residents went missing in separate incidents. Bridgewater Township Supervisor Jolea Mull, who is a Republican, had requested help from local militia members to assist in those searches. Schiel worked closely with Hutaree members on both occasions.