Thursday, March 25th, 2010
Flashback: Irish church and police covered up child sex abuse, says report | Police review 1980s allegations against bishop | Bishop facing child porn charges gets bail | Pope 'led cover-up of child abuse by priests' | Abuse 'endemic' in Irish Roman Catholic schools: Report | Location of Mass Graves of Residential School Children Revealed for the First Time; Independent Tribunal Established
Update (2010/3/31): Allegations continue to emerge that an appointee of then Cardinal Ratzinger beat children in Germany, that his office was or should have been aware of abuse occurring in Florida since 1968 – there's a veritable flood of information out there on the subject.
Nicole Winfield, Associated Press
March 25, 2010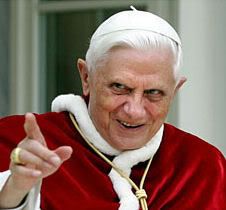 VATICAN CITY–Two Wisconsin bishops urged the Vatican office led by Cardinal Joseph Ratzinger – now Pope Benedict XVI – to let them conduct a church trial against a priest accused of molesting some 200 deaf boys, but the Vatican ordered the process halted, church and Vatican documents show.
Despite the grave allegations, Ratzinger's deputy at the Congregation for the Doctrine of the Faith ruled the alleged molestation had occurred too long ago and the accused priest, Rev. Lawrence Murphy, should instead repent and be restricted from celebrating Mass outside of his diocese.
The New York Times broke the story Thursday, adding fuel to an already swirling scandal about the way the Vatican in general, and Benedict in particular, have handled reports of priests raping children over the years.