A pre-emptive taste of what we can expect once ACTA is agreed to and implemented?
Flashback: ACTA Is Called An 'Executive Agreement' To Implement Restrictive Copyright With Less Hassle Than A Treaty | Men at Work plagiarized Kookaburra tune, Australian court rules | Hollywood loses landmark copyright case in Australia | CBC's new licencing plan: Pay to Print, Email, and Blog, and outsource enforcement to American Copyright Digital Rights Bounty Hunters | Internet companies voice alarm over Italian copyright law | Reading Between The Still Secret Lines Of The ACTA Negotiations | Beyond ACTA: Proposed EU — Canada Trade Agreement Intellectual Property Chapter Leaks | We're no thieves — despite what Rupert Murdoch claims, says Google | Google allows publishers to limit free content | New Leaks of Secret ACTA Copyright Law Reveal Oppressive 'Global DMCA' | MPAA Says Critics of Secret Copyright Treaty Hate Hollywood | FOX News owner's media empire could block Google searches entirely | More ACTA Details Leak: It's An Entertainment Industry Wishlist | UK: Music filesharers 'spend the most on music', says poll | UK Business Secretary sets date for blocking filesharers' internet connections | The bait and switch: EU now to endorse internet disconnection for 'piracy' | UK: 70% oppose internet ban for filesharers, poll show | Judge in Pirate Bay Appeal Removed for Bias | MP Charlie Angus on copyright: industry lobby pulling for 'dead business model' | UK Government to consider internet disconnection policy, restrictions | Reuters Steps Up; Says Linking, Excerpting, Sharing Are Good Things For The News | Associated Press Tries To DRM The News | Should linking be illegal? | The dawn of Internet censorship in Germany | Pirate Bay Retrial Denied | Stockholm Court: Pirate Bay Judge 'Unbiased' | Next up for France: police keyloggers and Web censorship | France passes 'three strikes' Internet surveillance law | Pirate Bay lawyer calls for retrial after judge confirms ties to copyright groups | Jail terms for Pirate Bay founders, appeal in works | Canada Considering "Three Strikes and You're Out" ISP Policy
Sean Michaels, The Guardian
February 11, 2010
Bloggers told they have violated terms without further explanation, as years of archives are wiped off the internet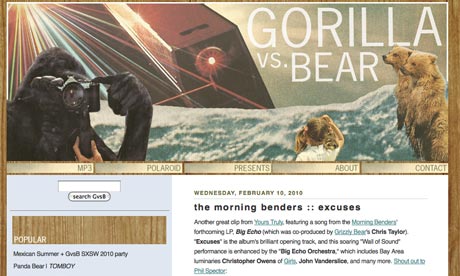 In what critics are calling "musicblogocide 2010″, Google has deleted at least six popular music blogs that it claims violated copyright law. These sites, hosted by Google's Blogger and Blogspot services, received notices only after their sites — and years of archives — were wiped from the internet.
"We'd like to inform you that we've received another complaint regarding your blog," begins the cheerful letter received by each of the owners of Pop Tarts, Masala, I Rock Cleveland, To Die By Your Side, It's a Rap and Living Ears. All of these are music-blogs — sites that write about music and post MP3s of what they are discussing. "Upon review of your account, we've noted that your blog has repeatedly violated Blogger's Terms of Service … [and] we've been forced to remove your blog. Thank you for your understanding."
Jolly as Google may be, none of the bloggers who received these notices are "understanding" in the least. Although such sites once operated on the internet's fringes, almost exclusively posting songs without permission, many blogs are now wined, dined and even paid (via advertising) by record labels. After the success of blog-buzzy acts such as Arcade Fire, Lily Allen and Vampire Weekend, entire PR firms are dedicated to courting armchair DJs and amateur critics.
Despite the de facto alliance between labels and blogs, not all of the record companies' legal teams have received the message. In a complaint posted to Google Support, Bill Lipold, the owner of I Rock Cleveland, cited four cases in the past year when he had received copyright violation notices for songs he was legally entitled to post. Tracks by Jay Reatard, Nadja, BLK JKS and Spindrift all attracted complaints under the USA's Digital Millennium Copyright Act, even when the respective MP3s were official promo tracks. As a publicist for BLK JKS' label, Secretly Canadian, told Lipold: "Apparently DMCA operate on their own set of odd rules, as they even requested that the BLK JKS' official blog remove the song." It's not clear who "DMCA" is in this case, as the act does not defend itself.
"I assure you that everything I've posted for, let's say, the past two years, has either been provided by a promotional company, came directly from the record label, or came directly from the artist," Lipold wrote to Google.
The company's first official response came only late yesterday, as #Musicblogocide2k10 sped up Twitter's trending charts. "When we receive multiple DMCA complaints about the same blog, and have no indication that the offending content is being used in an authorised manner, we will remove the blog," explained product manager Rick Klau. "[If] this is the result of miscommunication by staff at the record label, or confusion over which MP3s are 'official' … it is imperative that you file a DMCA counter-claim so we know you have the right to the music in question."
The trouble with filing a formal, legal DMCA counter-claim is, that most bloggers don't know how. What's more, many of Blogger's DMCA notices allegedly omit the name of the offending song. Bloggers aren't even sure what they are denying.
Take the case of Masala, co-founded by Guillaume Decouflet in mid-2005. Together with his partners, Decouflet has introduced hundreds of thousands of readers to underground genres such as kuduro and funk carioca. Masala's writers weren't typical music bloggers, waxing lyrical about Neon Indian and the new Phoenix remix: mostly DJs, they shared South African electronica, Japanese dancehall, UK funky and Senegalese hip-hop. "We haven't been posting any Whitney Houston or anything," Decouflet explained. He only recalls receiving one DMCA notice — ever — from Blogger. As this email did not name the offending song, he says he doesn't know what caused the complaint. Masala's bloggers responded to Google's email, Decouflet insists, but never heard back. That is, until their entire site — and more than four years of archives — were deleted this week.
"It's just sad because we were documenting young people's music from all around the globe," Decouflet said. "For a lot of people, it was music they wouldn't have been able to discover elsewhere." Decouflet is now trying to "salvage" the Masala archive, using Google's own Reader tool to dig up old posts. Other banished blogs have taken similar steps. Living Ears, It's a Rap and Pop Tarts have relaunched at new URLs, generally without any older material.
Not all music blogs are as innocent as I Love Cleveland and Masala. Although the majority of bloggers share only single songs, showing particular affection for the obscure and out of print, some blogs are the most banal sort of pirates — offering links to download entire new releases. However, these sites are ostracised by the blogging mainstream, left off aggregators such as the Hype Machine. No one protests when Google quietly removes their Blogspot accounts and yet ironically, amid the "musicblogocide", dozens of these still remain online.
The two largest Blogspot-hosted music blogs, Gorilla vs Bear and My Old Kentucky Home, show no sign of being affected, although they will still find these developments alarming. "I don't post anything that's not approved, and obviously nothing on major labels," said Gorilla vs Bear's Chris Cantalini. "But apparently that doesn't matter in some of these cases."
In a press release last year, Google seemed to recognise this distinction, announcing a new policy vis-a-vis music bloggers. From now on, it wrote, DMCA notices would not result in the instant deletion of offending blogs. Instead, individual posts would be temporarily removed, with a prominent notice to help bloggers respond to the allegations. "Music bloggers are a large segment of our users — and we know that for those who've received one or more DMCA complaints in the past, this may have been a frustrating experience," Klau wrote in August. Almost six months later, the experience doesn't appear to have become any less frustrating.
Decouflet sounds weary. "Google is treating bloggers like Big Brother," he said. "Shoot first, ask questions after."
Source | See also under Internet: Activists Shut Down Australian Government Websites in Internet Filter Protest | ACTA Is Called An 'Executive Agreement' To Implement Restrictive Copyright With Less Hassle Than A Treaty | Swedish Justice Minister reluctant to store internet user's data | Google, NSA may team up to probe cyberattacks | Hollywood loses landmark copyright case in Australia | Police want backdoor to Web users' private data | Time Magazine Pushes Draconian Internet Licensing Plan | UN agency calls for global cyberwarfare treaty, 'driver's license' for Web users | CBC's new licencing plan: Pay to Print, Email, and Blog, and outsource enforcement to American Copyright Digital Rights Bounty Hunters | ACTA One Step Closer To Being Done; Concerns About Transparency Ignored | Internet companies voice alarm over Italian copyright law | UK MPs frozen out of super-secret ACTA copyright talks | China Google Hack Exploited Security Gaps Introduced By State Surveillance Provisions | Privacy watchdog wants public input on social networking sites | Obama Information Czar Calls For Banning Free Speech | Obama Information Czar Outlined Plan For Government To Infiltrate 'Conspiracy Groups' | China tells web companies to obey controls | Google Considers Leaving China If China Will Not Allow Uncensored Search | Reading Between The Still Secret Lines Of The ACTA Negotiations | Privacy no longer a social norm, says Facebook founder | UK: Telecom firms' fury at plan for 'Stasi' checks on every phone call and email | China Imposes New Internet Controls | Death Of The Internet: Censorship Bills In UK, Australia, U.S. Aim To Block "Undesirable" Websites | Facebook Privacy Changes Break the Law, Privacy Groups Tell FTC | Beyond ACTA: Proposed EU — Canada Trade Agreement Intellectual Property Chapter Leaks | Australia introduces web filters | We're no thieves — despite what Rupert Murdoch claims, says Google | Google allows publishers to limit free content | New Leaks of Secret ACTA Copyright Law Reveal Oppressive 'Global DMCA' | Geist: Will web child-porn bill do more harm than good? | Obama Wants Computer Privacy Ruling Overturned | MPAA Says Critics of Secret Copyright Treaty Hate Hollywood | NSA Is Giving Microsoft Some Help On Windows 7 Security | ACTA Threatens Made-in-Canada Copyright Policy | Google's digitization of books | UK Internet surveillance plan to go ahead | FOX News owner's media empire could block Google searches entirely | Cuban blogger claims she was roughed up by state agents | More ACTA Details Leak: It's An Entertainment Industry Wishlist | UK: Music filesharers 'spend the most on music', says poll | UK Business Secretary sets date for blocking filesharers' internet connections | The bait and switch: EU now to endorse internet disconnection for 'piracy' | CRTC allows network throttling as 'last resort', encourages pay per use, bandwidth caps | UK: 70% oppose internet ban for filesharers, poll shows | Security boss calls for end to net anonymity | UN Urges International Action on Cyber Security Threat | Think before you post, privacy czar says | Judge in Pirate Bay Appeal Removed for Bias | Case for Internet spying not closed | US 'to loosen' grip on internet | U.S. moves to adopt 6 net neutrality rules | Tech giants respond to Media with ideas on charging readers for news online | Planned Internet, wireless surveillance laws worry watchdogs | Six Days Left: Canadian Net Users Caught As Copyright Consultation Nears Conclusion | Chamber of commerce draws fire for backing Bell, Telus on Net reseller speed limits | It's a great day for freedom of speech: 'Hate Speech' laws found to violate Charter Rights | Keeping Google out of libraries | Cyber Bullying Case Officially Dismissed for Vagueness | MP Charlie Angus on copyright: industry lobby pulling for 'dead business model' | Ottawa denies altering public's ECopyright Consultation submissions | Security guards stop MPs, students from distributing fair use flyers at Toronto copyright townhall | Bill would give president emergency control of Internet | Bush's Search Policy For Travelers Is Kept | ACLU Sues US Department of Homeland Security over Border Laptop Searches | Facebook to make privacy changes, keep user data indefinitely if not deleted | UK Government to consider internet disconnection policy, restrictions | CRTC wants internet pricing answers from Bell | Reuters Steps Up; Says Linking, Excerpting, Sharing Are Good Things For The News | Former copyright lobbyist is Obama's top pick for US Attorney | UK ISPs condemn Internet surveillance plans | Can The Public Be Heard On Copyright Issues? | Associated Press Tries To DRM The News | iPods, Internet won't end dictatorship | Copyright Consultation Launches: Time For Canadians To Speak Out | Third stab at copyright law 'reform' to kick off with consultations | Facebook violates privacy law: watchdog | Cyber Attacks Traced to the U.S., Britain | Don't regulate traffic management, Internet providers argue | Yahoo! protects user privacy – and gets fined by Belgium | French Senate passes revamped 'anti-piracy' bill | Lazy Hacker and Little Worm Set Off Korean Cyberwar Media Frenzy | Net Neutrality hearings begin with conflicting claims | Internet speed control faces scrutiny at CRTC hearings | Murdoch CEO Labels Bloggers "Political Extremists" | Should linking be illegal? | Psiphon braintrust: Ottawa needs a strategy for cyberwar | US 'concerned' over cyber threat | Pirate Bay Retrial Denied | UK to found new 'cyber-security' units attached to national eavesdropping centre | US Cyber Security Czar Front-Runner No Friend of Privacy | ISPs must help police snoop on internet under new bill | The dawn of Internet censorship in Germany | Twitter emerges as news source during Iran media crackdown | UK plans to integrate 'cybersecurity' centre with US, Canada | Prepare to be boarded! Pirate Party wins entry to European Parliament | Stockholm Court: Pirate Bay Judge 'Unbiased' | Time to slay Canadian file-sharing myths | CRTC keeps new media exempt from broadcasting regulation | Canadian copyright lobbyists leaned on "independent" researchers to change report on file-sharing | China begins internet 'blackout' ahead of Tiananmen anniversary | UK chases Obama on cybersecurity | Cybersecurity Is Framework For Total Government Regulation & Control Of Our Lives | Think tank plagiarizes, pulls report on Canadian piracy | Obama Set to Create A Cybersecurity Czar With Broad Mandate | Next up for France: police keyloggers and Web censorship | France passes 'three strikes' Internet surveillance law | Canadian Parliament Threatens People For Posting Video Of Proceedings Online | EU wants 'Internet G12′ to govern cyberspace | UK Home Secretary has secret plan to surveil, 'Master the Internet' | UK wants industry to track Internet users as plans scrapped for state database | Fredericton police arrest well-known N.B. blogger on legislature grounds | Pirate Bay lawyer calls for retrial after judge confirms ties to copyright groups | Jail terms for Pirate Bay founders, appeal in works | French legislators reject internet piracy bill | Put NSA in Charge of Cyber Security, Or the Power Grid Gets It | Electricity Grid in U.S. Penetrated By Spies | Pentagon spending millions to fix cyberattacks | Aussies Announce $31B National Broadband Network | Britons block Google Street View van | Should Obama Control the Internet? | Cybersecurity law would give feds unprecedented net control | Munk Centre researchers discover botnet, call for international cyberspace 'legal regime' | Google Street View comes to Canada | In Australia, censored hyperlinks could cost you | ISOHunt points out Google, Yahoo torrent engines too | Obama Administration Claims Copyright Treaty Involves State Secrets | Internet ad tracking system will put a 'spy camera' in the homes of millions, warns founder of the web | French government accused of 'Big Brother' tactics over internet piracy | Australian web censorship plan to begin trial despite house opposition | Time to regulate online content, cultural groups tell CRTC | Facebook's Users Ask Who Owns Information | Do We Need a New Internet? | New law to give police access to online exchanges | Chinese Learn Limits of Online Freedom as the Filter Tightens | Britain unveils plans for nationalized internet service | Google plans to make PCs history | EU Police set to step up warrantless hacking of home PCs | Defense Contractors See $$$ in Cyber Security | UK Culture secretary wants international age restrictions for web | Protests in Australia over proposal to block Web sites | Latest Round of Closed-Door ACTA Copyright Negotiations Wrap Up | China restarts online crackdown | CRTC Internet regulation proposals take shape | Cyberbullying verdict turns rule-breakers into criminals | Felony hacking precedent not set in case of Myspace cyberbully | Myspace terms of use could become fulcrum for destruction of online anonymity in precedent setting case | Bell can squeeze downloads, CRTC rules | Australia to Implement Mandatory Internet Censorship | Microsoft patents web moderator robots, forbidden phrases to be memory-holed | CRTC to consider Internet regulation, invites public comment | RCMP to helm a Canadian "cyber-security strategy" | Is an Internet tax coming? | Italian Judge: Blogs are Illegal | Digital rights groups sue for access to secret ACTA treaty | Berners-Lee W3C Consortium to 'Authorize' Website Content? | Digital issues deserve spot in election campaign | Critics waging a cyber offensive to fight copyright changes | Law Professor tells tech conference: plans to shut down Internet already on deck | Bell continues throttling Internet, proposes bandwidth caps for resellers | Rogers Looks For New Ways To Annoy Customers, Hijacks Failed DNS Lookups | MySpace signs up to OpenID scheme | Vint Cerf blasts ISPs for choking off internet infrastructure | Bell's internet throttling illegal, Google says | Canadian Industry Minister lies about Canadian DMCA on national radio, then hangs up | The Canadian DMCA: Check the Fine Print | Government ready to drop copyright bomb | Transparency needed on ACTA | Net neutrality bill hits House of Commons | Revamped copyright law targets electronic devices | New Attempt to Align Canada's Copyright Act with USA Coming Soon | CRTC revisits Internet oversight | Bell accused of privacy invasion | Canada Considering "Three Strikes and You're Out" ISP Policy | Canadian DMCA To Be Introduced Tomorrow Morning?