It's relevant to point out here that the city of Quetta, the seat of the group alleged to be the leadership of the Taliban, is right on the route of the major pipeline planned to go through the middle east, the Trans-Afghanistan pipeline, known as the TAPI pipeline and in the planning since 1995. The ousted Afghani Taliban leadership is said to be living there under the protection of the ISI. (If the leadership was in Quetta, why did the Pakistani military bomb Waziristan instead?) In their book 'The Forbidden Truth", two French journalists (also, the BBC) rely on the testimony of Pakistani Foreign Minister Niaz Naik that military threats were made against the Taliban in multilateral meetings held in July, 2001 and so present the real genesis of the war as failed oil negotiations and thus one of pacification, with tribal allegiances played off against each other and multiple insurgencies represented as one monolithic enemy. No one will get the chance to interview him again, unfortunately, as he was found beaten to death last August.
Flashback: Afghanistan conference agrees on exit timetable, Taliban bailout | British and US troops to launch new Afghanistan offensive | General McChrystal indicates talks with Taliban to be discussed | US pours millions into anti-Taliban militias in Afghanistan | Taliban: Blackwater to blame for Pakistan attacks | UK 'backs Taliban reintegration' | How the US Funds the Taliban | Ex-diplomat says Afghanistan in 'civil war,' calls for US withdrawal | Ethnic hostility is a big, maybe the biggest, part of the Afghan war | Occupiers involved in drug trade: Afghan minister | Afghan leader's corrupt brother paid by CIA, U.S. officials say | Pakistani Army working with 'Good Taliban' | French troops were killed after Italy hushed up 'bribes' to Taleban | Afghanistan Drug Raid Snares Border Police Commander | Afghanistan's Hidden Heroin Addicts | Britain and US prepared to open talks with the Taliban | Pakistani president Asif Zardari admits creating terrorist groups | Western Governments Funding Taliban & Al-Qaeda To Kill U.S. Troops, Destabilize Countries | Taliban flee new U.S. drive in Afghanistan | Whistleblower Who Linked "Taliban" Leader To US Intelligence Is Assassinated | US arms sent to Afghan forces 'in Taliban hands' | Canada, allies will never defeat Taliban, PM says | Canadian troops could soon target Afghan drug trade: top soldier | Reports reveal concerns over drug use among Canadian military | NATO to let troops fight Afghan drug lords | Karzai's kin linked to heroin trafficking | 'Reconstruction' efforts in Khandahar not apparent to Afghanis | Delta Force Officer: We Weren't Allowed to Kill Osama Bin Laden | Afghani Narco-state Continues to Blossom under Puppet President | Report: U.S. Gave Green Light For Taliban Prison Attack | The Lies that Led to War | US Allowed Taliban, Al-Qaeda Airlift Evacuation
Julian Borger, The Guardian
January 29, 2010
Kabul envoy met top commanders in Dubai this month to discuss terms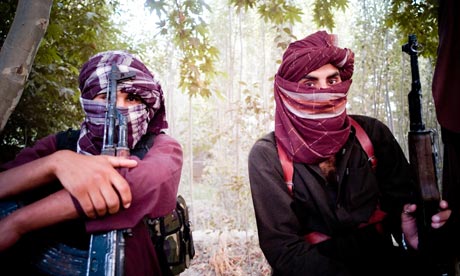 Taliban commanders held secret exploratory talks with a United Nations special envoy this month to discuss peace terms, it emerged tonight.
Regional commanders on the Taliban's leadership council, the Quetta Shura, sought a meeting with the UN special representative in Afghanistan, Kai Eide, and it took place in Dubai on 8 January. "They requested a meeting to talk about talks. They want protection, to be able to come out in public. They don't want to vanish into places like Bagram," the Reuters news agency quoted a UN official as saying, referring to the Bagram detention centre at a US military base outside Kabul.
The Dubai meeting was confirmed to the Guardian by officials with knowledge of the encounter, but they said they could provide no further details.
It was the first such meeting between the UN and senior members of the Taliban. The fact that it took place suggests that peace talks have revived since exploratory contacts between emissaries of the Kabul government and the Taliban in Saudi Arabia last year broke down.
It also suggests that some Taliban members might be prepared for the first time to put faith in an international organisation to broker a deal to end the nine-year war.
News of the Dubai meeting surfaced at the end of a day-long conference in London intended to map out a transition over five years from a Nato-led military campaign to Afghan-led effort involving more political, social and economic measures to end the fighting.
As part of the transition, Afghan forces are due to take lead responsibility for security in a handful of provinces by the end of this year, assume the lead in the most violent regions within three years, and take overall responsibility for security across the country in five years. If successful, the transition would pave the way for the withdrawal of foreign forces.
An official statement from the Taliban leadership in response to today's conference warned that "attempts by the enemy to bribe the mujahideen, offering them money and employment to abandon jihad, are futile". However, it added what appeared to be a conciliatory note, saying that it was waging a jihad only to "liberate" Afghan territory and posed "no threat to neighbouring countries or anyone else".
Although an important development, it was unclear how significant a faction Eide had met in Dubai or how serious they were. A western official confirmed that there were indications of splits in the Taliban over the prospect of a settlement.
"We believe there are mid-level commanders tired of fighting and who have realised neither side is going to win," the official said. "There is a younger generation of Taliban commanders who believe it was a colossal mistake to side with the Arabs [in al-Qaida]. In fact the vote at the shura [meeting] in Kandahar in 2001 was only narrowly in favour of sticking with the Arabs."
The western official said: "This 'new Taliban' is not that much more extreme than some of the people in government. They could be willing to compromise on some issues, like women's rights, girls education, even watching telly perhaps."
At today's London conference, President Hamid Karzai declared: "We must reach out to all of our countrymen, especially our disenchanted brothers, who are not part of al-Qaida, or other terrorist networks, who accept the Afghan constitution."
The Afghan government pledged to hold a peace council, loya jirga, in the next few weeks, to which village elders from across the country, including some known to have Taliban ties, would be invited.
Speaking at the end of the conference, the US secretary of state, Hillary Clinton, signalled that the US was ready to accept talks. "The starting premise is you don't make peace with your friends. You have to be able to engage with your enemies," Clinton said.
Source | See Also under Afghanistan: Military probes beating of Afghan prisoner | Afghanistan conference agrees on exit timetable, Taliban bailout | British and US troops to launch new Afghanistan offensive | General McChrystal indicates talks with Taliban to be discussed | Killer of CIA agents in Afghanistan called for revenge for Baitullah Mehsud | Ex-Blackwater contractors charged with Afghan killings | Claims troops mistreated prisoners unfounded: military police | Peter MacKay, Red Cross discussed detainees in 2006 | Canada's troops investigated for Afghan abuse | Colvin disputes witnesses' detainee testimony | Tories sabotage Afghan committee meeting | Canada 'defended' torturer | Ottawa won't release Afghan torture documents | US Air Force confirms new 'Beast of Kandahar' drone | Top general's Afghan detainee reversal hikes pressure for public inquiry | Another 7,000 NATO troops going to Afghanistan | Afghans rejected Canadian-captured prisoners for 'insufficient evidence' | Torture claims unreliable, officials say, despite having found evidence of torture | Obama sends 30,000 more troops to Afghanistan | MPs vote public inquiry into Afghan detainees, Tories ignore majority motion | Torture claims weren't probed, official testified | U.S. 'missed chance' to capture bin Laden in 2001 | Harper government changes tune on Afghan prisoner issue | Colvin's testimony true: former Afghan MP | David Mulroney testifies war confused issue of torture | German army chief resigns over Afghanistan air strike | Nato will send 5,000 more troops to Afghanistan, says Brown | Hillier says he saw no credible reports of torture | Afghan torture emails reached MacKay's office | Opposition wants documentation prior to government torture rebuttal, PM cries foul | US pours millions into anti-Taliban militias in Afghanistan | Canadian officials discussed torture in 2006 | Canada shamed on Afghan prisoner torture | Canada ignored torture warnings: Diplomat | Afghanistan announces latest 'corruption crackdown' | British PM says 5,000 more NATO troops may be deployed in Afghanistan | UK 'backs Taliban reintegration' | Omar Khadr to face Military Commission trial in US | How the US Funds the Taliban | Nobel Peace Laureate Obama Will Send 40K More Troops To War | Forces begin planning for Afghan withdrawal | Military lawyer stonewalls on Afghan torture claims | Ex-diplomat says Afghanistan in 'civil war,' calls for US withdrawal | Karzai 'wins' as Afghan run-off cancelled | Ethnic hostility is a big, maybe the biggest, part of the Afghan war | Occupiers involved in drug trade: Afghan minister | Afghan challenger drops out of election | The universality of war propaganda | Omar Khadr 'innocent' in death of U.S. soldier | Afghan leader's corrupt brother paid by CIA, U.S. officials say | No way to escape Afghan combat post-2011, Hillier says | Afghan probe voids thousands of Karzai votes | Afghan election appears headed to a second round | French troops were killed after Italy hushed up 'bribes' to Taleban | Ottawa was warned Afghan detainees might be tortured | UK to send more troops to Afghanistan, hints Obama to follow suit | Troops get non-combat role in Afghanistan after 2011 | Military stress injuries on rise | Military commission suspends torture hearings, gags witness | Kuebler dropped as Omar Khadr's lawyer | Obama rules out Afghanistan troop cuts | I was ordered to cover up President Karzai election fraud, sacked UN envoy says | Torture probe delayed; Tories deny gagging witness | Conservatives claim 'no decision' made on leaving some troops in Afghanistan past 2011 | Obama considers new strategies for Afghanistan and Pakistan | US braced for surge of protest over war in Afghanistan | Federal court limits Afghan detainee torture probe | U.S. commander warns of failure in Afghanistan, calls for more troops | Canada, at war, to urge peace for everyone else during Olympics | Body of 130th soldier killed in Afghanistan comes home | EU observers say a third of Karzai's votes might be suspect due to fraud | 'Regrettable' if Canada quits Afghanistan: Chertoff | Top US commander signals troop increase in Afghanistan | Canada sees worsening security in Afghanistan | Canadian media watched closely in Afghanistan | In wake of 9/11, 'War on Terror' spawned more terrorism | NATO pledges probe of deadly Afghan air strike; civilians killed | Supreme Court to hear government's appeal of Khadr case | UK: Brown defends Afghan campaign in wake of aide's resignation | Obama's effort in Afghanistan 'just beginning': U.S. defence secretary | Afghanistan Drug Raid Snares Border Police Commander | Afghanistan's Hidden Heroin Addicts | Afghan vote called 'mockery' | Olympics push army to edge | Ottawa to appeal Khadr ruling to top court | Accusations over Afghan vote rigging | Selling Canada on Afghanistan | Canada should stay in Afghanistan: NATO head | Has Karzai overstayed his welcome? | U.S. military seeks 'second surge' for Afghan mission | A Sibel Edmonds Bombshell — Bin Laden Worked for U.S. Until 9/11 | Britain and US prepared to open talks with the Taliban | UK PM Gordon Brown plans troop surge in Afghanistan | Military to get $5B for armoured vehicles | Taliban flee new U.S. drive in Afghanistan | Afghan Airstrike Video Goes Down the Memory Hole | New Afghan mission commander vows to protect civilians | Homing chips are CIA's latest weapon against 'al-Qaida' targets hiding in Pakistan's tribal belt | Skepticism greets launch of Afghan detainee inquiry | Supreme Court of Canada won't hear Afghan detainee torture case | US arms sent to Afghan forces 'in Taliban hands' | MacKay to discuss security concerns with Pakistan | New US brigade 'bringing in plenty of firepower' to Afghanistan | Canadian Forces: Worries about child abuse by Afghan allies 'unfounded' | CIA: Our Drones are Killing Terrorists. Promise. | US air strikes kill dozens of Afghan civilians | Afghan President Karzai registers for re-election, picks warlord as running mate | U.S. troops will have big impact on Afghan mission: Canadian commander | PM must press U.S. for Khadr's return from Guantanamo, court rules | Afghan front lines take mental toll on military and RCMP | NATO denies air strike killed Afghan civilians | Khadr's military lawyer reinstated | NATO agrees to Afghan troop increase | Pentagon fires Omar Khadr's lawyer | Afghan rape law spurs anger | Obama adds another brigade to Afghanistan troop surge | UK Anti-war MP banned from Canada | Afghanistan needs 4,000 extra soldiers for elections: NATO | Supporters defy law, buy plane ticket for Montrealer stuck in Sudan | Canada, allies will never defeat Taliban, PM says | Cost of Afghan mission jumps to $11.3-billion | Afghanistan victory unlikely, says DND manual | Obama backs Bush: No rights for Bagram prisoners | New Canadian commander in Afghanistan welcomes U.S. troop influx | Canadian troops could soon target Afghan drug trade: top soldier | Tories seek extra $331-million for Afghan mission | Obama eyes 3 more brigades for Afghanistan | United States' short-term goals hurt Afghanistan mission: report | 'Abusive' coalition raids stoking anger in Afghanistan: report | Canada 'not onboard' with U.S. plan to arm Afghan militias | Top U.S. general boosts troop pledge to Afghanistan | Reports reveal concerns over drug use among Canadian military | Brown: British military to withdraw from Iraq, to 'share burden' in Afghanistan | Canadian Junior Hockey team gets 'military training' | Khadr, interred in rubble, couldn't have thrown grenade in firefight: Evidence | Afghan war boosts recruiting | 3 new deaths in Afghanistan push Canadian toll to 101 | CFR-Brookings to Dominate Obama Strategy | Afghan government sacks Kandahar governor | Obama's planned troop surge in Afghanistan could lead to more violence: ISAF | Military to probe response to sex charges | US General David Petraeus to take CENTCOM helm for Afghanistan, Iran, Iraq, Pakistan | 'Reconstruction' efforts in Khandahar not apparent to Afghanis | Peace activists demand Canada leave Afghanistan | NATO to let troops fight Afghan drug lords | US faces downward spiral in Afghan war, says leaked intelligence report | Afghan mission cost: up to $18B | Delta Force Officer: We Weren't Allowed to Kill Osama Bin Laden | Victory impossible in Afghanistan: senior British commander | Defiant military watchdog widens detainee hearings | 'Some' Troops to stay in Afghanistan past 2011: McKay | CSIS faces review in Khadr case | Blackwater-linked firm to train Canadian troops | Canadian troops continue gearing up, to receive US counter-insurgency training | Asia's new 'great game' is all about pipelines | MacKay dismisses Taliban threat as 'propaganda' | Controversial Kandahar governor replaced | America to assume command in Afghanistan | Canadian military acquiring new helicopters, drones | Low Level Driver Convicted Of Terror Charges While Bin Laden's Senior Body Guard Was Let Go | Afghani Narco-state Continues to Blossom under Puppet President | Protesters push for Omar Khadr's release | Obama promises 10,000 more troops for Afghanistan | Afghanistan suggests Pakistan responsible for embassy bombing | Canadian, NATO forces stood down during Afghan jailbreak | Canadian military silent on Afghan civilian deaths: UN investigator | US Counterinsurgency Manual Leaked, Calls for False Flag Operations, Suspension of Human Rights | Report: U.S. Gave Green Light For Taliban Prison Attack | Don't look, don't tell, troops told in response to Afghani child abuse | Post-traumatic stress disorder's hidden scars | Over 100 complaints about access to govt. info on Afghan mission: report | Canada sets up new military spy unit | Bid to Block Afghan Detainee Inquiry Slammed | Army begins using $150,000 artillery shells | FBI documents contradict 9/11 Commission report | Truth or Terrorism? The Real Story Behind Five Years of High Alerts | 9/11 widows call for new investigation after revelations of White House, commission ties | Director of 9/11 commission "secretly spoke with Rove, White House" | Eight U.S. State Department Veterans Challenge the Official Account of 9/11 | Twenty-five U.S. Military Officers Challenge Official Account of 9/11 | Ex-Italian President: Intel Agencies Know 9/11 An Inside Job | Afghan poll not as clear as it seems | 9/11 — the big cover-up? | New Bin Laden Video: 100% Forgery | What Ottawa doesn't want you to know: Government was told detainees faced 'extrajudicial executions, disappearances, torture and detention without trial' | The Lies that Led to War | U.S. Government Caught Red-Handed Releasing Staged Al-Qaeda Videos | US Allowed Taliban, Al-Qaeda Airlift Evacuation