Saturday, January 23rd, 2010
Note that rumours of this sort of activity are always discredited as 'conspiracy theory' by the establishment until, of course, they're ready to announce a full-scale roll out. The internet is our best tool to demonstrate how this is happening in other jurisdictions that are a few years ahead of our country in this regard. Look at how the naked body scanners are now being put in place with nary a peep of protest in Canada. Do you think anyone even 10 years ago would have put up with this? You're being conditioned to accept a neo-feudal police state. Big brother is watching you – wake up before it's too late, Canada.
Flashback: US Domestic Espionage Alert: Spy Drone Discovered | US Air Force confirms new 'Beast of Kandahar' drone | Clinton confronted by Pakistanis over attacks by aerial drones | UN: Drone attacks may violate international law | Kandahar spy blimp raises privacy concerns | US drone 'shot down over Somalia' | Canada's military peers into future, sees drone patrols, draft, insurgency | 250-Foot Long Hybrid Airship Will Spy Over Afghanistan Battlefields in 2011 | Military spycraft patrols Ontario border from Fort Drum | Homing chips are CIA's latest weapon against 'al-Qaida' targets hiding in Pakistan's tribal belt | CIA: Our Drones are Killing Terrorists. Promise | Pentagon plans blimp to spy from new heights | Remote-controlled planes could spy on British homes | Predator drones patrolling border irk Manitoba MLA | Report: CIA runs secret bases in Pakistan | U.S. set to launch Predator drones to monitor Manitoba border | Military Tech on the Home Front: Predator drones to begin surveillance of Canada-US border | Hoverdrone to be deployed to Iraq | Kids to Help Create Drones, 'Fuzzy' Line to Be Drawn between Military and Civil Spheres | Canadian military acquiring new helicopters, drones | Unmanned spy planes to police Britain | Austin police testing unmanned spy drones | Nunavut taken aback by military plan for drone patrols | U.S. to patrol Manitoba border with drone aircraft
Paul Lewis, The Guardian
January 23, 2010
Arms manufacturer BAE Systems developing national strategy with consortium of government agencies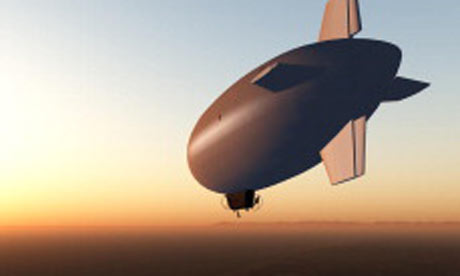 Police in the UK are planning to use unmanned spy drones, controversially deployed in Afghanistan, for the ­"routine" monitoring of antisocial motorists, ­protesters, agricultural thieves and fly-tippers, in a significant expansion of covert state surveillance.
The arms manufacturer BAE Systems, which produces a range of unmanned aerial vehicles (UAVs) for war zones, is adapting the military-style planes for a consortium of government agencies led by Kent police.
Documents from the South Coast Partnership, a Home Office-backed project in which Kent police and others are developing a national drone plan with BAE, have been obtained by the Guardian under the Freedom of Information Act.
They reveal the partnership intends to begin using the drones in time for the 2012 Olympics. They also indicate that police claims that the technology will be used for maritime surveillance fall well short of their intended use — which could span a range of police activity — and that officers have talked about selling the surveillance data to private companies. A prototype drone equipped with high-powered cameras and sensors is set to take to the skies for test flights later this year.