On purpose, that is. To bring down the present economic system, inhale the competition, and consolidate our assets. We are so sorry. Just like the last four or five times when we ran the exact same scam, erm, mistake.
Flashback: Explosive Leaked Emails Expose Treasury Secretary Geithner's Deception in 'Backdoor Bailout' | America slides deeper into depression as Wall Street revels | US Bankers Get $4 Trillion Gift From Barney Frank | Financial reform bill passes U.S. House | Taibbi: Obama's sellout to Wall Street creates 'permanent bailout' | Fed Sicks Attack Dogs On Ron Paul After Audit Amendment Passes | How Goldman secretly bet on the U.S. housing crash | Bernanke continues pressing for sweeping new powers for Fed | Federal Reserve Appeals Order to Disclose Emergency Bank Loans | Judge Orders Federal Reserve To Disclose Who Received Bailout Trillions | Geithner lambastes US economic watchdogs resistant to planned transfer of powers to Federal Reserve | Former NY governor Spitzer: Federal Reserve is 'a Ponzi scheme, an inside job' | Hands off the Fed, Bernanke warns Congress | US Senate Blocks Bill To Audit The Fed As Government Prepares For Second Round Of Looting | Taibbi: NYSE ends transparency to protect Goldman Sachs | Goldman Sachs: The Great American Bubble Machine | Obama Regulatory Reform Plan Officially Establishes Banking Dictatorship In United States | Obama unveils overhaul of financial system oversight | 10 U.S. banks to repay U.S. bailout money | Federal Reserve To Be Given Sweeping New Powers | HR 1207: Battle To Audit The Fed Has Only Just Begun | Top Senate Democrat: bankers "own" the U.S. Congress | Barclays, Lloyd's, RBS join Goldman-Sachs in the black | Goldman-Sachs to repay TARP loan, resume private operations, bonuses, at "earliest time" possible | Wall Street's Big Takeover | Behind the panic: Financial warfare over the future of global bank power | | Private Federal Reserve Makes Power Grab as Bush, McCain Urge Congress to Approve Plan | Goldman-Sachs Alumni Hold Reins of Financial System | Treasury's Plan Would Give Fed Wide New Power | Financial 'super cop' role for Fed
Daniel Nasaw, The Guardian
January 13, 2010
Chief executives accept some activities were 'improper' in testimony to commission, but remain defiant over pay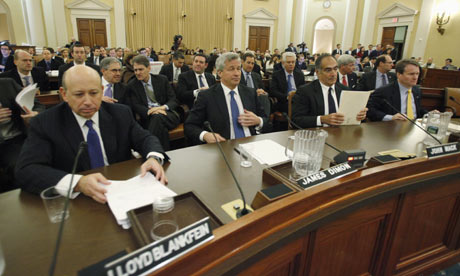 Leading Wall Street bankers said today they underestimated the severity of the financial crisis and apologised for making mistakes as a US government commission began its inquiry into the root causes of the banking meltdown.
In a dramatic hearing, the chief executives of four of the world's biggest banks, led by Lloyd Blankfein of Goldman Sachs and Jamie Dimon of JP Morgan, faced tough questioning over their role in the crisis, which ended with the US industry being bailed out with $360bn (£221bn) of taxpayer's money and saw ­unemployment rise to a 26-year high.
The hearing took place as Barack Obama, who has talked tough about bank bonuses and sought to strengthen regulation of the financial industry, ­prepared to unveil a plan for recouping some of the billions in bailout funds by imposing a fee on banks.
White House spokesman Robert Gibbs told reporters last night that an apology from Wall Street leaders "would be the least of what anybody might expect."
"People are angry," chairman Phil Angelides, a former Democratic treasurer of California, told the executives, aides, media and officials packed into a chilly hearing room at the US Capitol. "They have a right to be."
But the bankers refused to pander to the growing public fury about bonuses and defended their levels of pay.
Dimon, whose bank emerged well from the crisis, said most of his employees took "significant cuts in compensation" in 2008 but said JP Morgan would continue to pay to attract and retain top talent.
The bankers used their opening remarks to divert blame away from their institutions and lay it on mortgage lending practices, under-regulation of the mortgage broking industry and government promotion of home ownership.
But in a telling exchange, the combative Angelides took Blankfein to task for the practice of packaging toxic assets into securities and selling them to investors even as Goldman Sachs was making money by "shorting" the same securities. These included risky mortgages extended to borrowers with poor credit records and helped cause the home-loan bust.
"We are market makers: in most of these cases the person who came to us came to us for the exposure they wanted to have," Blankfein said. "These are professional investors who want this exposure." But Angelides said: "It sounds like selling a car with faulty brakes and then buying an insurance policy" on the driver.
Blankfein replied: "I do think the behaviour is improper. We regret the consequence that people have lost money."
Like the other witnesses, Blankfein acknowledged lapses in judgment in some practices leading up to the crisis.
"Whatever we did, it didn't work out well," he said. "We were going to bed every night with more risk than any responsible manager would want to have."
Dimon too was forced to admit that: "We did make mistakes and there were things we could have done better." The commission was created in May by an act of Congress and will meet several times this year. It is modelled on the Pecora commission which investigated the 1929 Wall Street crash. Its findings helped lead to the formation of the US Securities and Exchange Commission and other key reforms.
The commission's vice chairman, former congressman Bill Thomas, a Republican, said the inquiry would try "to get to the bottom of what happened and explain it in a way that the American people can understand". Thomas said one important question was: "If you knew then what you do now, what would you have done differently?" Dimon admitted a crucial blunder was "how we just missed that housing prices don't go up forever."
John Mack, head of Morgan Stanley, delivered a long lecture about how good his risk management was at Morgan Stanley, with stress-tests for all scenarios. But then when he was asked whether his bank had stress-tested for a fall in the housing market he admitted: "No, that was one we missed."
However, the bankers insisted that regulators played a role in the crisis, arguing that they failed to keep up with the proliferation of new, sophisticated financial products — such as mortgage-backed securities and credit insurance — and lacked authority to police the growing markets.
"In many instances, stronger regulation may have been able to prevent some of the problems," Dimon said in his prepared testimony.
Mack called for an umbrella regulating agency covering all aspects of the financial services industry, while Dimon said that in the future, policymakers must do a better job of identifying gaps in regulations left by the development of new financial instruments. "I don't think it's unique to the financial services," he said. "New products have problems."
But he added: "The solution is not to cap the size of financial firms… We need a regulatory system that provides for even the biggest banks to be allowed to fail, but in a way that does not put taxpayers or the broader economy at risk."
Mack said firms were too highly leveraged and lacked resources to effectively manage the risk they took on.
Blankfein, the major target of questioning, lay the cause of the financial crisis on shoddy lending and credit practices. He said that the sophisticated financial instruments that baffle policymakers and the public aggravated problems originating in bad lending decisions.
"After the fact, it is easy to be convinced that the signs were visible and compelling," Blankfein said in his prepared testimony. "But none of us know what is going to happen."
However, he urged policymakers to resist "wholesale reform", saying that the removal of risk from the financial system would hinder economic growth.
"We should resist a response that is solely designed around protecting us from the 100-year storm," he said. He also warned against abandoning certain financial instruments and markets, saying it would constrain access to capital and hamper the distribution of risk. He advised the commission to remain focused on lending practices, rather than on sophisticated financial instruments.
"There is more than enough blame to go around, but we would do the process of meaningful reform a disservice if we allowed factors or areas that have had far less of a direct impact on the events of the last two years to detract from a focus on the underlying reasons," he said.
What they said
Phil Angelides, commission chairman and former California state treasurer
"It sounds like selling a car with faulty brakes and then buying an insurance policy" on the driver.
"People are angry. They have a right to be," citing Wall Street bonuses.
"I see this commission as a proxy for the American people … If we ignore history, we're doomed to bail it out again."
Lloyd Blankfein, chief executive of Goldman Sachs
Goldman "got caught up in and participated in and therefore contributed to elements of froth in the market".
"We talked ourself into … complacency which we should not have gotten ourselves into, and which, after these events, will not happen again in my lifetime as far as I'm concerned." "Rationalisations … were made to justify that the downward pricing of risk was justified."
"I think we have a very, very tough regulator," he said of the bank's current regulation by the Federal Reserve.
Jamie Dimon, chief executive of JP Morgan
"We did make mistakes, there are a number of things we could have done better."
"But let me be clear: no institution, including our own, should be too big to fail."
John Mack, chairman of Morgan Stanley
"We did eat our own cooking and we choked on it," he said of the company's mortgage investments.
Brian Moynihan, chief executive of the Bank of America
"Interconnectedness," not bigness, led to the need for taxpayer bailouts
Source | See also under Economics: The next big scam: Fraud endemic to carbon market | Flaherty's economic plan blasted as leading to taxation or cuts | Idle job market hurting recovery, Flaherty warns | No new stimulus, economy 'stabilized': Harper | Obama ponders bank transaction levy to recoup bailout shortfalls |TSX trades above 12,000 before retreating | Explosive Leaked Emails Expose Treasury Secretary Geithner's Deception in 'Backdoor Bailout' | America slides deeper into depression as Wall Street revels | Tipping point at CanWest | Sarkozy says world currency disorder unacceptable | UK: Interest rates and quantitative easing on hold | Iceland blocks central bank debt repayment deal | Bernanke defends Fed's actions, forecasts interest hikes | US Bankers Get $4 Trillion Gift From Barney Frank | Review panel green-lights Mackenzie pipeline | Flu Inc.: How vaccines became big business | Canada's rate hikes will be tied to the Fed | Canada warms to idea of a tougher 'perimeter' | ABCP penalties near $140-million | Mint's missing gold now accounted for | Climate summit showcases new world order | Final Copenhagen Text Includes Global Transaction Tax | Lower tax haul helps widen Ottawa deficit, $56.2B shortfall expected | Canada puts for sale sign on nuclear reactors | Federal Reserve Chairman Bernanke's 2nd term clears hurdle | Beyond ACTA: Proposed EU — Canada Trade Agreement Intellectual Property Chapter Leaks | Financial Crisis Perpetrator Bernanke Hailed As World's Saviour By TIME | Ontario eyes sale of crown corporations | Canadians struggling to dig out of debt | Financial reform bill passes U.S. House | Can't say if federal stimulus is working: watchdog | Copenhagen climate summit releases draft final text | EU calls for tax on bank transactions | IMF could fund climate adaptation: Soros | US Environmental Protection Agency Threatens "Command-and-Control" Economy to Push Climate Change Agenda | HST bill passes, 13% tax starts July 1 | Copenhagen climate summit in disarray after 'Danish text' leak | Harper confirms June G20 summit in Toronto | Taibbi: Obama's sellout to Wall Street creates 'permanent bailout' | Tories, Liberals, Bloc approve HST for Ontario and B.C. | Who's afraid of high-frequency trading? | Liberals call stimulus numbers 'fiction' | Tory HST protest halts Ontario question period | Gold surges above $1,200 | Building Blocks Towards an Asia-Pacific Union | UAE markets dive on Dubai debt woes | Dubai's 'big pyramid scheme' grounded by debt load | A world awash in debt | UK: Brown proposes global fund to kick-start Copenhagen climate change process | UK: Brown takes campaign for Tobin tax to Commonwealth | Ottawa on track for largest-ever deficit | Federal HST tax bill to be introduced, plays politics with law | U.S. markets fall on Dubai crisis | U.S. banking troubles far from over | Ontario Tories walk out to protest lack of hearings on HST | Fed Sicks Attack Dogs On Ron Paul After Audit Amendment Passes | 1 in 10 Americans delinquent in paying mortgage | Personal bankruptcies still soaring | Americans Deserve a Transparent Federal Reserve | Is G20 more than Toronto can handle? | With only seven months to go, G20 site may be moved to Toronto | Top Mountie says Huntsville too small for G20 | Current And Former IMF Heads Call For New Global Currency | U.S. urges China to strengthen currency | Contentious HST bill introduced in Ontario | US Demands Banks Prepay Insurance as More Failures Expected | Leaked G20 Documents Shed Light on Global Carbon Tax | Food under $4 to be HST-free, Ontario says | GPS Tracked Road Tolls Back On Agenda for Toronto Metrolinx | Report suggests road tolls, parking and fuel taxes for GTA | George Soros Calls for World Currency and "New World Architecture" | U.S. dollar sags on global financial leaders' omission | Flaherty, USA say no to global financial tax, yes to continued 'stimulus' at G20 | Gold rallies to record above $1,100 | G20 to pledge continued 'stimulus', examine international reserve fund | Economic picture still not very bright, and more layoffs are in store, manufacturers say | Czech President: Copenhagen to be 'Largest tax increase in world history' | Bank of England extends quantitative easing to £200bn | Friends of the Earth attacks carbon trading as banker scam | G20 Meet To Finalize Dumping Of Dollar This Weekend? | Gold prices surge as India buys IMF reserves | Plentiful paper currency buffing gold's shine | GM kills Opel sale to Magna | Fund me or axe me, parliamentary budget officer says | UK banks receive more bailouts, restructuring | Al Gore Set To Become First "Carbon Billionaire" | How we're creating an illegal workforce | McGuinty says HST doubters exist in Liberal ranks | When it Comes to the Economy, Be Prepared for the Worst | Soros: China Will Lead New World Order | Terence Corcoran: Central banks are a hazard to banks | Bernanke continues pressing for sweeping new powers for Fed | Ontario deficit billions more than expected | Nortel employees to lose pensions, Liberals vow change to bankruptcy laws | Goldman Sachs breaks record with $16.7bn bonus pot | Loonie continues race toward parity with U.S. dollar | Dollar Reaches Breaking Point as Central Banks Shift Reserves | UK: Lord Mandelson and Nat Rothschild share Brazilian ambitions | The Keynesian quagmire | Gold continues record-breaking run | Police break up IMF protests in Istanbul | Gold price rises to all-time high | Fisk: Nations to hasten demise of dollar in new world order | IMF chief wants global bank tax | U.S. unemployment claims spike | Federal Reserve Appeals Order to Disclose Emergency Bank Loans | Banks balk at new credit card rules | Economy was a dud in July | Tight credit new threat to rebound, IMF warns ahead of Istanbul meeting | Stephen Harper trumpets economic report card | US dollar set to be eclipsed, World Bank president predicts | Bilderberg Wants Global Currency Now | Ontario deficit $2.5B worse than expected due to drop in corporate tax | G20 decides to become world's new ruling economic council | Carney says G20 must stay the course on stimulus | G20 nations meet as protests flare on issue of international banking regulation | Dollar to fall under scrutiny at G20 summit | Credit card debt balloons | If passed, HST locked in through 2012 | The Economy is a Lie, too | Swine flu 'could kill millions unless rich nations give £900m' | IMF approves $13bn gold sale to boost lending fund | Thousands rally against coming HST tax in BC | Gordon Brown urges EU to back new economic order | Israel 'will attack Iran this year' if West does not cripple Tehran with sanctions | Unemployed to reach postwar high: OECD | US credit shrinks at Great Depression rate prompting fears of double-dip recession | Nassim Taleb on the economy: 'We still have the same disease' | Up to two million march to US Capitol to protest against Obama's spending in 'tea-party' demonstration | Ottawa's deficit plan would hike EI premiums | Canada's $1-trillion debt baby | Gold regains $1,000 | Flaherty sees deficit, debt, and timetable to return to surplus all expanding | Sarkozy launches carbon tax to help 'save the human race' | Magna wins battle for Opel | Food prices set to rise? | A year after financial crisis, a new world order emerges | UN wants new global currency to replace dollar | G20 agrees to continue economic stimulus measures; Geithner shops international reserve accord | Gold toys with $1000/oz | How the collapse of Lehman Brothers pushed Wall Street to the brink | China Set to Buy $50 Billion in IMF Notes | Investors dump money market funds | Scotiabank: Global economy set to recover, China and developing nations to lead | More US Bank Failures and The Coming Deposit Insurance Bailout | Industrial demand for silver sharpens bullish view | German Scientists Call for 'World Climate Bank' | Underwhelming GDP growth fails to move stocks, loonie | Irish state plans to take majority stake in debt-ridden banks | Flaherty chooses himself as authority on banking oversight | Ottawa plans U.S. dollar bond | A Stock Market Rally Engineered by Government | Judge Orders Federal Reserve To Disclose Who Received Bailout Trillions | Central bank of Canada stands ready to inflate currency in response to strong loonie | Arrest Over Software Illuminates Wall St. Secret | Boost Bank of Canada powers: Carney | Arrest Over Software Illuminates Wall St. Secret | Credit delinquencies up 24% in June | Geithner lambastes US economic watchdogs resistant to planned transfer of powers to Federal Reserve | Statistical Deceptions: How Fake is the "Recovery"? | Derivatives rear their ugly head again: Leveraged ETFs outed | Former NY governor Spitzer: Federal Reserve is 'a Ponzi scheme, an inside job' | Federal deficit hits $7.5B in April-May | Hands off the Fed, Bernanke warns Congress | BC, like Ontario, moves to harmonize taxes | Think Tank Report: Obama Will "Press The Reset Button" On North American Union Agenda | Bank of Canada declares recession over | Global demand for gold investment soars 38% in past year | Cost Of US Bailout Hits A Whopping $24 Trillion Dollars | Ottawa considers culling 20% of pork industry | Timothy Geithner: travelling bond salesman | Paulson Threatened Great Depression, Food Riots To Get Bailout Bill Passed | Ontario to subsidize electric cars as auto-sector boost | Record quarterly profits and bonuses: Goldman Sachs makes out like a bandit on taxpayer's dime | Fed 'Independence' or Fed Secrecy? | Investors in alleged Ponzi scheme fear millions gone | Medvedev Unveils "World Currency" Coin At G8 | Nationalized General Motors emerges from bankruptcy after 40 days | Headed to National Socialism | Budget officer 'can't tell' if stimulus plan working | G8 leaders see no early end to stimulus | Second wave of economic crisis coming, international regulation necessary Brown warns | US Senate Blocks Bill To Audit The Fed As Government Prepares For Second Round Of Looting | Goldman-Sachs: Pilfered trading code could be used to 'manipulate markets' | Nationalized General Motors gets go ahead from US judge | Taibbi: NYSE ends transparency to protect Goldman Sachs | More Canadians in arrears on credit payments | U.S. sheds 467,000 jobs in June | Canada to match U.S. climate change rules | The search for the mint's missing gold | US Congress Passes the 1,200-page Climate Bill that it was not allowed to read | John Manley to 'bridge divide' between business and government as new CCCE chief | China calls anew for super-sovereign currency | Central banks to take off 'training wheels' | Goldman Sachs: The Great American Bubble Machine | Fed mulls slowing down bailouts as fears of inflation are raised | Is the World Bank too optimistic? | Bankster "Holiday" Planned for September? | Canada is now on the national securities regulation bandwagon | TSX sinks below 10,000 on World Bank outlook | Congressman Ron Paul Slams Federal Reserve's New Dictatorial Power | Central Bank of Canada 'considering' regulatory changes, 'continuous private liquidity creation' | US Treasury Secretary Geithner defends plan to step up oversight | Obama Regulatory Reform Plan Officially Establishes Banking Dictatorship In United States | Obama unveils overhaul of financial system oversight | 10 U.S. banks to repay U.S. bailout money | Federal Reserve To Be Given Sweeping New Powers | Financial crisis: Worst may be still ahead, says IMF chief | Flaherty looks for way to end stimulus | Canada, U.S. will renegotiate Great Lakes water treaty | The next cellphone trick: transferring money | US cities may have to be bulldozed in order to survive | HR 1207: Battle To Audit The Fed Has Only Just Begun | Stimulus cash is flowing — down a hole? | 'New world order' needs better economic grounding: Carney | Harper lays out stimulus spending in progress report | Fiat closes Chrysler deal | Elitist Confab in Montreal: 'Adapting to a New World Order' — Day 1 | Bullion and Bandits: The Improbable Rise and Fall of E-Gold | No one talking about dumping dollar: China minister | U.S. top court delays Chrysler sale | 'Reduced pace of deterioration' indicates economy on the mend: Flaherty | Protests against Putin sweep Russia as factories go broke | China explores buying $50bn in IMF bonds | $100 Billion Bailout For IMF Tagged On To War Funding Bill | Harper 'not counting on' recouping billions loaned to GM | Government to acquire 'substantial' stake in Citigroup | 'New GM' to emerge from bankruptcy | Chinese economists deem huge holding of US bonds "risky" as Geithner visits | Germany OKs Magna bid to acquire GM's Opel | Soaring loonie adds to anxiety over economy | Auto bailout costs soar, contribute to $50B deficit | Ontario Liberals pressing to hide new 'harmonized' tax in prices | US could own 69% of GM as bankruptcy looms | Economist Warns Fed Will Bring About Zimbabwe Style Hyperinflation | Federal deficit to top $50B | Ranks of EI recipients jump by 10% in March: StatsCan | Canadian households $1.3-trillion in debt | Autoworkers accept GM deal in 86% vote | Economic stabilization may rely on carbon economy, economist says | Crisis spurs spike in 'suburban survivalists' | Digital Money Forum Pushes For Electronic Currency | Report from the 2009 Bilderberg Conference | GM, CAW reach new labour deal | Canada eyes arms sales to Pakistan | CNBC analyst echoes warning of 'sucker's rally' | GM Canada plans to cut 40% of its dealer network | Oshawa truck plant closes | Geithner To Take Orders From Global Elite At Bilderberg | Quebec pension fund managers boosted derivatives holdings despite warnings | GM execs dump stock, shares plummet | The rich, shadowy Bilderberg group | Recovery within sight, central bankers say | Leaked 1955 Bilderberg Docs Outline Plan For Single European Currency | GM bankruptcy likely, CAW says | 10 U.S. banks fail stress test, but regulators confident | Leaked Agenda: Bilderberg Group Plans Economic Depression | Fiat aims to be global powerhouse by acquiring Chrysler, Opel | Chrysler Canada assembly plants shut down | Banker at heart of credit crisis leads plan to buoy auto sales | With interest rates at zero, Fed looks at going negative | Almost 80,000 jobs lost in February | US Economy Shrank 6.1% in First Quarter | Ontario mulls equity stake in GM | US government may take controlling share of General Motors | EU approves free-trade talks with Canada | Fed says U.S. banks breezed through stress tests | Will recession spark global food crisis? | Bank of Canada poised to print money to buy bonds | Credit companies seek to avoid regulation, create global debit system | After Three Amigos rendezvous, White House confirms there's no plan to reopen NAFTA | Stocks in triple-digit losses on Bay, Wall streets | A Bigger, Bolder Role Is Imagined For the IMF | US govt considers becoming bank shareholder | US to put conditions on bank bailout repayments | Harper Pledges to Double Funding to International Bank at Americas Summit | NRTEE Carbon Market Panel is 'Round Table on Socialist Planning' | TSX moves up for 6th week | Climate panel presses for federal cap-and-trade system | Congressman: Reckless Spending And Taxation Prolonged Great Depression | Barclays, Lloyd's, RBS join Goldman-Sachs in the black | U.S. retail sales fall unexpectedly | Goldman-Sachs to repay TARP loan, resume private operations, bonuses, at "earliest time" possible | Which Banks Will Rule? | Ontario can't cover GM pensions, premier says | GM chief says company is preparing in case it files for bankruptcy | Another 663,000 jobs lost in March in U.S. | G20 deal part of 'unprecedented' response to crisis: Harper | UK PM reveals G20 plan to boost IMF by $1 trillion, hails new world order (again) | Global stock markets surge | World Bank President Admits Agenda For Global Government | Financial Rescue Nears US GDP as Pledges Top $12.8 Trillion | Gordon Brown chooses pulpit as latest platform to push New World Order | Whitehouse fires General Motors CEO | Will U.S. financial woes lead to new world order? | U.N. 'Climate Change' Plan Would Likely Shift Trillions to Form New World Economy | US backing for world currency stuns markets | UN & IMF Back Agenda For Global Financial Dictatorship | Geithner wants a bigger stick | Geithner Plan Will Rob US Taxpayers: Stiglitz | Ontario to merge GST, PST in 'harmonized' tax hike | EI, individual bankruptcies spiked in January | US unveils P3 plan to monetize debt, nationalize banks | G20 warned unrest will sweep globe | Bank crisis spawns new kind of gold rush | Wall Street's Big Takeover | U.N. Environment Head Wants Global Warming Tax | Ottawa considering aid for private broadcasters | Financial Post editor: America's future at risk of 'inflationary outburst' | U.N. panel says world should ditch dollar | IMF poised to print billions of dollars in 'global quantitative easing' | G20 officials pledge 'whatever action necessary' to revive economy | Changes to law could affect navigation of Canadian waters, critics say | Mainstream Financial Publication Finally Admits that Austrian Economists Were Right | Global recession deepening, Geithner says | Obama calls for G20 joint action | UK Central Bank begins using 'new' money | Brace for sharp slump, IMF warns Canada | IMF, World Bank predict a global recession | Worst crisis since 1930s says Fed, calls for 'forceful action' | Jobs data grim, Flaherty says | Atlas felt a sense of déjà vu | UK government takes control over Lloyd's bank | Canada expects EU free-trade talks soon: Stockwell Day | GM pensions: Who's responsible? | Stimulus needed now, Bank of Canada says | GM says it will go bust in days without new US bail-out | Terence Corcoran: Ontario's green energy plan sneaks in feed-in taxes | Time to emulate Roosevelt's New Deal and create green jobs | Central bank tactics pushed to brink | Ontario facing massive deficit | Obama outlines 'hard choices' budget | UK: Loss-making Northern Rock to pay bonuses to managers | IMF emergency fund is doubled to $500bn, Northern Rock bank granted $14bn bailout | EU backs sweeping new financial rules, more power for IMF | GM wants twice as much taxpayer's money | Volcker sees crisis leading to global regulation | Gold Tops $1,000, First Time Since March as Recession Deepens | Stocks Drop Around the World; Stoxx 600 Falls to 6-Year Low | Greenspan backs bank nationalisation | Behemoth budget bill to be rammed through parliament unread | Obama signs stimulus bill | Congressman warns unread 'stimulus' bill will prolong agony | Gordon Brown seeks sweeping reforms to give IMF global 'surveillance role' | $787B stimulus package passes through U.S. Congress | Paul Martin prescribes international regulatory body for ailing fiat economies | US Congress reaches deal on economic stimulus package | World stocks fall on skepticism over U.S. bank plan | Next US bailout could top $1-trillion | Geithner Said to Have Prevailed on the Bailout | Canada lost 129,000 jobs in January: StatsCan | Economic crisis: The shakeup Canadians need? | Pass stimulus or watch out, Obama warns | Canadian credit card delinquencies rising | Iceland to be fast-tracked into the EU | France responds to economic downturn with a general strike | U.S. House passes $819B economic stimulus | World Economic Forum elite blame 'profit', not fraud, for crisis | Fed infrastructure money requires provincial spending | Ignatieff lets government stand with budget amendment demand | Rewriting the rulebook for 21st-century capitalism | Obama urges Republicans to support economic plan | The budget: Global shock therapy | All maxed out? Budget measures would improve credit access | $12B for infrastructure forms key pillar of stimulus package | Few surprises as government turns on the spending taps | U.S. Senate confirms Geithner as treasury secretary despite reservations | Iceland's government collapses | Optimistic central bank expects speedy economic rebound | Ottawa risks erasing decade of debt reduction | Canadian, U.S. energy policies to be inextricably linked: Prentice | Business Development Bank will get $350M injection, Clement says | Prominent Economist: Crisis Caused By Government Interventions | New UK bank bailout | Vancouver dodges public referendum requirement for funding to finish Olympic Village | Zimbabwe unveils 100 trillion dollar banknote | Financial crisis: Bank of America given $138bn rescue package | Q&A: Prime Minister Stephen Harper speaks with The Post's John Ivison | Premiers to press Harper for infrastructure boost | Vancouver mayor to recall legislature to handle Olympic Village crisis | Bring in a Canadian securities regulator: Flaherty's handpicked business panel | Merged Citigroup, Morgan brokerage would be largest | Obama to visit Canada, Tories to propose 'integrated carbon market' | Brace for a big, 'comprehensive' budget: Harper | Canadians starting to save cash, shun debt | GM's U.S. bailout deal bars strikes | European Leaders Call For New Global Order | Transport Minister Baird calls for dramatic action on stimulus package | Obama calls for 'dramatic action' on stimulus package | UK PM unveils 'New Deal' plan to create 100,000 jobs | Flaherty vows short-lived deficit, consults corporate chiefs on spending initiatives | Analyst: One Third Of Banks Could Collapse or Merge In 2009 | Auto bailout gives Federal, Provincial governments incremental nationalization powers | Banks won't say where U.S. bailout money going | UK: Bailiffs get power to use force on debtors | Kissinger Calls For New International System Out Of World Crises | Canadian auto bailout could reach more than $4-billion | U.S. to spend $17.4-billion to 'rescue', nationalize auto industry | Harper government plans deficits as deep as $30 billion | Flaherty appoints business leaders to economic advisory council | IMF Chief Warns Of Riots In Response To Economic Crisis | Bank of Canada ready to monetize distressed equities | Canada may backstop ABCP rescue: Flaherty | The ugly spectre of 'new Keynesianism' and the self-appointed Guardians | Army 'Strategic Shock' Report Says Troops May Be Needed To Quell U.S. Civil Unrest | Federal government, Ontario agree on $3.3B auto bailout package | 'Outrage' greets banks' failure to match rate cut | State to bail out, control US auto industry | Get close to Obama on economy and security, paper says | Financial Times: And now for a world government | Terence Corcoran: It's Twilight for Detroit and the U.S. economy | Mexico to downsize metal in coins to save a few cents | Automakers seek $6B aid package from Ontario, federal government | Bank of England mulls "nuclear option" of cash injection | Zimbabwe tackles cash shortage amid riots and looting | Icelanders storm central bank in protest | Liberals and NDP sign unprecedented pact; to pursue stimulus, carbon taxes | UN Climate Change Conference open with call for 'co-operation' | UK closer to joining euro, EU commission president says | Iceland turns 90 amid economic ruin, currency freeze | TSX drops 600 points, N.Y. also falls | Britain buys control of Royal Bank of Scotland | Iceland inflation soars to 17.1% | Canada in recession: OECD | Maybe we should look at Zimbabwe before trying to print our way out of a money crisis | Britain to introduce massive stimulus package | Obama appoints architects of economic collapse, financial globalism to economic team | Jim Flaherty Urging Greater Federal, International Control over Canadian economy | Citigroup seeks 'emergency cash' | Deficits 'essential,' Harper says | Harper vows Canada will remain open to international trade | 5 injured during protest in Iceland over economic meltdown | 'Hard decisions' needed during economic crisis: throne speech | Paulson, Bernanke defend change of plan: $700-billion now to be given directly to banks | After G20 meeting, Ottawa ready to spend to spark economy | Congress Accuses Federal Reserve Bagman Of Bailout "Bait and Switch" During Angry Hearing | Flaherty eyes sale of Canadian government assets | Analysts Predict Hyper-Inflation To Push Gold To $2000, Oil to $300 | Terence Corcoran: Rescuers pulling market under | U.S. government won't use bailout fund to buy troubled assets | Ottawa to pour another $50B into mortgage markets | Bank of Canada adds $8B to credit markets | Merrill CEO: Economic Environment Recalls 1929 | Fed Hides Destination Of $2 Trillion In Bailout Money | PM, premiers agree to speed up infrastructure investment | Flaherty lauds Keynesian global 'economic stimulus' strategies | Who are the Architects of Economic Collapse? | The Bush gang's parting gift: a final, frantic looting of public wealth | IMF may need to "print money", act as "world's central bank" as crisis spreads | Morgan Chase Exec Brags Bailout Is for Takeovers, Restructuring, Not Lending | Draft letter calls on IMF to play critical role in financial crisis | Ottawa to guarantee interbank lending | More cash needed to save economy: Bernanke | Wall Street banks in $70bn staff payout | German parliament backs bail-out | Regulator says brokers failed on ABCP, sets new guidelines | US Bailout Cost Heads Towards $5 Trillion | Market Euphoria Dissipates | Loonie leaps, then reverses course | $25B credit backstop for banks 'not a bailout': Harper | Brown wants 'global' bank support | US considers following British example of taking stakes in banks | New World Order: Global co-operation, nationalisation and state intervention — all in one day | TSX closes up 226 points in wild day after rate cuts | Federal Reserve Moves to Monetize Commercial Paper Debts | Stocks recoup some losses after markets hit by panic selling | Star column blames 'Capitalism' for market woes, offers false choice: Authoritarianism or Socialism | Bank of Canada greases financial system with $12B in new cash | Stock markets drop despite bailout | Why Paulson's Plan is a Fraud | Representatives Were Threatened With Martial Law In America Over Bailout Bill | Congress Rejects (First) Bail-Out Plan | Congressman Ron Paul: Bailout Will Destroy Dollar, World Economy | Paul Martin calls for 'global solution' | Markets sink as woes spread | UK banking shares plunge as crisis deepens | Congressman Ron Paul Schools Fed Chairman Bernanke on the Bailout Plan | Bailout is "petty cash", Inflation is the Federal Reserve's real crime | Private Federal Reserve Makes Power Grab as Bush, McCain Urge Congress to Approve Plan | Canadian Supreme Court refuses to hear appeal in ABCP case | Last major investment banks in U.S. change status | U.S., British market regulators ban short-selling | Next Federal Reserve bank bailout round could cost taxpayers 1$ Trillion Dollars | Bank of Canada piles on in global inflationary swindle | Central banks continue inflating global economy | Central Banks Move to Transfer Wealth from Taxpayers to Banks | Crisis on Wall St. as firms collapse | Goldman-Sachs Alumni Hold Reins of Financial System | Frontrunners emerge in scramble to save another major bank | Lehman Brothers on Verge of Collapse, Wall Street Fears | US Treasury nationalizes Freddie Mae, Fannie Mac | Cities Debate Giving Away Public Infrastructure to Bankers | Court Grants Big Banks Immunity from Lawsuits over Derivatives Losses | Bush Calls for New Highway Tolls, More Private Funding of Roads | US mortgage firm bailout includes rider clause to expand police state: all credit card transactions now to be reported to IRS | Global 'liberalization' illusion under threat. Economist calls for world economic regime, Keynesian saviour. Irony? | Federal Reserve cites global stakes in Fannie and Freddie rescue | Financial 'super cop' role for Fed | What Really Killed Bear Stearns? | Soros points out regulated markets fail to operate on market fundamentals, calls for more regulation | Competition study calls for lowered barriers to foreign ownership, bank mergers | Massive overhaul urged on foreign investment in airlines, media, and banks | Bilderberg Seeks Bank Centralization Agenda | Secretive Bilderberg Group Reverses Policy, Releases Press Release and Attendance List | Banks face "new world order," consolidation: report