So Labour's just going to go ahead and ignore the ruling. It's almost as though they're throwing the next election to the Conservatives.
Flashback: UK: From snapshot to Special Branch: how my camera made me a terror suspect | UK: Photographer questioned under anti-terror laws for taking pictures of Christmas lights | UK: Big fall in police use of stop-and search powers after outcry | UK Police in £9m scheme to log 'domestic extremists' | UK anti-terrorism strategy 'spies' on innocent | Olympic security follows protester's friend | EU Plans Massive Surveillance Panopticon That Would Monitor "Abnormal Behavior" | Pentagon Caught Subverting Protest Group | UK: Big Brother state wants even more spy powers | Toronto TAVIS special police corps demanding ID on city streets | DoD Training Manual Describes Protest As "Low-Level Terrorism" | UK: Police caught on tape trying to recruit climate activist as informant | UK police maintain databank on thousands of protesters | UK: Government 'using fear as a weapon to erode civil liberties' | Former MI5 chief: UK Ministers 'using fear of terror' to restrict civil rights | UK: Calling the police to account for anti-photography law | Olympic security boss puts protesters on notice | UK Big Brother police to get 'war-time' power to demand ID in the street | Activists seen as potential threat to Vancouver Games | Protestors added to database of terror suspects | RCMP conducts random search and seizure on Canada Day | Papers Please: UK cops stopping millions in streets
Alan Travis, The Guardian
January 12, 2010
Judges at European court of human rights said powers lacked adequate safeguards against abuse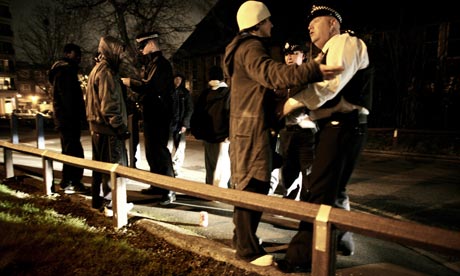 A crucial element of the government's ­counter-terrorism policy lay in tatters tonight after a European court ruled that the ­"arbitrary" stop and search of people without suspicion was illegal.
Seven judges at the European court of human rights said that random stop and search powers under section 44 of the ­Terrorism Act were far too widely drawn and lacked adequate parliamentary and legal safeguards against abuse.
They ruled that the privacy rights of a peace protester, Kevin Gillan, and a ­journalist, Pennie Quinton, were unlawfully abused when police stopped and searched them on their way to a demonstration outside the annual Excel Centre arms fair in east London in 2003.
Quinton was ordered to stop filming by the police despite showing her press card. They were awarded £30,400 costs.
The home secretary, Alan Johnson, voiced his disappointment with the ruling and indicated he would take the highly unusual step of seeking to appeal against it in the court's "grand chamber" of 17 judges, which requires him to show "exceptional" circumstances in the case.
"Stop and search under section 44 of the Terrorism Act 2000 is an important tool in a package of measures in the ­ongoing fight against terrorism," said Johnson.
"I am disappointed with the ECHR ruling in this case as we won on these challenges in the UK courts, including the House of Lords."
After several hours of scrutiny of the judgment by Home Office lawyers this afternoon, they decided that the UK law still stands and Johnson issued a statement saying that "pending the outcome of this appeal, the police will continue to have these powers available to them".
His decision to defy the ruling comes as he is expected to publish a review on anti-terrorist control orders, which have also taken a battering in the courts.
Lord Carlile, the official reviewer of terrorism laws, said today the implications of the ruling were "quite serious" and could now require a change in the law.
"In my view, section 44 is being used far too often on a random basis without any reasoning behind its use," he said. "The fundamental point that the court is making is that it increases the possibility of random interference with the legitimate liberties of the citizen."
Section 44 is supposed to give the police the powers to search for "articles of a kind which could be used in connection with terrorism" in a designated area renewable every 28 days.
But since it came into force in 2001 it has been widely used against anti-war and anti-globalisation protesters, ­photographers and even Japanese tourists. More than 117,000 searches took place under the powers in 2008 and the European judges drew special attention to the statistics showing black and Asian people were at least four times more likely to be stopped.
Gillan, who was detained by the police for 20 minutes as he was cycling to join the demonstration, said: "It's fantastic news after a long struggle. I look to the government for a strong response."
Quinton, who was in the area to film the protests, said she hoped that it would lead to fairer legislation to protect them: "It's not about saying that there's no need for stop and search. What we're really saying is people have a right to privacy and there needs to be a balance between police powers to ensure our safety but also our rights to a private life."
The Strasbourg ruling said that the ­public nature of the searches they endured meant there was an element of ­humiliation and embarrassment that could not be ­compared with airport searches.
The fact the decision to search was based exclusively on the police officer's own "hunch" without adequate legal safeguards against abuse meant they could not be "in accordance with the law".
Corinna Ferguson, Liberty's legal officer who acted for Quinton and Gillan, said that in the coming weeks MPs and peers must finally "sort out this mess".
Conservatives and Liberal ­Democrats both criticised the continued use of the counter-terror laws to conduct ­routine day-to-day policing and pointed out that everyone from trainspotters to amateur photographers had been targeted by ­section 44.
Source | See also under Rights: Body scanners capable of storing, sending images, group says | Privacy no longer a social norm, says Facebook founder | North Korea calls for peace treaty with US | 'Unclear' Whether US Air Security Profiling Violates Canadian Charter: Baird | US implements travel profiling: Tougher air screening for 'security-risk' countries | Underwear Bomber Renews Calls for 'Naked Scanners' | Chinese dissident Liu Xiaobo calls for rights, jailed 11 years for 'subversion' | Prominent Chinese reformer on trial for subversion | Ottawa seeks secrecy in Tamil migrant case | Iran admits jailed protesters were beaten to death | Copenhagen: the sound of silence | US Buying Illinois Prison for Guantanamo Detainees | UN Goons Silence Journalist Who Questions Gore On Climategate | If Climategate Is No Big Deal, Why Are Questions About It Met With An Armed Response? | Almrei security certificate struck down | We're no thieves — despite what Rupert Murdoch claims, says Google | Canadian crime and American punishment | Omar Khadr to face Military Commission trial in US | BC Native tribe will petition Ottawa to remove its Indian status | UK Internet surveillance plan to go ahead | Cuban blogger claims she was roughed up by state agents | Teacher rejects fingerprinting for work on religious grounds | Parliament votes 'in principle' to scrap gun registry, bill moves to second reading | Court upholds aboriginal fishing rights on Vancouver Island | China launches 'strike hard' crackdown in Xinjiang | Tories move closer to killing gun registry | How we're creating an illegal workforce | UN: Drone attacks may violate international law | The Columbia Coverup | More police security cameras approved for Toronto | UBC students tutored on Olympic security rights | China executes Tibetan protesters | UK anti-terrorism strategy 'spies' on innocent | UN body debates Gaza war crimes report | Hutterite driver's licence photo appeal rejected | Passage of Bill C-6 Imminent, Gives Health Canada Warrantless Search and Seizure Powers | Anti-Olympic signs could net 6 months' jail: rights group | Spy agencies now free to eavesdrop on Canadians abroad | Crown attorneys told to stop illegal juror checks | Writers call for probe into human rights commission | Military Police Kidnap G20 Protester, Shove Him Into Unmarked Car | Tory plans for U.S.-style prisons slammed in report | Report: Massive FBI database set to quadruple in size | EU Plans Massive Surveillance Panopticon That Would Monitor "Abnormal Behavior" | Merced police used TASER on unarmed, legless man in a wheelchair | Business as usual: SWAT team breaks down mayor's door, shoots dogs, ransacks home, refuses to apologize | 'Stunt driving' automatic convictions ruled unconstitutional | French Government To Use Swine Flu Threat In Crack Down On Liberties | China's crackdown for patriotism on 60th anniversary | It's a great day for freedom of speech: 'Hate Speech' laws found to violate Charter Rights | CIA doctors face human experimentation claims | UK Government plans to link criminal records to ID cards | Facebook to make privacy changes, keep user data indefinitely if not deleted | Rendition still happening on Obama's watch | Obama approves new interrogation unit | Charkaoui asks court to toss security certificate case | Greece To Enforce Mandatory Swine Flu Vaccinations | UK ISPs condemn Internet surveillance plans | UK: New evidence in Binyam Mohamed torture case | Social workers erred in removing child from poor parents: report | UK: Secrets of CIA 'ghost flights' to be revealed | Chinese dissident saved by Canada details horror | Alberta Hutterites need enhanced driver's licence photos: top court | UK: Police given powers to enter homes and tear down anti-Olympics posters during 2012 Games | Supreme Court rules tainted evidence admissible in 'minor' Charter violations | CSIS ignored Khadr's human rights: Parliamentary report | Yahoo! protects user privacy – and gets fined by Belgium | B.C. 'public guardian' accused of abusing senior's rights, property seizure | Selective enforcement: Charkaoui barred from US airspace on flight from Fredericton to Montreal | Pro-rights 'Charter 08′ Manifesto author could face prison in China | Ottawa appeals court order to repatriate Omar Khadr | Supreme Court to rule on 'tidal-wave' of press freedom cases | Supreme Court of Canada won't hear Afghan detainee torture case | Top court to examine if minimum sentences apply despite charter violations | Khawaja appeals terrorism conviction | Manitoba board considers random drug tests for high school students | UK: Big Brother row as police start using camera cars to fine wayward drivers | Province of Ontario fights to keep farm workers from unionizing | Who counts as 'human'? | UK MP George Galloway takes Canadian speaking ban to court | Rights groups press for better security oversight | Judge finds no entrapment of suspects in Toronto 'terror' case | Security certificate detainee requests prison over intrusions on family | Obama administration: Guantanamo detainees have 'no constitutional rights' | UK: Civil servants attacked for using anti-terror laws to spy on public | UK: Government plans to keep DNA samples of innocent | Australian web censorship plan to begin trial despite house opposition | Obama backs Bush: No rights for Bagram prisoners | Activists 'shocked' at Clinton stance on China rights | Canadians tortured overseas sue government | Former MI5 chief: UK Ministers 'using fear of terror' to restrict civil rights | UK: Landlord fights police plan for CCTV at pub | New law to give police access to online exchanges | Controversial US measure would require DNA sampling at arrest | After Obama praises torture ruling, civil liberties group appalled | Milk trial defence: Raw milk is safe and food choice a right | Missed vaccinations lead to suspension threat | Ban-happy Ontario accused of 'Big Brotherism' | Australian Citizen Journalist Charged for Filming Police under Anti-Terror Law | UK: Bailiffs get power to use force on debtors | Psychiatric treatment used to 'silence' Chinese critics | UK Big Brother police to get 'war-time' power to demand ID in the street | UK launches high-visibility community punishment | Former US congresswoman, presidential candidate Cynthia McKinney barred from boarding plane to human rights conference | Retired B.C. woman surprised to find herself on international no-fly list | Tribunal shouldn't police online hate, report says | Social services set up CCTV camera in couple's bedroom | Bad news bearers warned to zip it by Kremlin | Beijing peasants bullied, beaten off of family farms by state-developer blocs | Canada's free speech enemies to lay Remembrance Day wreath | Halifax thinks again about subjecting applicants to lie-detector tests | Australia to Implement Mandatory Internet Censorship | Police will use new device to take fingerprints in street, vendors say face scanning next | UK Shortly to Become Worse Surveillance Society than Stasi East Germany | Torture Tactics Endorsed in Secret White House Memos | UK Security services want personal data from sites like Facebook | Security expert: Weak accusations against Almrei, held 7 years on security certificate | National Post Editorial Board: Britain mulls a society in which privacy is banned | Big brother to track all emails, internet history and telephone calls under UK plan | Lawyers say UK Guantánamo suspect has no hope of fair trial | Italian Judge: Blogs are Illegal | India's use of brain scans in courts dismays critics | Protesters: Police pepper-sprayed peaceful gathering | Greyhound bus passengers now subject to arbitrary luggage searches | Google Street View could care less about your privacy | Texas truant students to be tracked by GPS anklets | NYC Residents Furious over Invasive Surveillance Grid | Rounded up into torture camps: the 'undesirables' China doesn't want you to see | Ezra Levant: How I beat the fatwa, and lost my freedom | Mounties pinned me down in cell and tasered me, Manitoba girl says | Mass Arrests as Beijing Prepares for Olympics | Chicago, awash in gun violence, gives Toronto advice: You need a gun ban like ours | Protestors added to database of terror suspects | Edmonton police rounded up women for 'talent nights,' hearing told | Fisherman, 78, faces eviction to make room for container terminal | RCMP conducts random search and seizure on Canada Day | Papers Please: UK cops stopping millions in streets | UK Parents Need Government Permission to Kiss Children | U.K. Develops Plan to Begin Microchipping Prisoners | Human rights body to consider Internet speech regulation | Blogger arrests hit record high | Terror Bill Passes Narrowly in Britain's House of Commons | Canada hears of native abuse pain | Pistol Pendant Causes Airport Holdup | Human rights reforms could trigger unfair proceedings | Location of Mass Graves of Residential School Children Revealed for the First Time; Independent Tribunal Established | The Ontario Human Rights Commission: Hey, we want to be in the censorship business, too! | Court puts security certificates in limbo | Alberta Barren: The Mannings and forced sterilization in Canada