Monday, January 11th, 2010
So, a quick firmware upgrade or backdoor keystroke combination and that functionality is ready to roll, right after the next Underpants Bomber mysteriously strolls onto an aircraft without a passport. Niiice. So are you enjoying being lied to continuously? Or simply getting acclimatized to tyranny?
Flashback: Dutch police develop mobile body scans | Whole-body airport scanners are basically safe–or are they? | Body scanners coming to Canadian airports | UK: New scanners break child porn laws | US implements travel profiling: Tougher air screening for 'security-risk' countries | UK: Full-body scanners being ordered for airports, says Gordon Brown | Group slams Chertoff on conflict of interest in scanner promotion | The 'Israelification' of airports: High security, little bother | Underwear Bomber Renews Calls for 'Naked Scanners' | Federal Privacy Commissioner raises alarm over terror security measures | Privacy watchdog OKs 'naked' airport scanners | Security may soon test 'virtual strip search' at large Canadian aiports | US Border Guards to Expand Use of X-Ray Body Scanners | Homeland Security seeks Bladerunner-style lie detector | Greyhound introduces security screening of passengers, bans fruit, carry-ons | Germany rejects full-body scans at airports | Interpol wants facial recognition database to catch suspects | 'Pre-crime' detector shows promise | Eye scans, fingerprints to control NZ borders | Air passengers to undergo 'virtual strip search' | US Homeland Security Keen on 'Novel' Israeli Airport Security Technology | Israel startup uses behavioral science to identify terrorists | Airport scanner a 'virtual strip search'
Jeanne Meserve, Mike M. Ahlers, CNN
January 11, 2010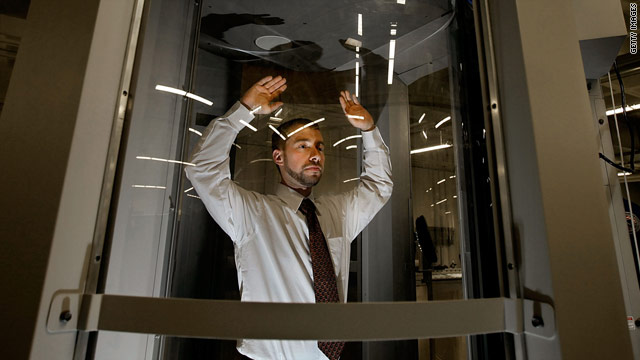 "We surrender!" – The People.
A privacy group says the Transportation Security Administration is misleading the public with claims that full-body scanners at airports cannot store or send their graphic images.
The TSA specified in 2008 documents that the machines must have image storage and sending abilities, the Washington-based Electronic Privacy Information Center (EPIC) said.
In the documents, obtained by the privacy group and provided to CNN, the TSA specifies that the body scanners it purchases must have the ability to store and send images when in "test mode."
That requirement leaves open the possibility the machines — which can see beneath people's clothing — can be abused by TSA insiders and hacked by outsiders, said EPIC Executive Director Marc Rotenberg.
EPIC, a public-interest group focused on privacy and civil rights, obtained the technical specifications and vendor contracts through a Freedom of Information Act lawsuit.
The written requirements also appear to contradict numerous assurances the TSA has given the public about the machines' privacy protections.
"The machines have zero storage capability," the TSA Web site says.