Saturday, January 9th, 2010
God be praised! Another jihad video from the glorious CIA contractor brothers at Intelcenter, known for their timely, exclusive access to all the Islamic insurgent media that our Western outlets can choke down. Were it not for Intelcenter, how could Al-Qaeda ever get its message out? Yes, this is sarcasm. And another thing that should be noted is that days before Baitullah Mehsud (the lost Emir they're blathering about below) was targeted by a CIA drone, a whistleblower – Qari Zainuddin – called him out as an intelligence agency stooge and was himself promptly if indiscretely assassinated by one of Mehsud's men. Suffice it to say, there's a lot of double-dealing and accusation going on in Af/Pak, but it looks as though this guy was a bona fide suicidal Taliban fighter. That's assuming he even knew whom he was ultimately working for.
Flashback: Spy links with CIA suicide bomber are problem for Jordan |Taliban: Blackwater to blame for Pakistan attacks | How the US Funds the Taliban | Taliban Chief Blames Blackwater, ISI for Peshawar Blast | Pakistani Army working with 'Good Taliban' | French troops were killed after Italy hushed up 'bribes' to Taleban | Has Osama Bin Laden been dead for seven years — and are the U.S. and Britain covering it up to continue war on terror? | Links to 'Al-Qaeda', Pakistani training camps linger after 'Toronto 18′ member imprisoned | A Sibel Edmonds Bombshell — Bin Laden Worked for U.S. Until 9/11 | Pakistani president Asif Zardari admits creating terrorist groups | Western Governments Funding Taliban & Al-Qaeda To Kill U.S. Troops, Destabilize Countries | Pakistani militant leader dead: Taliban | Whistleblower Who Linked "Taliban" Leader To US Intelligence Is Assassinated | The Main Result of the "War on Terror": The Destabilization of Pakistan | Not very cricket: Witnesses report Pakistani security abandoned convoy prior to attack | Pakistani officers helped plan Mumbai attacks, says India | Report: CIA runs secret bases in Pakistan | Former ISI Chief: Mumbai And 9/11 Both "Inside Jobs" | Afghanistan suggests Pakistan responsible for embassy bombing | Key Benazir Bhutto assassination witness shot dead | Report: U.S. Gave Green Light For Taliban Prison Attack | Terror accused refuses to discuss links to Pakistan secret service, family threatened | London terror plotter was 'hardened' in ISI camp | CIA, Pakistani ISI have long, complicated relationship | US Allowed Taliban, Al-Qaeda Airlift Evacuation
David Batty, Agencies, The Guardian
January 9, 2010
Video aired posthumously shows former Jordanian militant urging attacks on US to avenge killing of Taliban chief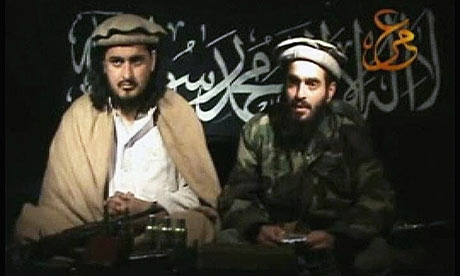 The suicide bomber who killed eight people at a US base in eastern Afghanistan has called for revenge attacks on US targets in a video aired posthumously on Pakistan television.
Private television station AAJ showed a video purportedly of the bomber Humam Khalil Abu Mulal al-Balawi with Taliban leader Hakimullah Mehsud beside him.
Balawi, a Jordanian doctor, said all jihadists must attack US targets to avenge the killing of the Pakistani Taliban chief Baitullah Mehsud by a CIA missile strike in August.
"We will never forget the blood of our emir Baitullah Mehsoud. We will always demand revenge for him inside America and outside," he said in the minute-and-a-half video.
The IntelCenter, a US-based group monitoring Islamist websites, said the video had been released by the Pakistani branch of the Taliban.
Balawi blew himself up at a meeting with seven CIA employees after a Jordanian intelligence officer reportedly took the bomber to Forward Operating Base Chapman in Khost province.
Balawi was arrested by Jordanian intelligence more than a year ago on suspicion of extremist sympathies, then apparently agreed to support the US in its fight against al-Qaida.