TSA thugs – where do they find them all? There's never been a better time to invest in jackboot futures.
Flashback: Border guards are now Olympic thought police – Amy Goodman detained | Privacy watchdog OKs 'naked' airport scanners | Laptops fair game for border searches | US Border Guards to Expand Use of X-Ray Body Scanners | Border guards resorting to force more often | Border agents handcuff, interrogate Winnipeg couple | Mohawk protesters block Ontario bridge over arming of border guards | Akwesasne natives protest armed border guards, border crossing closed in retaliation | New border rules create 'invisible Berlin Wall': mayor | New US border technology directed at insidious threat: Canadians | Clinton defends new border restrictions | Ontario's high-tech driver's licences pose privacy risk: watchdog | Moratorium sought on RFID driver's licenses | 'Say please' at U. S. border nets pepper spray | Predator drones patrolling border irk Manitoba MLA | Surveillance on the Great Lakes: U.S. tightens security along border | RFID passport security defeated in minutes | U.S. border agents given power to seize travellers' laptops, cellphones | American Border Officers Want to Fingerprint Canadians at SPP Bridge | U.S. to collect DNA at border | North American ID card in the works through SPP
Cory Doctorow, BoingBoing.net
December 11, 2009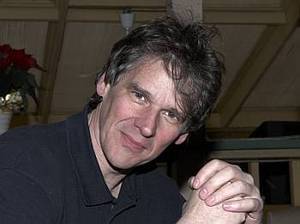 My friend, the wonderful sf writer Peter Watts was beaten without provocation and arrested by US border guards on Tuesday. I heard about it early Wednesday morning in London and called Cindy Cohn, the legal director of the Electronic Frontier Foundation. She worked her contacts to get in touch with civil rights lawyers in Michigan, and we mobilized with Caitlin Sweet (Peter's partner) and David Nickle (Peter's friend) and Peter was arraigned and bailed out later that day.
But now Peter faces a felony rap for "assaulting a federal officer" (Peter and the witness in the car say he didn't do a thing, and I believe them). Defending this charge will cost a fortune, and an inadequate defense could cost Peter his home, his livelihood and his liberty.
Peter's friends are raising money for his legal defense. I just sent him CAD$1,000, because this is absolutely my biggest nightmare: imprisoned in a foreign country for a trumped-up offense against untouchable border cops. I would want my friends to help me out if it ever happened to me.
Update: Here's more from Peter, in his own words: "Along some other timeline, I did not get out of the car to ask what was going on. I did not repeat that question when refused an answer and told to get back into the vehicle. In that other timeline I was not punched in the face, pepper-sprayed, shit-kicked, handcuffed, thrown wet and half-naked into a holding cell for three fucking hours, thrown into an even colder jail cell overnight, arraigned, and charged with assaulting a federal officer, all without access to legal representation (although they did try to get me to waive my Miranda rights. Twice.). Nor was I finally dumped across the border in shirtsleeves: computer seized, flash drive confiscated, even my fucking paper notepad withheld until they could find someone among their number literate enough to distinguish between handwritten notes on story ideas and, I suppose, nefarious terrorist plots. I was not left without my jacket in the face of Ontario's first winter storm, after all buses and intercity shuttles had shut down for the night.
"In some other universe I am warm and content and not looking at spending two years in jail for the crime of having been punched in the face."
Update: David Nickle sez, "This is just to let you know that we've got a snail-mail address for people to send cheques – Bakka Phoenix Science Fiction Bookstore has agreed to collect and forward them. The details are here on my blog."
Sf writer David Nickle writes,

Hugo-award-nominated science fiction author Dr. Peter Watts is in serious legal trouble after he was beaten, pepper-sprayed and imprisoned by American border guards at a Canada U.S. border crossing December 8. This is a call to friends, fans and colleagues to help.Peter, a Canadian citizen, was on his way back to Canada after helping a friend move house to Nebraska over the weekend. He was stopped at the border crossing at Port Huron, Michigan by U.S. border police for a search of his rental vehicle. When Peter got out of the car and questioned the nature of the search, the gang of border guards subjected him to a beating, restrained him and pepper sprayed him. At the end of it, local police laid a felony charge of assault against a federal officer against Peter. On Wednesday, he posted bond and walked was taken across the border to Canada in shirtsleeves (he was released by Port Huron officials with his car and possessions locked in impound, into a winter storm that evening). He's home safe. For now. But he has to go back to Michigan to face the charge brought against him.

The charge is spurious. But it's also very serious. It could mean two years in prison in the United States, and a ban on travel in that country for the rest of Peter's life. Peter is mounting a vigorous defense, but it's going to be expensive – he's effectively going up against the U.S. Department of Homeland Security, and he needs the best legal help that he can get.

He's got that help, courtesy of one of the top criminal lawyers in the State of Michigan. We, Peter's friends and colleagues here in Canada, want to make sure he gets the help he needs financially to come out of this nightmare whole.

The need for that help is real. While Peter is a critically successful science fiction writer, he is by no means a best-selling author. Without help, the weight of his legal fees could literally put him on the street by spring.

We can't let that happen. So there's going to be fundraising.

We're going to think of something suitable in the New Year – but immediately, anyone who wants to help can do so easily. Peter's website, rifters.com, has a link to a PayPal account, whimsically named the Niblet Memorial Kibble Fund. He set it up years ago for fans of the Hugo-nominated novel Blindsight and his Rifters books, to cover veterinary bills for the cats he habitually rescues from the mean streets of Toronto. Peter has made it clear that he doesn't want to use the veterinary money to cover his lawsuit. But until we can figure out a more graceful conduit for the legal fund, that's the best place to send donations for now. Just let Peter know that the donation's for his legal defense, and that's where it will go.

Here's the link to the backlist page on Peter's website, rifters.com, or you can just send a PayPal donation to donate@rifters.com.

The link to the Niblet Memorial Kibble Fund is in the middle of the page. The page also links to Creative Commons editions of all his published work, which he's made available free. Peter would approve, we think, if you downloaded one or two or all of them. Whether you make a donation to the legal fund or not.
Update: David Nickle adds, "there's a very small correction I need to make to the account that's gone, erm, viral. I had thought that Peter had made his way back on foot; in fact, police released him in shirtsleeves at the Canadian side of the border. It was a winter storm, he was in shirtsleeves, but he didn't have to cross the bridge on foot. I'd misunderstood Peter's account on that point. "
Source | See Also under Travel: New OPP cameras scan licence plates | Border guards are now Olympic thought police – Amy Goodman detained | Federal Privacy Commissioner raises alarm over terror security measures | GPS Tracked Road Tolls Back On Agenda for Toronto Metrolinx | Report suggests road tolls, parking and fuel taxes for GTA | Everyone in Britain could be given a personal 'carbon allowance' | US citizens fight back against traffic cameras | EU urges use of tracking boxes for motorists | Privacy watchdog OKs 'naked' airport scanners | Security may soon test 'virtual strip search' at large Canadian aiports | Random breathalyzer tests considered for Canada | Laptops fair game for border searches | UK: Pilot project for DNA, isotope analysis of immigrants 'deeply flawed' | US Border Guards to Expand Use of X-Ray Body Scanners | Now you need a boat license | Border guards resorting to force more often | UK: Rothschild bank pitches motorway privatisation plan | CSIS role in Abdelrazik case to be probed | Abdelrazik accuses CSIS, MPs of harassment and interrogation | Vancouver kicks off quest for ways to fund transportation system | Border agents handcuff, interrogate Winnipeg couple | Abdelrazik vows to clear name from 'unjust' UN no-fly list | Mysterious people tailing recently repatriated no-fly-list refugee | Selective enforcement: Charkaoui barred from US airspace on flight from Fredericton to Montreal | Illegal Victoria Transit bag searches reinstated under new policy for Canada Day | UN rushes Abdelrazik terror allegations onto website in wake of exoneration | Toronto police ready to take over transit patrols | Ottawa will allow Abdelrazik to return to Canada | Ottawa defies court, refuses emergency travel documents to citizen trapped in Sudan | Court orders Ottawa to let Abdelrazik return to Canada | Jordanian woman alleges beating by interrogator at Toronto airport | Committee calls on Cannon to let Abdelrazik appear in Ottawa | Public may not hear fate of Greyhound bus killer | Canadians secretly interrogated Abdelrazik, papers show | Parade of excuses continues as Ottawa denies citizen's repatriation | Province assumes control of transit board, pays Toronto $9 billion for projects | Big Brother is watching: surveillance box to track drivers is backed | Supporters defy law, buy plane ticket for Montrealer stuck in Sudan | US Terrorist watch list hits 1 million | Against protocol, bus decapitation accused released from Ontario institution in 2005 | 'Say please' at U. S. border nets pepper spray | Metrolinx's draft report called for supporters to infiltrate public meetings | Woman swats children on plane, charged with Terrorism | UK-Irish travellers to face passport checks | U.S. visitors now required to register online with Department of Homeland Security | UK: 'Spy-in-sky' trials get the go-ahead despite Government promise to scrap road-pricing plan | Oregon Governor Wants GPS-Tracked Vehicle Mileage Tax | GTA Transit plan needs taxation, 'governance' powers | Calls for GPS-tracked 'speed-limiting' cars in UK | GTA Transit plan needs taxation, 'governance' powers | Oregon Governor Wants GPS-Tracked Vehicle Mileage Tax | Is road-tolls fix running out of gas? | Supreme Court set to consider privacy rights | Drug-sniffing dog plan for BC SkyTrain unconstitutional: legal critics | Greyhound introduces security screening of passengers, bans fruit, carry-ons | Former US congresswoman, presidential candidate Cynthia McKinney barred from boarding plane to human rights conference | Retired B.C. woman surprised to find herself on international no-fly list | U.S. air-security rules cause Canadian turbulence | Road tolls called 'inevitable' | UK Pilots threaten strike over ID card plan | Federal government stages another retreat on road tolls | Federal Road Toll Meeting Sponsorship Kept Quiet Until After Election | Germany rejects full-body scans at airports | Interpol wants facial recognition database to catch suspects | Mobile phones to track carbon footprint using GPS | Metrolinx considering road tolls after all | Feds give customs agents free hand to seize travelers' documents | GTA Transport Plan Defers Road Tolls, Focuses on Centralization, Intensification | American Rail Passengers Subject to Random Searches, Police Presence | Second Greyhound stabbing suspect also required 'psychological help', media clamour for airport-style security renewed | Police drop off and pick up new Greyhound knife assault suspect | Red light cameras not going up fast enough for Toronto budget | Ottawa balks at travel permit for man trapped in Sudan | Montreal man changing name to escape U.S. no-fly list | Federal road-toll study announced, immediately cancelled on eve of election call | Global 'Intelligent Transport' initiative comes to your cellphone: Location data used to track traffic flow | GPS Mapping Systems Enable Police Tracking | Cities Debate Giving Away Public Infrastructure to Bankers | Greyhound bus passengers now subject to arbitrary luggage searches | NYC Residents Furious over Invasive Surveillance Grid | Security officials to scan D.C. area license plates | Beijing Taxis Are Bugged 'For Driver Safety' | 'Please kill me,' bus beheading suspect pleads as history of psychiatric treatment surfaces | Psych tests ordered for beheading suspect | Edmonton bus terminal 'wide open', security needed: ex-security guard | Bus beheading 'a mystery' | Bush Calls for New Highway Tolls, More Private Funding of Roads | Eye scans, fingerprints to control NZ borders | Drivers licences with chips spark heated debate | Regional transit requires 'good governance' | Get set – the future starts now | Air Canada objects to US plans to fingerprint exiting foreigners | RCMP conducts random search and seizure on Canada Day | TTC officers won't carry Tasers, guns | Today's suburbs, tomorrow's slums? | Air passengers to undergo 'virtual strip search' | Ottawa Proposes Band-Aid 'Bill of Rights' for Airline Travellers | Road tolls, a bitter pill that works | Pistol Pendant Causes Airport Holdup | US Homeland Security Keen on 'Novel' Israeli Airport Security Technology | Every adult in Britain should be forced to carry 'carbon ration cards', say MPs | Ontario Privacy Czar Worried about High-Tech Licences | Family of Canadian stranded by no-fly list to make public appeal | American Border Officers Want to Fingerprint Canadians at SPP Bridge | American Border Officers Want to Fingerprint Canadians at SPP Bridge | Pay-As-You-Drive Car Insurance | Airport scanner a 'virtual strip search' | U.S. to collect DNA at border | Is it time for toll roads? | Metrolinx Proposes Satellite Vehicle Tracking for Road Tolls | Ontario privacy chief gives green light to TTC surveillance plans | Privacy International responds to Ontario Privacy Commissioner ruling on CCTV | Electronic Passports Raise Privacy Issues | T.T.C. Starts Camera Installation On Buses & Streetcars | Toronto part of 'transnational mega-region' | Privacy issues surround planned TTC cameras | Canada to launch no-fly list in June | Vancouver to import road tolls from UK | UK proposes national road tolls to cut congestion | Motorists to pay London toll