Friday, December 11th, 2009
TSA thugs – where do they find them all? There's never been a better time to invest in jackboot futures.
Flashback: Border guards are now Olympic thought police – Amy Goodman detained | Privacy watchdog OKs 'naked' airport scanners | Laptops fair game for border searches | US Border Guards to Expand Use of X-Ray Body Scanners | Border guards resorting to force more often | Border agents handcuff, interrogate Winnipeg couple | Mohawk protesters block Ontario bridge over arming of border guards | Akwesasne natives protest armed border guards, border crossing closed in retaliation | New border rules create 'invisible Berlin Wall': mayor | New US border technology directed at insidious threat: Canadians | Clinton defends new border restrictions | Ontario's high-tech driver's licences pose privacy risk: watchdog | Moratorium sought on RFID driver's licenses | 'Say please' at U. S. border nets pepper spray | Predator drones patrolling border irk Manitoba MLA | Surveillance on the Great Lakes: U.S. tightens security along border | RFID passport security defeated in minutes | U.S. border agents given power to seize travellers' laptops, cellphones | American Border Officers Want to Fingerprint Canadians at SPP Bridge | U.S. to collect DNA at border | North American ID card in the works through SPP
Cory Doctorow, BoingBoing.net
December 11, 2009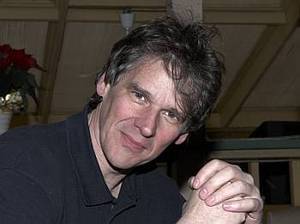 My friend, the wonderful sf writer Peter Watts was beaten without provocation and arrested by US border guards on Tuesday. I heard about it early Wednesday morning in London and called Cindy Cohn, the legal director of the Electronic Frontier Foundation. She worked her contacts to get in touch with civil rights lawyers in Michigan, and we mobilized with Caitlin Sweet (Peter's partner) and David Nickle (Peter's friend) and Peter was arraigned and bailed out later that day.
But now Peter faces a felony rap for "assaulting a federal officer" (Peter and the witness in the car say he didn't do a thing, and I believe them). Defending this charge will cost a fortune, and an inadequate defense could cost Peter his home, his livelihood and his liberty.
Peter's friends are raising money for his legal defense. I just sent him CAD$1,000, because this is absolutely my biggest nightmare: imprisoned in a foreign country for a trumped-up offense against untouchable border cops. I would want my friends to help me out if it ever happened to me.