Wednesday, September 9th, 2009
Lieberman reveals below that the Pentagon's groundbreaking was 60 years to the day of 9/11, September 11, 1941 – prompted by War Secretary Henry L Stimson, in preparation for a war the US had yet to be formally drawn into. This journal had not been aware of this before. As President Eisenhower ended his career in 1961, he warned of a takeover by the military-industrial complex. And recall George Bush I called for a New World Order twice, both on September 11, 1990, and September 11, 1991. Interesting, isn't it. And here we are.
"…avoid the necessity of those overgrown military establishments which, under any form of government, are inauspicious to liberty, and which are to be regarded as particularly hostile to republican liberty." — George Washington
Mike M. Ahlers, CNN
September 9, 2009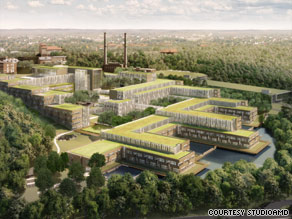 WASHINGTON (CNN) — Washington notables broke ground on the future home of the Department of Homeland Security on Wednesday, symbolically starting construction on the biggest federal building project in the Washington area since the Pentagon 68 years ago.
The project will bring together more than 15,000 employees now scattered in 35 offices in the region, placing them on a 176-acre campus strewn with historic buildings in a long-neglected corner of Washington, five miles from the Capitol building.
Department leaders hope the $3.4 billion consolidation will help the department fulfill its core mission — protecting the homeland — in ways big and small.