Wednesday, September 30th, 2009
It seems every time a rock gets kicked over in those rarefied corners of society where hierarchy and power are the currency, some pedophile guild is as likely as not to scuttle out. When the abuse extends to significant portions of oppressed populations – as it has with the Irish and native Americans – it serves as a collective trauma and helps keep them in thrall. Is this a deliberate policy or simply an emergent property of centralized power? It's unlikely we'll ever see the results of that study. This movie has actually been out for a while, but it's news to this journal. You may view it on Youtube here.
Flashback: Pope Benedict calls for a 'true world political authority' | Abuse 'endemic' in Irish Roman Catholic schools: Report | Pope warns Italy in danger of returning to fascism
London Evening Standard
September 30, 2009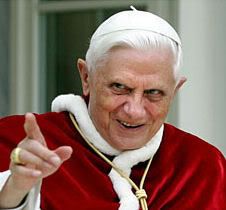 The Pope played a leading role in a systematic cover-up of child sex abuse by Roman Catholic priests, according to a shocking documentary to be screened by the BBC tonight.
In 2001, while he was a cardinal, he issued a secret Vatican edict to Catholic bishops all over the world, instructing them to put the Church's interests ahead of child safety.
The document recommended that rather than reporting sexual abuse to the relevant legal authorities, bishops should encourage the victim, witnesses and perpetrator not to talk about it. And, to keep victims quiet, it threatened that if they repeat the allegations they would be excommunicated.