Flashback: U.S. troops will have big impact on Afghan mission: Canadian commander | Obama adds another brigade to Afghanistan troop surge | Canada, allies will never defeat Taliban, PM says | Cost of Afghan mission jumps to $11.3-billion | Afghanistan victory unlikely, says DND manual | New Canadian commander in Afghanistan welcomes U.S. troop influx | Tories seek extra $331-million for Afghan mission | Obama eyes 3 more brigades for Afghanistan | Canadian military acquiring new helicopters, drones
Colin Freeze, Globe and Mail
May 15, 2009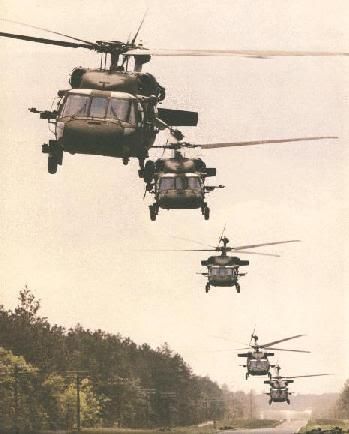 KANDAHAR, Afghanistan – After being gone for years, war choppers are coming back, in force, to the skies of southern Afghanistan.
"We're bringing in plenty of firepower," U.S. Col. Paul Bricker told a group of reporters yesterday, as his new 3,200-soldier aviation brigade formally took over from a smaller, 500-soldier group that had arrived in Afghanistan early this year. "They've never had much of a combat aviation brigade in the south," Col. Bricker said, following the transfer-of-command ceremony.
Touted as a potential "game changer" for the NATO forces faced with a growing insurgency, more than 100 U.S. Apaches, Blackhawk, transport and medical-evacuation helicopters have arrived in Kandahar in recent weeks.
Col. Bricker said his 82nd Combat Aviation Brigade, which includes paratroopers, amounts to the first manifestation of a U.S. military influx into Afghanistan's south, as promised by President Barack Obama. Thousands more soldiers and dozens more helicopters are still coming.
The stepped-up air power arrives as an outcry over U.S. air strikes killing civilians has emerged as a top-tier issue in Afghanistan. Many Afghans remain scarred by the indiscriminate force used by Soviet helicopter gunships a generation ago.
Earlier this month, dozens of children and other civilians – more than 100 by some estimates – were killed northwest of Kandahar. U.S. fighter jets bombed houses as ground troops gave chase to Taliban fighters, who took refuge in a village following a firefight. Various investigations are taking place.
The alarm over air power means the use of force employed by helicopters and other aircraft will be closely watched in Afghanistan, given mass civilian casualties can be devastating for counterinsurgency operations.
During the transfer-of-command ceremony this morning, officials said they hoped the influx of new helicopters would ultimately help Afghan children grow enjoying freedom. "Any loss of civilian life is tragic and we go to great lengths to avoid that," Col. Bricker said afterward.
He explained that his helicopters would mostly be used in support operations to rapidly ferry soldiers, wounded and equipment around the south, where roadways are infested with insurgents and their hidden, improvised bombs.
He added his helicopters also have significant attack capabilities, and Col. Bricker said their speed, combined with paratroopers, could be used to take out Taliban supply lines, and possibly even training camps and bomb-building cells.
Asked about situations where Taliban fighters may take refuge in schools and villages, Col. Bricker said it was likely his air group would not attack. Rather, he said, it would help cordon off an area until ground troops could help clear out enemy forces.
"We are very committed to being judicious in our application of force," he said.
Helicopters are not new to southern Afghanistan, but they have tended to be used mainly for transport.
The Canadian Forces, which was placed in charge of securing Kandahar province, did not have any helicopters at all until 14 transport and reconnaissance helicopters arrived this past winter.
Around the same time, the smaller, 500-soldier group led by the U.S. 101st Airborne, or "Screaming Eagles," began arriving too, though it is now redeploying to eastern Afghanistan.
The mountains and deserts of southern Afghanistan have always amounted to a boon for insurgents and barriers to government forces. During the 1980s, for example, the occupying Soviet army relied heavily on helicopter gunships to pacify insurgents across the country.
However, heavy civilian casualties led a variety of countries, including the United States, to supply the rebels with sophisticated surface-to-air missiles — themselves seen a "game-changer" of a response that may have ultimately led to the Soviet withdrawal. The 1980s saga of the Stinger missiles was chronicled in the book and movie Charlie Wilson's War.
Outside the media briefing, Col. Bricker said today's Taliban are not known to have weapons capable of challenging U.S. helicopters.
Source | See Also under Afghanistan: Canadian Forces: Worries about child abuse by Afghan allies 'unfounded' | CIA: Our Drones are Killing Terrorists. Promise. | US air strikes kill dozens of Afghan civilians | Afghan President Karzai registers for re-election, picks warlord as running mate | U.S. troops will have big impact on Afghan mission: Canadian commander | PM must press U.S. for Khadr's return from Guantanamo, court rules | Afghan front lines take mental toll on military and RCMP | NATO denies air strike killed Afghan civilians | Khadr's military lawyer reinstated | NATO agrees to Afghan troop increase | Pentagon fires Omar Khadr's lawyer | Afghan rape law spurs anger | Obama adds another brigade to Afghanistan troop surge | UK Anti-war MP banned from Canada | Afghanistan needs 4,000 extra soldiers for elections: NATO | Supporters defy law, buy plane ticket for Montrealer stuck in Sudan | Canada, allies will never defeat Taliban, PM says | Cost of Afghan mission jumps to $11.3-billion | Afghanistan victory unlikely, says DND manual | Obama backs Bush: No rights for Bagram prisoners | New Canadian commander in Afghanistan welcomes U.S. troop influx | Canadian troops could soon target Afghan drug trade: top soldier | Tories seek extra $331-million for Afghan mission | Obama eyes 3 more brigades for Afghanistan | United States' short-term goals hurt Afghanistan mission: report | 'Abusive' coalition raids stoking anger in Afghanistan: report | Canada 'not onboard' with U.S. plan to arm Afghan militias | Top U.S. general boosts troop pledge to Afghanistan | Reports reveal concerns over drug use among Canadian military | Brown: British military to withdraw from Iraq, to 'share burden' in Afghanistan | Canadian Junior Hockey team gets 'military training' | Khadr, interred in rubble, couldn't have thrown grenade in firefight: Evidence | Afghan war boosts recruiting | 3 new deaths in Afghanistan push Canadian toll to 101 | CFR-Brookings to Dominate Obama Strategy | Afghan government sacks Kandahar governor | Obama's planned troop surge in Afghanistan could lead to more violence: ISAF | Military to probe response to sex charges | US General David Petraeus to take CENTCOM helm for Afghanistan, Iran, Iraq, Pakistan | 'Reconstruction' efforts in Khandahar not apparent to Afghanis | Peace activists demand Canada leave Afghanistan | NATO to let troops fight Afghan drug lords | US faces downward spiral in Afghan war, says leaked intelligence report | Afghan mission cost: up to $18B | Delta Force Officer: We Weren't Allowed to Kill Osama Bin Laden | Victory impossible in Afghanistan: senior British commander | Defiant military watchdog widens detainee hearings | 'Some' Troops to stay in Afghanistan past 2011: McKay | CSIS faces review in Khadr case | Blackwater-linked firm to train Canadian troops | Canadian troops continue gearing up, to receive US counter-insurgency training | Asia's new 'great game' is all about pipelines | MacKay dismisses Taliban threat as 'propaganda' | Controversial Kandahar governor replaced | America to assume command in Afghanistan | Canadian military acquiring new helicopters, drones | Low Level Driver Convicted Of Terror Charges While Bin Laden's Senior Body Guard Was Let Go | Afghani Narco-state Continues to Blossom under Puppet President | Protesters push for Omar Khadr's release | Obama promises 10,000 more troops for Afghanistan | Afghanistan suggests Pakistan responsible for embassy bombing | Canadian, NATO forces stood down during Afghan jailbreak | Canadian military silent on Afghan civilian deaths: UN investigator | US Counterinsurgency Manual Leaked, Calls for False Flag Operations, Suspension of Human Rights | Report: U.S. Gave Green Light For Taliban Prison Attack | Don't look, don't tell, troops told in response to Afghani child abuse | Post-traumatic stress disorder's hidden scars | Over 100 complaints about access to govt. info on Afghan mission: report | Canada sets up new military spy unit | Bid to Block Afghan Detainee Inquiry Slammed | Army begins using $150,000 artillery shells | FBI documents contradict 9/11 Commission report | Truth or Terrorism? The Real Story Behind Five Years of High Alerts | 9/11 widows call for new investigation after revelations of White House, commission ties | Director of 9/11 commission "secretly spoke with Rove, White House" | Eight U.S. State Department Veterans Challenge the Official Account of 9/11 | Twenty-five U.S. Military Officers Challenge Official Account of 9/11 | Ex-Italian President: Intel Agencies Know 9/11 An Inside Job | Afghan poll not as clear as it seems | 9/11 – the big cover-up? | New Bin Laden Video: 100% Forgery | What Ottawa doesn't want you to know: Government was told detainees faced 'extrajudicial executions, disappearances, torture and detention without trial' | The Lies that Led to War | U.S. Government Caught Red-Handed Releasing Staged Al-Qaeda Videos | US Allowed Taliban, Al-Qaeda Airlift Evacuation