Monday, April 27th, 2009
Flashback: Health officials confirm 6 cases of swine flu in Canada, 'makings' of pandemic | Illinois-based Baxter working on vaccine to stop swine flu outbreak in Mexico | 'We have to assume' swine flu is in Ontario, health official warns | Mexico cancels public events because of deadly flu outbreak | Canadians returning from Mexico urged to be on alert for flu-like symptoms | Army: 3 vials of virus samples missing from Maryland facility | 'Accidental' Contamination Of Vaccine With Live Avian Flu Virus Virtually Impossible | Officials investigate how bird flu contaminated vaccines in Europe | Researchers unlock secrets of 1918 flu pandemic
John M. Ackerman, Slate.com
April 27, 2009
Mexico's president is trying to use the swine flu to consolidate his power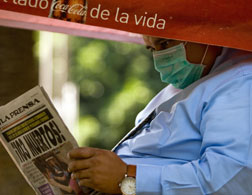 The Mexican government's initial reaction to the outbreak of swine flu does not inspire confidence. Practically speaking, its slow response has allowed the disease to spin out of control, leading to up to 100 deaths in Mexico and 20 cases of infection in the United States. From a political standpoint, Mexican President Felipe Calderón appears to be using the outbreak to consolidate his power.
New influenza cases started appearing in Mexico City on March 18. The first death occurred April 12. But the government dragged its feet, hoping that this was an isolated case. As deaths mounted over the following days, the Calderón administration refused to take decisive action.
It wasn't until half a dozen cases were discovered in the United States that the Mexican authorities sent mucus samples to Canadian and U.S. laboratories for testing. The lab results immediately sent alarm throughout Mexico and the world. But almost a month had been lost.