Saturday, April 11th, 2009
So they arrested these Pakistani guys, new to the country (complete with a helicopter and militarized police squads) because they were seen taking pictures around town and talking about Easter – how dare they. In any event, this story adds to the growing chorus out there now saying Pakistan is Al-Qaeda. What people forget is that the CIA set up what we now call 'Al Qaeda' up in the first place, with help from the Pakistani intelligence service, the ISI. These recuits were muhajideen, funded to attack the Russians in Afghanistan, and airlifted out of Aghanistan for their own safety when the US invaded in 2001. 'Al Qaeda', a word meaning 'the base' or 'the foundation',  was nothing more than the name of an operative database of uhajideen. And now the CIA has secret bases in Pakistan, a country the US is threatening to bomb further for producing provocateurs linked with the ISI. Incredible, innit guv'nor – they need each other.
Flashback: Police feared 'Al-Qaida terror attack' on UK was planned for Easter | Police arrest 12 in anti-terror raids in Britain | Former MI5 chief: UK Ministers 'using fear of terror' to restrict civil rights
Vikram Dodd, Nick Watt, Martin Wainright, The Guardian
April 11, 2009
Officers believed it was too risky not to act on vague intel, searches fail to find evidence of conspiracy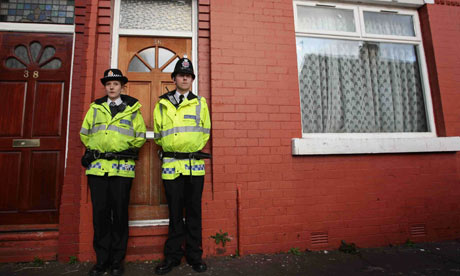 Key intelligence that led to security officials fearing a terrorist cell was to launch a large-scale bomb attack on British soil came from MI6 operations targeting Pakistan, the Guardian has learned.
Sources with knowledge of the investigation say the intelligence gathered first from abroad and then in Britain before Wednesday's raids, left counterterrorism officials believing there was too high a risk of an "imminent" attempt to bomb targets in Britain and cause mass casualties.
However, subsequent, intensive searches of at least 10 addresses linked to the suspected al-Qaida plot in northern Britain have so far failed to turn up any clear evidence of a terrorist conspiracy, despite the huge resources devoted.