This topic is becoming highly politicized, which is the reason you've found it in this journal's archives. Whatever you may think about climate change claims, it cannot be denied that 'Global Warming' is being used as a pretext to chain the citizens of the world with a host of new carbon taxes and onerous legislation. (In fact, many of the scientists whose names are associated with the IPCC report really aren't – either aren't scientists, or do not fully support its findings as presented). While that might be an effective way to fill Al Gore's pockets, it will do little if anything to curb climate change. To do that, take responsibility for your own environmental footprint. This world is beautiful, and if you value that you will tread lightly upon it.
Flashback: Top Japanese Scientists: Warming Is Not Caused By Human Activity | IPCC caught with false figures, doubt cast on accuracy of global temperature record
Jan M. Olsen, Associated Press
March 12, 2009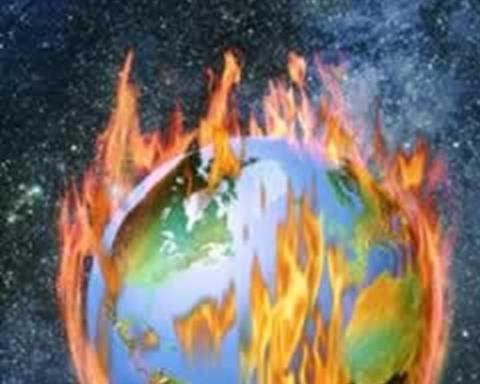 COPENHAGEN – Hundreds of leading scientists warned today that global warming is accelerating beyond the worst predictions and threatening to trigger "irreversible" climate shifts on the planet.
Saying there's no excuse for inaction, the nearly 2,000 climate researchers meeting in Copenhagen urged policy makers to "vigorously" implement the economic and technological tools available to cut emissions of heat-trapping greenhouse gases.
Their stark message came at the end of a three-day conference aimed at updating the findings of a 2007 report by the Intergovernmental Panel on Climate Change before U.N. talks in December on a new global climate treaty.
"The worst-case IPCC scenario trajectories (or even worse) are being realized," the scientists said in a statement. "There is a significant risk that many of the trends will accelerate, leading to an increasing risk of abrupt or irreversible climatic shifts."
The climate change panel predicted a sea level rise of 18 to 59 centimetres by the end of the century, which could flood low-lying areas and force millions to flee. But more recent research presented at the conference suggested that melting glaciers and ice sheets could help push the sea level up at least 50 centimetres, and possibly as much as a metre.
"Recent observations show that societies are highly vulnerable to even modest levels of climate change with poor nations and communities particularly at risk," the statement said.
It noted that policy makers already have a range of tools to mitigate global warming. "But they must be vigorously and widely implemented to achieve the societal transformation required to de-carbonize economies," it said.
The conclusions of the congress will be presented to politicians when they meet in Copenhagen in December to discuss a new global agreement on greenhouse gas emissions to replace the Kyoto Protocol, which expires in 2012.
"We know from scientific evidence that climate change is a reality and that climate change will have damaging effects on the economy all over the world," said Danish Prime Minister Anders Fogh Rasmussen, one of the politicians attending the scientific conference. "Therefore we need an agreement and we need an agreement this year."
Earlier today, British economist Nicholas Stern, the author of a major British government report detailing the cost of climate change, told the conference that the global recession presents an opportunity to build a more energy-efficient economy.
"Coming out of this we have got to lay the foundations for a low-carbon growth, which is going to be like the railways, like the electricity, like the motorcars, this is going to be over the next two, three decades the big driver in investment," Mr. Stern said.
He added green investments make sense because energy-efficient economies will be more sustainable in the future.
"We know from this crisis that if we postpone looking risk in the face, it will bite us much more deeply," he said.
Source | See Also under Environment: Terence Corcoran: Ontario's green energy plan sneaks in feed-in taxes | Time to emulate Roosevelt's New Deal and create green jobs | Gordon Brown's amazing patent cure-all globalization deal | Top Japanese Scientists: Warming Is Not Caused By Human Activity | Doomsday seed vault's stores are growing | Genetically Modified Seeds: Monsanto is Putting Normal Seeds Out of Reach | Google to enter market for energy use tracking | EU calls for global carbon trading system to fight climate change | Canadian, U.S. energy policies to be inextricably linked: Prentice | As in Canada, gender-bending chemicals in UK rivers grow more potent | UK Slips New Garbage Bin Taxes into Climate Bill | Obama to visit Canada, Tories to propose 'integrated carbon market' | Researchers unlock secrets of 1918 flu pandemic | Detroit granted water extraction exemption due to 'historical precedent' | Chemicals feminizing males, study suggests | Major report to reveal male gender under threat from pollutants | GM Crops Climb to Nearly One-Tenth of Global Crop Production | Toronto council approves plastic bag charge, bottle ban | UN Climate Change Conference open with call for 'co-operation' | Genetically engineered meal close to your table | IPCC caught with false figures, doubt cast on accuracy of global temperature record | Harper ready to harmonize with U.S. on climate change | CBC broadcasts "The Disappearing Male", an expose of hormone-disrupting plastics | Harper Govt. to push North American carbon market plan with Obama | The GM genocide: Thousands of Indian farmers are committing suicide after using genetically modified crops | Europe's secret plan to boost GM crop production | UN announces green 'New Deal' plan to rescue world economies | UN: financial crisis must not stop climate change action | Mobile phones to track carbon footprint using GPS | Bayer on defensive in bee deaths | Shun meat, says UN climate chief | Bilderberg-connected Desmarais dynasty thinktank supports exporting Canada's water | Sensitive government document found on rainy Ottawa street | GM crops could lead to 'disaster': Prince Charles | Climate hysterics v heretics in an age of unreason | Pesticides, pollutants threaten Canadian tap water, researchers suggest | 40,000 sq km to be signed over to UNESCO | Population control thinktank to Britons: Have less children | Water pact will deplete Great Lakes, expert fears | Small Farmers Pushed to Plant GM Seed | Ontario joins continental WCI cap-and-trade scheme | American thinktanks sowed seeds of food crisis | Canada expanding parkland at 'extraordinary' pace | China wages war on Olympic weather | Ontario places vast boreal area under protection, 22% of province off limits to development | Get set – the future starts now | Canada's made in America energy policy | Manitoba's boreal forest touted for UNESCO status | Sludge biosolids decried as 'toxic stew', used as fertilizer | Sarkozy urges climate change action on first day as EU president | B.C. carbon tax kicks in on Canada Day | Today's suburbs, tomorrow's slums? | Home-grown veg ruined by toxic fertiliser | Agribusiness positions GM crops as panacea to predicted global food shortage | Oil, oil everywhere? Well, just maybe | Dion begins selling green plan | Lakes across Canada face being turned into mine dump sites | Road tolls, a bitter pill that works | They call it cap and trade, but it's just another fuel tax | World has enough oil reserves, says BP boss | House of Commons adopts Layton's Kyoto Plus bill | Monsanto Plans to Save World with its Biotech Crops | Quebec, Ontario sign historic climate pact | Every adult in Britain should be forced to carry 'carbon ration cards', say MPs | Beware thirsty Americans, Kennedy tells Canada | The tiny, useful particle that could also be a health problem | Dion begins selling carbon plan | Time has come to put 'price on waste and pollution': Dion | Man-made clouds to change the sky | Is it time for toll roads? | Bin Brother is watching you | Scientist who claimed GM crops could solve Third World hunger admits he got it wrong | CEOs call for 'aggressive' action on climate change | Vancouver to import road tolls from UK | UK proposes national road tolls to cut congestion | Technology Exists to Redirect Hurricanes, Naval Physicist Says | Weather War? | NASA Funds Sci-Fi Weather Control Technology | Motorists to pay London toll