Should read: "Greenspan backs criminal takeover by offshore banks", because that's who is going to own the US's assets once the 'stimulus' dust settles. You think Greenspan's a free market advocate, I've got a bridge to sell you. The last time Greenspan was a free market advocate was probably when he wrote 'Gold and Economic Freedom' in 1967. Retire, already.
Krishna Guha and Edward Luce, Financial Times of London
February 18, 2009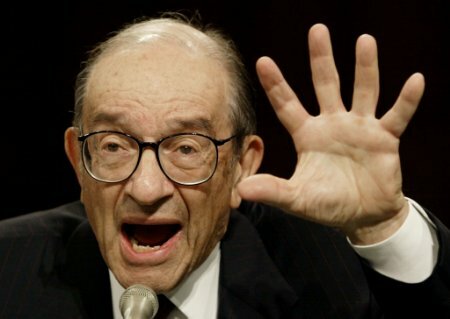 The US government may have to nationalise some banks on a temporary basis to fix the financial system and restore the flow of credit, Alan Greenspan, the former Federal Reserve chairman, has told the Financial Times.
In an interview, Mr Greenspan, who for decades was regarded as the high priest of laissez-faire capitalism, said nationalisation could be the least bad option left for policymakers.
"It may be necessary to temporarily nationalise some banks in order to facilitate a swift and orderly restructuring," he said. "I understand that once in a hundred years this is what you do." [Ed. Note: Interesting...]
Mr Greenspan's comments capped a frenetic day in which policymakers across the political spectrum appeared to be moving towards accepting some form of bank nationalisation.
"We should be focusing on what works," Lindsey Graham, a Republican senator from South Carolina, told the FT. "We cannot keep pouring good money after bad." He added, "If nationalisation is what works, then we should do it."
Speaking to the FT ahead of a speech to the Economic Club of New York on Tuesday, Mr Greenspan said that "in some cases, the least bad solution is for the government to take temporary control" of troubled banks either through the Federal Deposit Insurance Corporation or some other mechanism.
The former Fed chairman said temporary government ownership would "allow the government to transfer toxic assets to a bad bank without the problem of how to price them."
But he cautioned that holders of senior debt — bonds that would be paid off before other claims — might have to be protected even in the event of nationalisation.
"You would have to be very careful about imposing any loss on senior creditors of any bank taken under government control because it could impact the senior debt of all other banks," he said. "This is a credit crisis and it is essential to preserve an anchor for the financing of the system. That anchor is the senior debt." [Ed. Note: In other words, the top of the food chain in the international banking system. This guy's slick.]
Mr Greenspan's comments came as President Barack Obama signed into law the $787bn fiscal stimulus in Denver, Colorado. Mr Obama will announce on Wednesday a $50bn programme for home foreclosure relief in Phoenix, Arizona. Meanwhile, the White House was working last night on the latest phase of the bailout for two of the big three US carmakers.
In his speech after signing the stimulus, which he called the "most sweeping recovery package in our history", Mr Obama set out a vertiginous timetable of federal decisions in the coming weeks that included fixing the US banking system, submission next week of the 2009 budget and a bipartisan White House meeting to address longer-term fiscal discipline.
"We need to end a culture where we ignore problems until they become full-blown crises," said Mr Obama. "Today does not mark the end of our economic troubles… but it does mark the beginning of the end."
Source | See Also under Economics: Behemoth budget bill to be rammed through parliament unread | Obama signs stimulus bill | Congressman warns unread 'stimulus' bill will prolong agony | Gordon Brown seeks sweeping reforms to give IMF global 'surveillance role' | $787B stimulus package passes through U.S. Congress | Paul Martin prescribes international regulatory body for ailing fiat economies | US Congress reaches deal on economic stimulus package | World stocks fall on skepticism over U.S. bank plan | Next US bailout could top $1-trillion | Geithner Said to Have Prevailed on the Bailout | Canada lost 129,000 jobs in January: StatsCan | Economic crisis: The shakeup Canadians need? | Pass stimulus or watch out, Obama warns | Canadian credit card delinquencies rising | Iceland to be fast-tracked into the EU | France responds to economic downturn with a general strike | U.S. House passes $819B economic stimulus | World Economic Forum elite blame 'profit', not fraud, for crisis | Fed infrastructure money requires provincial spending | Ignatieff lets government stand with budget amendment demand | Rewriting the rulebook for 21st-century capitalism | Obama urges Republicans to support economic plan | The budget: Global shock therapy | All maxed out? Budget measures would improve credit access | $12B for infrastructure forms key pillar of stimulus package | Few surprises as government turns on the spending taps | U.S. Senate confirms Geithner as treasury secretary despite reservations | Iceland's government collapses | Optimistic central bank expects speedy economic rebound | Ottawa risks erasing decade of debt reduction | Canadian, U.S. energy policies to be inextricably linked: Prentice | Business Development Bank will get $350M injection, Clement says | Prominent Economist: Crisis Caused By Government Interventions | New UK bank bailout | Vancouver dodges public referendum requirement for funding to finish Olympic Village | Zimbabwe unveils 100 trillion dollar banknote | Financial crisis: Bank of America given $138bn rescue package | Q&A: Prime Minister Stephen Harper speaks with The Post's John Ivison | Premiers to press Harper for infrastructure boost | Vancouver mayor to recall legislature to handle Olympic Village crisis | Bring in a Canadian securities regulator: Flaherty's handpicked business panel | Merged Citigroup, Morgan brokerage would be largest | Obama to visit Canada, Tories to propose 'integrated carbon market' | Brace for a big, 'comprehensive' budget: Harper | Canadians starting to save cash, shun debt | GM's U.S. bailout deal bars strikes | European Leaders Call For New Global Order | Transport Minister Baird calls for dramatic action on stimulus package | Obama calls for 'dramatic action' on stimulus package | UK PM unveils 'New Deal' plan to create 100,000 jobs | Flaherty vows short-lived deficit, consults corporate chiefs on spending initiatives | Analyst: One Third Of Banks Could Collapse or Merge In 2009 | Auto bailout gives Federal, Provincial governments incremental nationalization powers | Banks won't say where U.S. bailout money going | UK: Bailiffs get power to use force on debtors | Kissinger Calls For New International System Out Of World Crises | Canadian auto bailout could reach more than $4-billion | U.S. to spend $17.4-billion to 'rescue', nationalize auto industry | Harper government plans deficits as deep as $30 billion | Flaherty appoints business leaders to economic advisory council | IMF Chief Warns Of Riots In Response To Economic Crisis | Bank of Canada ready to monetize distressed equities | Canada may backstop ABCP rescue: Flaherty | The ugly spectre of 'new Keynesianism' and the self-appointed Guardians | Army 'Strategic Shock' Report Says Troops May Be Needed To Quell U.S. Civil Unrest | Federal government, Ontario agree on $3.3B auto bailout package | 'Outrage' greets banks' failure to match rate cut | State to bail out, control US auto industry | Get close to Obama on economy and security, paper says | Financial Times: And now for a world government | Terence Corcoran: It's Twilight for Detroit and the U.S. economy | Mexico to downsize metal in coins to save a few cents | Automakers seek $6B aid package from Ontario, federal government | Bank of England mulls "nuclear option" of cash injection | Zimbabwe tackles cash shortage amid riots and looting | Icelanders storm central bank in protest | Liberals and NDP sign unprecedented pact; to pursue stimulus, carbon taxes | UN Climate Change Conference open with call for 'co-operation' | UK closer to joining euro, EU commission president says | Iceland turns 90 amid economic ruin, currency freeze | TSX drops 600 points, N.Y. also falls | Britain buys control of Royal Bank of Scotland | Iceland inflation soars to 17.1% | Canada in recession: OECD | Maybe we should look at Zimbabwe before trying to print our way out of a money crisis | Britain to introduce massive stimulus packageObama appoints architects of economic collapse, financial globalism to economic team | | Jim Flaherty Urging Greater Federal, International Control over Canadian economy | Citigroup seeks 'emergency cash' | Deficits 'essential,' Harper says | Harper vows Canada will remain open to international trade | 5 injured during protest in Iceland over economic meltdown | 'Hard decisions' needed during economic crisis: throne speech | Paulson, Bernanke defend change of plan: $700-billion now to be given directly to banks | After G20 meeting, Ottawa ready to spend to spark economy | Congress Accuses Federal Reserve Bagman Of Bailout "Bait and Switch" During Angry Hearing | Flaherty eyes sale of Canadian government assets | Analysts Predict Hyper-Inflation To Push Gold To $2000, Oil to $300 | Terence Corcoran: Rescuers pulling market under | U.S. government won't use bailout fund to buy troubled assets | Ottawa to pour another $50B into mortgage markets | Bank of Canada adds $8B to credit markets | Merrill CEO: Economic Environment Recalls 1929 | Fed Hides Destination Of $2 Trillion In Bailout Money | PM, premiers agree to speed up infrastructure investment | Flaherty lauds Keynesian global 'economic stimulus' strategies | Who are the Architects of Economic Collapse? | The Bush gang's parting gift: a final, frantic looting of public wealth | IMF may need to "print money", act as "world's central bank" as crisis spreads | Morgan Chase Exec Brags Bailout Is for Takeovers, Restructuring, Not Lending | Draft letter calls on IMF to play critical role in financial crisis | Ottawa to guarantee interbank lending | More cash needed to save economy: Bernanke | Wall Street banks in $70bn staff payout | German parliament backs bail-out | Regulator says brokers failed on ABCP, sets new guidelines | US Bailout Cost Heads Towards $5 Trillion | Market Euphoria Dissipates | Loonie leaps, then reverses course | $25B credit backstop for banks 'not a bailout': Harper | Brown wants 'global' bank support | US considers following British example of taking stakes in banks | New World Order: Global co-operation, nationalisation and state intervention – all in one day | TSX closes up 226 points in wild day after rate cuts | Federal Reserve Moves to Monetize Commercial Paper Debts | Stocks recoup some losses after markets hit by panic selling | Star column blames 'Capitalism' for market woes, offers false choice: Authoritarianism or Socialism | Bank of Canada greases financial system with $12B in new cash | Stock markets drop despite bailout | Why Paulson's Plan is a Fraud | Representatives Were Threatened With Martial Law In America Over Bailout Bill | Congress Rejects (First) Bail-Out Plan | Congressman Ron Paul: Bailout Will Destroy Dollar, World Economy | Paul Martin calls for 'global solution' | Markets sink as woes spread | UK banking shares plunge as crisis deepens | Congressman Ron Paul Schools Fed Chairman Bernanke on the Bailout Plan | Bailout is "petty cash", Inflation is the Federal Reserve's real crime | Private Federal Reserve Makes Power Grab as Bush, McCain Urge Congress to Approve Plan | Canadian Supreme Court refuses to hear appeal in ABCP case | Last major investment banks in U.S. change status | U.S., British market regulators ban short-selling | Next Federal Reserve bank bailout round could cost taxpayers 1$ Trillion Dollars | Bank of Canada piles on in global inflationary swindle | Central banks continue inflating global economy | Central Banks Move to Transfer Wealth from Taxpayers to Banks | Crisis on Wall St. as firms collapse | Goldman-Sachs Alumni Hold Reins of Financial System | Frontrunners emerge in scramble to save another major bank | Lehman Brothers on Verge of Collapse, Wall Street Fears | US Treasury nationalizes Freddie Mae, Fannie Mac | Cities Debate Giving Away Public Infrastructure to Bankers | Court Grants Big Banks Immunity from Lawsuits over Derivatives Losses | Bush Calls for New Highway Tolls, More Private Funding of Roads | US mortgage firm bailout includes rider clause to expand police state: all credit card transactions now to be reported to IRS | Global 'liberalization' illusion under threat. Economist calls for world economic regime, Keynesian saviour. Irony? | Federal Reserve cites global stakes in Fannie and Freddie rescue | Financial 'super cop' role for Fed | What Really Killed Bear Stearns? | Soros points out regulated markets fail to operate on market fundamentals, calls for more regulation | Competition study calls for lowered barriers to foreign ownership, bank mergers | Massive overhaul urged on foreign investment in airlines, media, and banks | Bilderberg Seeks Bank Centralization Agenda | Secretive Bilderberg Group Reverses Policy, Releases Press Release and Attendance List | Banks face "new world order," consolidation: report