Sunday, May 11th, 2008
Kevin Freking, Associated Press
May 11, 2008

Families get day in court; medical community skeptical of claims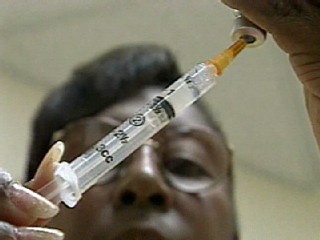 WASHINGTON (AP) — The Institute of Medicine said in 2004 there was no credible evidence to show that vaccines containing the preservative thimerosal led to autism in children. But thousands of families have a different take based on personal experience.
Some of them are going to court Monday as attorneys will attempt to show that the mercury-based preservative triggers symptoms of autism.
Two 10-year-old boys from Portland, Ore., will serve as test cases to determine whether many of the children and their families should be compensated. Attorneys for the boys will attempt to show the boys were happy, healthy and developing normally – but, after being exposed to vaccines with thimerosal, they began to regress.
Thimerosal has been removed in recent years from standard childhood vaccines, except flu vaccines that are not packaged in single-doses. The CDC says single-dose flu shots currently are available only in limited quantities. In 2004, a committee with the Institute of Medicine concluded there was no credible evidence that vaccines containing thimerosal caused autism.
Overall, nearly 4,900 families have filed claims with the U.S. Court of Claims alleging that vaccines caused autism and other neurological problems in their children. Lawyers for the families are presenting three different theories of how vaccines caused autism.

Full Story | See Also: Bush To Veto Ban On Mercury In Vaccines