Monday, April 30th, 2007
CNN.com
April 30, 2007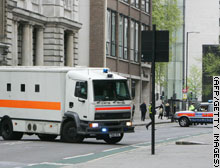 LONDON, England (CNN) — Five Britons have been found guilty of plotting to carry out al Qaeda-inspired bomb attacks across Britain on targets ranging from a nightclub to a shopping mall.
The gang planned to use 600 kg (1,300 lb) of ammonium nitrate fertilizer to make explosives to be used in bombings in revenge for Britain's support of the United States in the aftermath of the September 11, 2001, attacks, prosecutors said.
Details of the case — previously kept secret to ensure a fair trial — reveal previously undisclosed ties between the five men, the suicide bombers who attacked London's transport network in 2005, and other al-Qaeda linked cells. (Full story)
Omar Khyam, Waheed Mahmood, Anthony Garcia, Jawad Akbar and Salahuddin Amin were convicted of conspiring with Canadian Mohammed Momin Khawaja to cause an explosion likely to endanger life.
Garcia and Khyam were found guilty of possessing an article for terrorism — the fertilizer, and Khyam was also convicted of having aluminum powder — an ingredient in explosives.
The men denied all charges.
Khyam's brother Shujah Mahmood and another man Nabeel Hussain were found not guilty of being involved in the plot.
During the UK's longest terrorism-related trial, lasting more than a year, prosecutors said the men had only to decide on a target when they were arrested in 2004 before carrying out what would have been the first homegrown attack by Islamist militants.
Police swooped on the suspects about 16 months before four British Islamists carried out suicide bombings on London's transport system in July 2005, killing 52 commuters.
The main prosecution witness in the case was Mohammed Babar, a Pakistan-born American who has admitted to terrorism-related offences in New York. He said he was the men's accomplice and had helped get materials to make the bombs.
The prosecution said the men had discussed targets including London's biggest nightclub — the Ministry of Sound — gas, water and electricity supplies, synagogues, trains, planes, and a large shopping center, Bluewater, east of the capital.
Babar said some of the suspects had also suggested poisoning fast food takeaways and beer at soccer matches.
British police said the scale of their operation, codenamed "Crevice" was, at the time, the largest anti-terrorist action they had carried out.