Heather Pringle, Saturday Night Magazine
June 1997
Physical and sexual assault. Forced sterilizations. Experimental surgery. What might be the worst case of institutional abuse in Canadian history happened at Alberta's Provincial training school. And the man ultimately responsible for the facility, Premier Ernest manning, kept his first-born son there.
For nearly seven decades, Alberta's Provincial Training School for Mental Defectives was considered a progressive facility: humane, well run, evolving as attitudes towards feeble-mindedness evolved. Opened in 1923, it perched foursquare on the valley rim of the red Deer River, high above the city's prosperous houses, and over the years, while "inmates" metamorphosed into "trainees," "trainees" into "students," "students" into "clients," the original custodial care was upgraded to include occupational therapy and vocational training, and then supplemented by fashionable efforts to reintegrate residents into the mainstream. The school came not only to be Red Deer's biggest employer but to boast its own working farm, elegant gardens, and well-equipped classrooms, plus a small village of neatly-painted dorms, and even its own freestanding clinic and surgery. Involved with the community, it staged Christmas pageants and supplied the local county fair with crafts. It hummed with purpose, seemed a model of its kind – certainly good enough for the province's leading families when they needed such a place. For a number of years Ernest Manning, premier of Alberta from 1943 to 1968, entrusted his eldest son, Keith – brother of Reform Party leader Preston Manning – to the school, and visited him there often.
Then two years ago, out of the blue, came the sensational court case in which a former "client", Leilani Muir, by then fifty-one, sued the Alberta government for wrongfully admitting her to the training school, classing her as a moron, and, when she began to menstruate, presenting her to the province's Eugenics Board for an order to have her sterilized, under legislation designed to prevent mentally defective children from passing on their genes. She was told they were taking out her appendix. This was in 1959.
In 1965, after walking out of the school under her own steam, Muir discovered that she's been rendered incapable of havnig children. Twenty-four years later, in 1989, and IQ test revealed that her intelligence was perfectly normal. She'd been living in Victoria, British Columbia, and working as a waitress. That fall her lawyers began legal action against the province of Alberta to recover damages. The government fought and stalled for seven years, but the case eventually came to trial, and on January 25, 1996, in a landmark decision, the provincial Court of Queen's Bench ruled in Muir's favour and awarded her $740,000 in damages, and another $230,000 in legal costs.
Leilani Muir's case was, as it turned out all too soon, only the tip of the iceberg.
Slender and stooped after more than twenty years of living alone, Glen Sinclair slides into a seat in his kitchen in Red Deer, hands full of Manila envelopes which he fans across the canary-yellow Formica table. In the living room, antique soft-drink bottles gleam softly from high wooden shelves, evidence of a visual sensibility. Sinclair, fifty-three, is a graphic artist. But just now he is not interested in his work or his surroundings. Picking up the fattest envelope, he shakes loose a torrent of clippings from the Muir trial.
Though Sinclair is still struggling to unearth the whole truth of what happened to him nearly forty years ago, his story strongly echoes hers. Muir was the child of an abusive Polish drifter of a mother. Sinclair was the abandoned son of a hard-drinking Cree woman from slave lake. Muir arrived at the school in 1955 when she was twelve. He arrived at the age of seven, in 1951.
He cried himself to sleep for weeks, terrified of his new home and his keepers with their clinking key chains and hospital whites. It was a fear he never overcame in the nearly twenty years he spent there. "I was always just hoping I could pull through to the next day kind of thing," he says.
Stripped of all privacy and forbidden even to step outdoors without permission, the boys in Sinclair's dormitory lived under constant surveillance. Even in the stuffy months of summer, he recalls, their bedroom windows could never be opened more than six inches – a measure to prevent escapes. Any sign of rebellion, any act of resistance, was met with swift punishment up to and including strappings, injections of tranquillizing drugs, and confinement in straitjackets. Any expression of sexuality whatever brought weeks of solitary confinement in one of the school's notorious quiet rooms: bare concrete cells equipped only with drains and, at night, foam mattresses. Sinclair soon learned to stifle his passions.
Shortly before his sixteenth birthday, Sinclair received word he was wanted in the administration building. Shown into the boardroom, he found the medical superintendent, Dr. Leonard Jan le Vann, and the school matron, with four strangers. There was a dossier open on the table, but it wasn't explained to him. In fact nothing very much happened. The strangers put a few simple questions to him. Then they sent him on his way. Relieved, Sinclair assumed it was just another test. But, three months later, shortly after his sixtenth birthday, the uncomprehending teenager was taken to the school's clinical building, prepped for surgery, and wheeled into the operating theatre. There, a surgeon made two deep incisions in his genitals that severed his vas deferens and rendered him surgically sterile. Then Sinclair was returned to the school for another eleven years of confinement.
It wasn't until the Muir trial that Sinclair learned the four strangers in the boardroom had been Alberta's eugenics board. It was only in the aftermath of the trial that he learned they had authorized his sterilization in spite of news that had just been added to the dossier on the table before them: in a recent round of psychological testing Sinclair had scored well enough in one IQ test to fall into the thin grey zone between retardation and low-normal intelligence; in a second test he had landed squarely in the normal zone. Sinclair was not mentally retarded at all.
Leaning back in his kitchen chair today, his eyes a mirror of frustration and grief, Sinclair can scarcely believe what happened. "They did not tell us what the purpose of the operation was," he says angrily, almost spitting out the words. "I didn't understand what was going to happen." Never marrying, never really fitting into society no matter how hard he tried, Sinclair has spent most of his life struggling to overcome his past. But after decades of shame, he is no longer prepared to be silent; the month after the ruling in Muir's favour, he launched his own lawsuit against the Alberta government.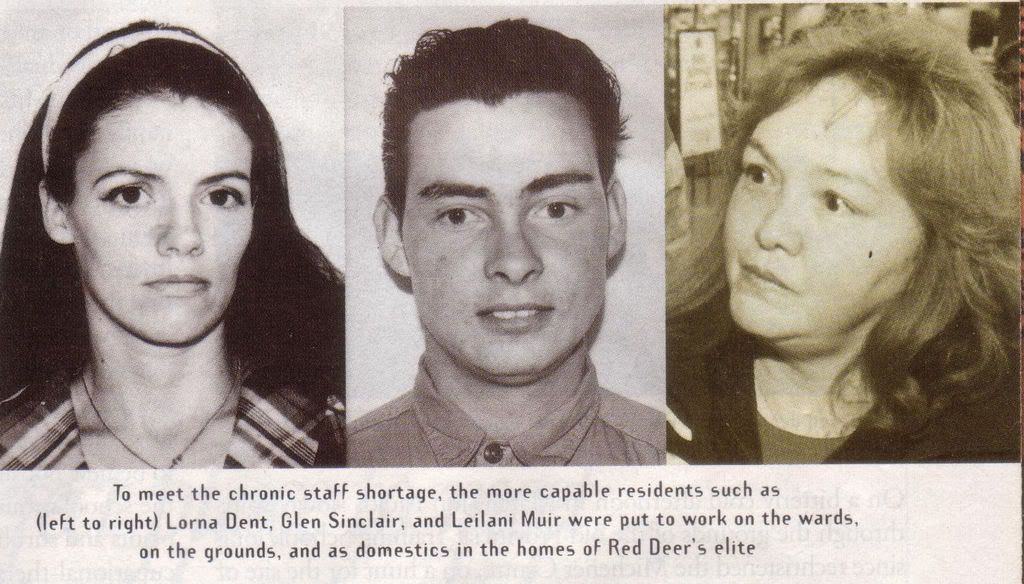 Take his story as symptomatic: to date, educated by Muir's victory, nearly 700 former patients – including more than 500 dependent adults represented by a public trustee – have stepped forward to file similar suits alleging abuses from as far back as the 1930s. None of these cases has yet been tried and not all the claims may be as strong as Muir's, but from their combined allegations a terrible picture is taking shape: of a careless, capricious, deeply amoral institution than punished handicapped kids for having ordinary sexual urges; that exploited normal but unwanted children as unpaid labour; that couldn't – or didn't – prevent heterosexual and homosexual assault and violent physical abuse on its spotless wards; and that used surgery and drugs for mere convenience, or worse. According to expert witnesses in the Muir trial, some thirty infertile Down's syndrome boys suffered the removal of at least one testicle to provide tissue samples for research projects. Meanwhile, the province's Eugenics Board wielded its lawful powers with such giddy righteousness that sterilization of the most capable training-school inmates at puberty was not the exception but the rule.
As lawyers toil over one of the largest legal actions ever undertaken against a Canadian government for mismanagement of an institution, it seems legitimate to wonder just how eugenics legislation passed in Alberta in the first place, and why it lingered on the books until 1972 – nearly a quarter of a century after compulsory sterilization was labelled a crime against humanity. Also to wonder how officials on the Eugenics Board and at the Provincial Training School coudl live with themselevs and what they'd got up to, and why Ernest Manning's Social Credit government, in power for the whole heydey of the Training School, turned a blind eye on a situation of which it was well aware. The facts now coming to light on what really went on behind the doors of this "model" school, and in the secret hearings of the infamous Eugenics Board, reveal such systematic abuses against defenceless children, and such breathtaking breaches of public trust, that they threaten to overshadow all other examples in recent Canadian history, from Dr. Ewen Cameron's notorious brainwashing experiments on patients in Montreal to the horrors of Mount Cashel.
A century ago, when the eugenics movement was born in the genteel parlours of Victorian England, its progressive, upper-class proponents had no idea where it could lead. Impressed by the advances that sceintific stock-breeding had produced in English agriculture, Francis Galton, a cousin of Charles Darwin and an early student of psychology, suggested a similar breeding programme for humans. he had become convinced that intelligence was heritable and that "like begat like." Galton proposed that only the brightest – and therefore the most socially successful – men and women should procreate. As he put it, "The average citizen is too base for the everyday work of modern civilization." In his peculiar utopia, government officials would grant suitable individuals "eugenics certificates" and list undesirables on a national index.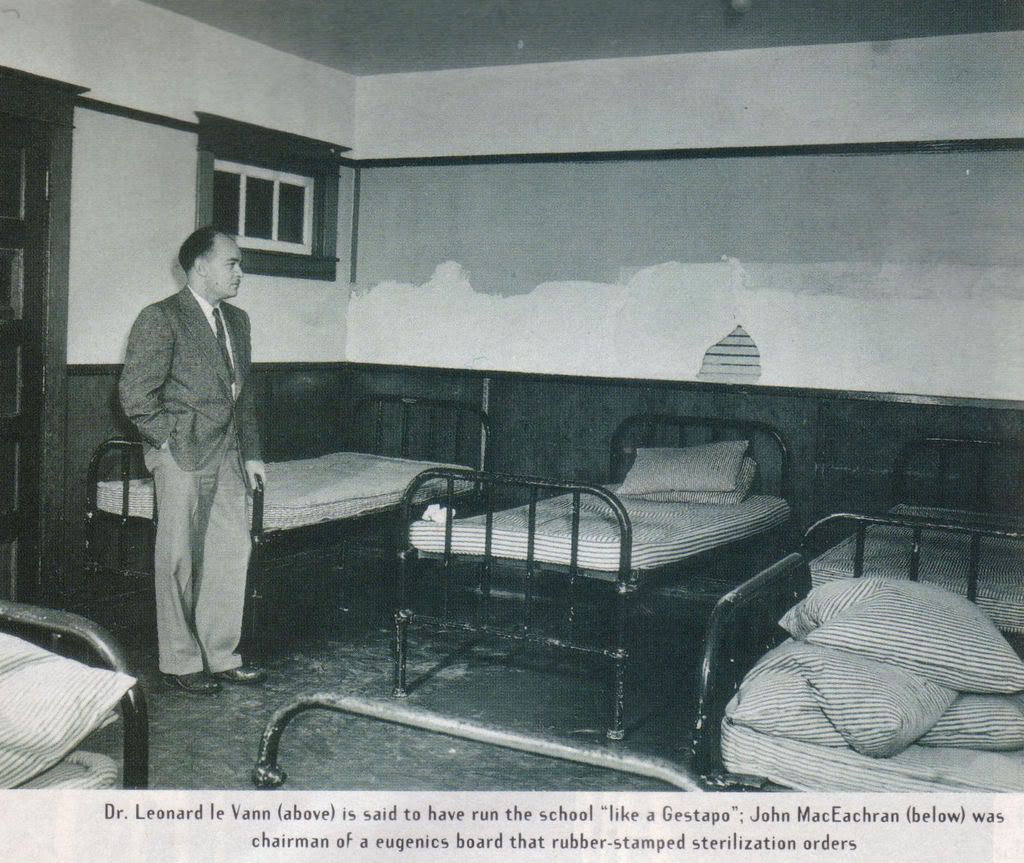 Galton's ideas soon fell on fertile ground. In France and the United States, researchers were refining the first tests to emasure human intelligence, permitting teachers in public schools to sift out normal from subnormal children. Eager to put this shiny new tool to work, social workers and others in the United States began running IQ tests in reformatories, prisons, and homes for unwed mothers. The results shaped scientific opnion for decades: most of the inmates, reported researchers, possessed subnormal intelligence. Worse still, community workers elaborated, these felons, deviants, and prostitutes bred far more prolifically than respectable citizens, threatening to swamp civilized societies with their numbers.
Alarmed experts clamoured for quick action. Confining and quarantining the criminal underclass in institutions would be an expensive proposition: sterilization promised a cheaper solution. And, if like begat like, if thieves and delinquents begat even more thieves and delinquents, wasn't it reasonable to snap this link of procreation? By 1912, eight American states from New York to California had passed sterilization laws, and physicians armed with the results of IQ testing in the public school system had begun institutionalizing and sterilizing low scorers.
Canadian physicians were quick to take up the cause. While many advocated sterilization soberly, as a sad necessity, other seemed to relish their newfound role as social engineers. Helen MacMurchy, first chief of the federal Division of Maternal and Child Welfare in Ottawa, for example, was at pains to point out the special dangers posed by what she called "the feeble minded": borderline cases who could pass as normal in society. "It was almost like germ theory," explains the University of Victoria historian Angus McLaren, an expert on the origins of Canada's eugenics movement. Just as a person who appeared healthy might contain a terrible infectious disease, so too could normal-seeming borderline cases carry the genes of hateful vice.
MacMurchy and others who urged public action met a particularly warm response among prairie reformers, ever impatient for a safe, sanitary New Jerusalem. J.S.Woodsworth and Tommy Douglas briefly took up eugenics, as did such leading feminists as Nellie McClung and Emily Murphy. Indeed, Murphy set aside her more celebrated battle to obtain recognition of women as persons under the law to tour Alberta in 1926 with fervent speeches and films taken from the province's mental institutions. "We protect our public against diseased and distempered cattle," she wrote in one of her many articles. "We should similarly protect them against the offal of humanity."
Mesmerized, women's groups lobbied hard for legislation and in due course the United Farmers of Alberta governnment drafted the Sexual Sterilization Act. Under its provisions, an appointed board would be granted authority to order sterilization of any person suffering from mental defect – defbtained the individual's consent. As its supporters trumpeted, such an act would permit institutions eventually to discharge the mentally defective safely into the community – thereby saving thousands of dollars that could be funnelled inot more popular causes, such as infantile paralysis. In 1928, the act passed. A year later, a four-member Eugenics Board was set up, headed by a University of Alberta psychologist named John MacEachran.
British Columbia soon followed suit with its own sterilization law, but in Ontario, Quebec, and Manitoba, politicians anxious about the Catholic vote rallied to oppose what was in fact legalized surgical birth control. Meanwhile, if anyone in public life had bothered to r Mendel, geneticists had begun studying heredity in humans. In the process, they uncovered Galton's error. In the case of medical disorders caused by recessive genes, like did not begat like. For those triggered by dominant genes, a parent had only a fifty per cent chance of passing on the defect to a child. Furthermore, dozens of different causes lay at the root of arrested mental development. Many – including brain injury, severe emotional disturbance, and fetal infection by diseases such as German measles – had nothing at all to do with flawed genes.
But in Alberta, the Eugenics Board showed little interest in such scientific developments. It was already out touring the province, examining the candidates proposed for sterilization by the various mental institutions: the Provincial Training School for mental Defectives became the board's major stop. The board held its hearings in private, and at first spent as much as half a day per case. Later, judgment was to become much swifter.
In a sunny dining room at the University of Alberta faculty club, geneticist Douglas Wahlsten leans back in his chair, gazing out on skeletal trees and a barren field of February snow. An expert on heredity and behavior, Wahlsten is a cautious researcher and he and his associates have spent months tracking down and examining records of the Eugenics Board and its chairman, John MacEachran. MacEachran is a bit of a mystery man. Over the decades, the other three members of the board were drawn from a roster of sympathetic physicians, psychologists, scientists, and political appointees. But MacEachran – trim and fine-boned with an accountant's love of precision – clung to the chairmanship like a bull terrier for nearly forty years. At the same time he was exceptionally discreet, and Wahlsten has had some difficulty compiling even the slender information he now has. There's one thing, though, that Wahlsten says is amply clear: "John MacEachran never made the slightest attempt to ascertain whether any of these kids really did have a genetic disorder." Pushing away his plate, Wahlsten marvels at the darkness of a man who showed some early brilliance.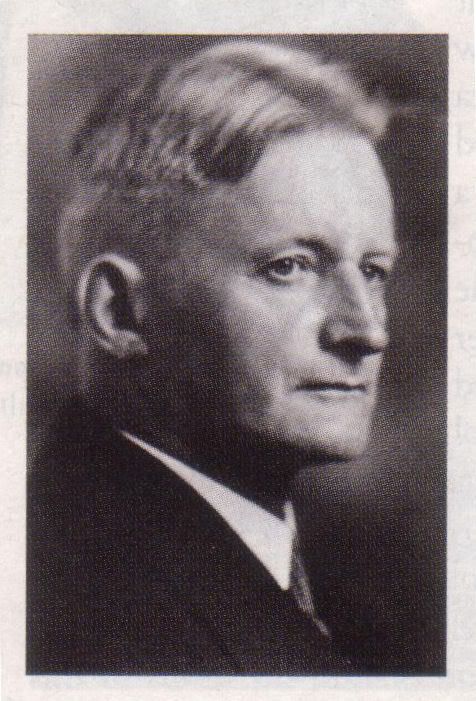 Born in 1878 at the village of Glencoe, forty kilometers west of St Thomas, Ontario, MacEachran developed a fascination with the social sciences, gravitating to Europe where he earned a doctorate in psychology from the University of Leipzig and later attended classes at the Sorbonne in Paris under the philosopher Henri Bergson and the sociologist Emile Durkheim. At length returning to Canada, he landed a job in 1909 as head of philosophy and psychology at the University of Alberta, thereby becoming the province's resident expert in the social sciences. When he took up the cause of eradicating human imperfection by means of eugenics, he was a key convert. Once installed on the eugenics board, he set about promulgating his views vigorously, crisscrossing the province to deliver speeches to the United Farm Women's Associations and other receptive audiences. He was fond of quoting Plato's Republic, in particular the passage in which Ascepius, the greek god of healing, refused to "lengthen out good-for-nothing lives, or to have weak fathers begetting weaker sons." The Social Credit government of William Aberhart, which came to power in 1935, and was keen on speeding up the works, expanded the baord's powers in 1937 by dispensing with the need to acquire consent for sterilization from mental defectives; five years later, another Social Credit majority broadened the net to include some individuals with epilepsy and Huntingdon's chorea.
But even as Aberhart, the young Ernest Manning, and other Social Credit members were registering their endorsement of eugenics, other observers, such as the future NDP leader Tommy Douglas, were repudiating it in the wake of revelations from Germany, where thousands of mentally retarded citizens were being sterilized and later gassed, in the service of Nazi master-race theories. It was the start of the Holocaust. By the late forties, in the forum at Nuremberg, the civilized world had judged forced sterilization a crime against humanity.
Not, apparently, MacEachran. MacEachran simply began to keep his head down. "There was a deliberate attempt to keep a very low profile on the part of the sterilization board," says Jon Faulds, an Edmonton lawyer who served as lead counsel for Leilani Muir. Board meetings were conducted in private; board records were published only as statistics in the annual report of the department of health. Even staff at the Provincial Training School in Red Deer, the board's major client, were kept largely unaware of who sat on the board or what they were doing. "Nobody ever saw them except the matron and the doctor," recalls John Curr, a former nursing instructor and charge nurse at the Provincial Training School. "It was all very secretive and hush-hush."
Behind the closed doors of the boardroom, however, MacEachran and his colleagues had by the late forties fallen into a smooth routine. They took their places at the table with the school's medical superintendent and matron; they thumbed through the case histories of the sterilization candidates proposed by the institution. These were not the complete files but only terse summaries of the child's IQ-test results, sexual behavior, school behavior, and family background, with particular reference to any criminal activity, alcohol or drug abuse, or promiscuity on the part of parents; they seldom exceeded a page and a half. Then the children were called in one by one. "And it was never clear to me," says University of Alberta law professor Gerald Robertson, "what the purpose was of having the patient there and how it added to things, because they weren't given the opportunity to speak against the motion, as it were." All the children were asked to do was answer a few questions, random and seemingly pointless.
"They asked me 'Who is the premier of this province?'" recalls Viola Brown, a retired Edmonton proofreader admitted to the school more than forty years ago by an abusive father. "Then they prompted, and said, 'Well, he's a nice man.' And bingo, I had it. Premier Manning."
As the years passed, MacEachran grew more and more practiced, more and more perfunctory. Where cases had once taken half a day apiece, the board now crammed dozens into a morning or an afternoon. During the 1950s and 1960s, judgment sometimes occurred every five minutes or so – less time than many people take to pick out a video for an evening's rental.
Moreover, as evidence at the Muir trial revealed, the fates of the children during this period had been sealed long before hearing day. Placing an abiding faith in the school's medical superintendent, Dr. Leonard le Vann, hired in 1949, the board hardly ever turned down any case he presented, even when the child's IQ greatly exceeded seventy, the upper cutoff for sterilization. While researching the board's decisions, the law professor Gerald Robertson was astonished to find only a handful of rejected cases among nearly 900 files from the school. "And in several of these, the form [authorizing sterilization] had been signed prior to the meeting. The chairman's practice seems to have been to sign them all off before the hearings began. I guess it was faster that way."
On a bitterly cold afternoon in March, Jon Faulds slowly spins through the grounds of the old Provincial Training School, long since rechristened the Michener Centre, on a hunt for the site of the clinical building that Dr. le Vann pushed for and finally got built to facilitate the sterilizations and his own research. Fresh from a morning meeting to discuss legal tactics for the forthcoming trials, Faulds, forty-five, peers through the windshield while a lawyer from another Edmonton firm, Allan Garber, points out where some of the school's other landmarks used to stand. The once sprawling facility still serves the mentally handicapped but it seems to have shrunk. The dairy farm and grain fields are gone, sold to developers, the old dorms largely vanished. There's no obvious sign of the surgery. "We came here before the trial with Leilani Muir and looked for it," says Faulds, finally. "I'm not sure, it might be gone."
But the red-brick building that once served as the school's headquarters still stands, scarcely touched by time. In fact, it looks much as it did when a cultivated young American with a plummy British accent arrived to take charge of the Provincial Training School nearly fifty years ago. Born and raised in the eastern United States, and trained as a physician in Scotland, Leonard le Vann introduced himself to staff as both a surgeon and a psychiatrist – dual qualifications that would permit him not only to assess students but occasionally to perform sterilizations when local physicians were unavailable.
According to evidence presented at the Muir trial, le Vann never received accreditation anywhere as a psychiatrist. On the other hand, he seems to have known how to keep a secret. After his death in 1987, le Vann's first wife reportedly old a friend she'd ben shocked to discover that he had changed his name as a young man and concealed his Jewish ancestry from everyone.
As it turned out, the Alberta government could scarcely have hired someone less sympathetic to the job of caring for retarded children. Brusque, formal (he was seldom seen out of suit and tie), moody, quick to anger, and an obvious intellectual snob, le Vann displayed only the most chilly clinical interest in all but a few of his charges. "The picture of comparison between the normal child and the idiot," he noted in an aside in a 1950 article, "might almost be a comparison between two separate species. One the one hand, the graceful, intelligently curious, active young Homo sapiens, and on the other, the gross, retarded, animalistic, early primate type individual." Around this time, Glen Sinclair became a trainee.
Le Vann's Irish predecessor had done his best to foster a warm, family atmosphere for the children. Le Vann put his energies elsewhere – networking in the city of Red Deer, for example. Before long, he had made friends with MacGregor Parsons, a surgeon and a future head of the Canadian Medical Association. In time he was invited to join Parson's weekly poker game. Eventually, after his first marriage ended in divorce, he married Parson's daughter.
At work, le Vann embarked on enlarging the aging school and transforming it into an institutional showplace. He concentrated much effort on wheedling money for his building programme from the Social Credit government of Ernest Manning. There was to be new housing to accommodate 400 or so of the children on the school's waiting list; there was to be his new clinical building; there was to be a Superintendent's home. And there was to be a caste system: dividing the children into groups according to perceived intelligence, the staff placed the brightest and most capable into dorms containing rows of small private bedrooms. Those with the more severe mental and physical disabilities were assigned to huge open wards in separate buildings.
As the institution grew, as the trickle of children became a flood, boosting the resident population 500 per cent to some 1,400 students in 1959, senior staff struggled to hold things together. Few psychologists or other professionals, it transpired, would take jobs or stay for long in an institution for the mentally handicapped, no matter how well groomed it was. In desperation, le Vann once hired for the position of head psychologist someone with no training at all in the crucial technique of IQ testing. As for attendants and nursing aides, in a city like Red Deer, with a population of less than 30,000, the labour pool was tiny. "Your qualification was grade twelve and they hired just about anybody," recalls one former employee. "As long as they didn't have a criminal record."
Le Vann soon began putting the more capable children to work. Earlier administrators had done the same but had sought a balance between education, chores, and play. Le Vann followed the workhouse model. Hidden away on institutional wards, teenage girls spent their days scrubbing floors, making meals, and dressing and changing the diapers of severely disabled patients. Outside on the grounds, adolescent bys were set to threshing and milking cows. Recognizing a remedy for his labour shortage, le Vann began openly favouring admission of "high-grade" trainees. At a time when marginal farms were vanishing from the province like dinosaurs at the end of the Cretaceous, and rural families were being forced into the city, many parents had no time for children who suffered from difficult medical conditions – particularly in an era before medicare. Foster homes and other facilities were just as uninterested. The Provincial Training School was an easy out.
If the high-grade children themselves burned with resentment, and made trouble on the wards, le Vann had a solution for that, too: enroll them in experimental drug trials. While reading over her own school chart, Leilani Muir was astonished to discover regular doses of Phenobarbitol, chlorpromazine, and haloperidol – powerful tranquillizers usually reserved for the psychotic. She hadn't realized she'd been doped, but other former students still recall the zombie state the medications produced. One of them is Lorna Dent, now an Edmonton resident, who suffered from a neurological disorder akin to multiple sclerosis, and was committed to the school by her stepfather: "I felt like a machine," she says, "and that people had put things in my head. Make bed. Go to work. Feed kids. Dress kids."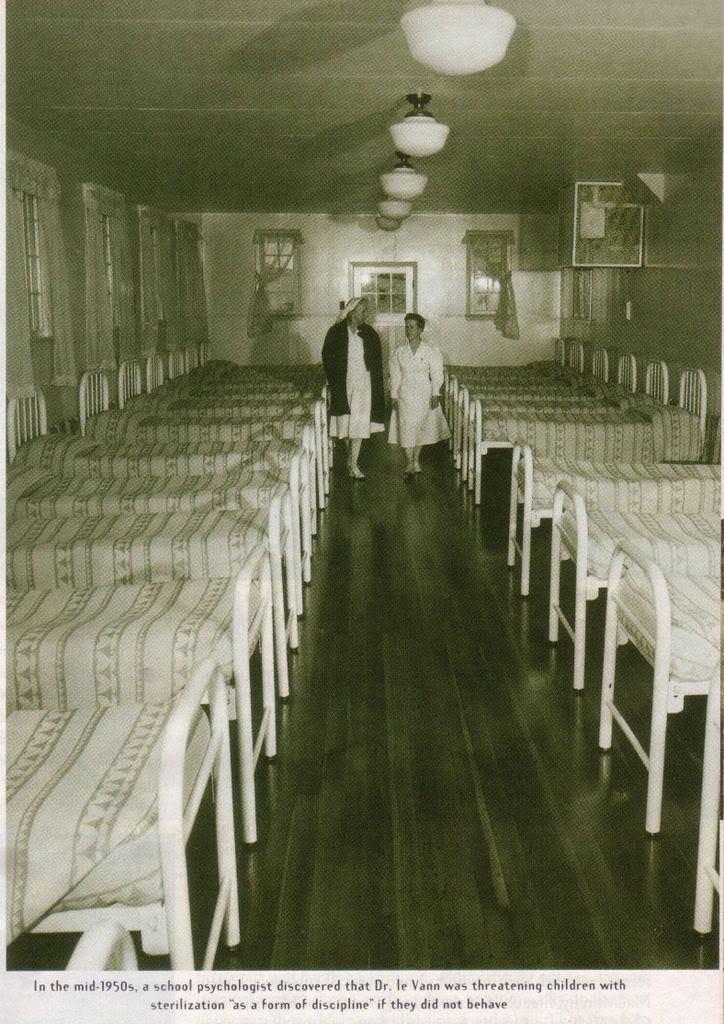 Le Vann's attention to detail was legendary. Nurses, for example, were instructed to line up tiny rows of spruce-tree patterns on the children's bedspreads so they'd follow straight lines across forty beds in a dorm. Change nurses were enjoined to keep copious ward notes on everything from children's bowel movements to their interest in the opposite sex. And no-one – attendant, nurse, charge, matron – was permitted to speak to a superior, unless spoken to. At the apex, le Vann ruled supreme. According to Gordon Bullivant, a prominent Calgary educator who worked as a psychologist at the school during the 1960s, he "ran the institution almost, I hate to use this word, like a Gestapo."
In the mid-1950s,a school psychologist, Laughlin Taylor, discovered that le Vann was threatening children with sterilization if the did not behave. "He was actually saying this as a form of discipline to some of them," recalls Taylor, now the head of neuropsychology, at the Montreal Neurological Institute. In his private studies, le Vann proved just as icy. His personal research into the formation and development of sperm in Down's syndrome boys, for example, called for human testicular tissue. To lay hands on suitable supplies, he presented Down's syndrome boys from the school to the Eugenics Board on fifteen occasions between 1953 and 1971, requesting not just vasectomy but the complete removal of a testis. Medical experts had already discovered that Down's syndrome males – then called mongoloids – were incapable of fathering children, but MacEachran's Eugenics Board – which boasted one of Canada's leading medical geneticists, Margaret Thompson, on its roster for a year and a half during this period – approved the surgery anyway.
Thompson, who has the Order of Canada, testified at the Muir trial. Under questioning, she agreed that her own textbook, Genetics in Medicine, recognized that there were no known cases of mongoloids fathering children. But, she said, nothing would be lost be sterilizing them "to make assurance doubly sure."
Le Vann, too, advocated precautionary sterilization. To boost discharge rates from the institution – a sure way to curry favour with the cost-conscious Social Credit government – he set up a new vocational programmed whose goal was to help reintegrate his regimented trainees into the outside world. To this end they were sent of as day labourers and domestics to the homes of Red Deer's professionals. As le Vann saw it, the only snag was the potential for a sex scandal. "He said this was another reason [the students] should be sterilized," recalls Taylor. "The school couldn't afford to have someone impregnated in the community."
Similar worries about public image may have prompted other controversial requests by le Vann to the Eugenics Board. Young lesbians, for example, were proposed for oophorectomies – complete removal of the ovaries – instead of the more commonplace excision of the fallopian tubes. Such invasive surgery did much to extinguish sexual desire. Similarly, castration was requested for the most sexually aggressive boys.
John MacEachran complied with almost everything asked of his board, briskly signing sterilization order after sterilization order: for battered children who later graduated from grade twelve; for native kids from families who spoke only Cree or Blackfoot; for abused girls whose complaint was incest or sexual assault in their family homes; for bewildered teenagers with hearing or speech problems, cerebral palsy, multiple sclerosis, rare genetic defects of the hands or feet. Never once did MacEachran stop to question who these frightened children really were, or why the school's ambitious medical superintendent wanted them rendered barren.
In early 1952, a poignant ten-page letter landed on the desk of Premier Ernest Manning. Penned by a middle-aged Calgarian, it described in detail wheat had befallen the correspondent's sixteen-year-old son, who was a resident of the Provincial Training School. It seemed that, a few weeks earlier, staff members had caught the boy talking alone with a female student behind one of the buildings. This was forbidden. The boy was according bundled off to one of the school's quiet rooms, and there, a day later, an attendant had found him, lying dazed in a great pool of blood amid a litter of shards from an earthenware chamber pot.
The teenager was rushed to a Red Deer hospital, where he was treated for a five-centimeter deep wound to the groin. A week later he was still pale and weak from loss of blood. School authorities, however, brushed off the incident, intimating that the boy, "a confirmed masturbator," was himself to blame. The father had a different theory. His son was a severe epileptic. With its chronic staff shortage, he suggested, the school had failed to detail someone to keep an eye on the boy. Locked in a hot, stuffy room alone, he had suffered a major seizure.
The writer took the opportunity to unburden himself to the premier about other disturbing school practices, clearly confident that the Christian preacher whose "National Bible Hour" broadcasts echoed over the airwaves each Sunday would be sympathetic. "It is easy to love children that are clever," he concluded sadly, "but I think it takes grace to love these unfortunate ones."
Manning's two paragraph reply is preserved in the provincial archives. Promising vaguely to improve educational facilities in the school, the premier sided squarely with the school's administration. "I feel that the staff of the Training School is doing everything possible within existing facilities to give proper care to the youngsters at the Training School."
True to his vague promise, the premier and his government in due course found funds for le Vann's ambitious schedule of improvements at the school. Then, around 1960, the premier committed to its care his eldest son, Keith, who was afflicted with both epilepsy and arrested mental development as the result of a birth injury. The Mannings had spent much time and money chasing a cure and had finally sent the boy away to a New York State school. But according to Preston Manning's autobiographical reminiscences in The New Canada, American medical care for Keith had stretched the Manning family budget to the limit. The Red Deer school offered welcome relief.
And there, in Pine Villa, in the Small Boys section of the school, the premier's son, then a young man, was ensconced, to be treated "like royalty," according to Glen Sinclair, who roomed next to him for a time. It was one of the more cynical chapters in the training-school saga. Everyone seemed to know who Keith was, showering him with privileges and the small acts of kindness so notably missing from the other's lives. While everyone else slept four to a bedroom, Keith got a special double room, number ten Pine Villa, and was permitted to pick his own roommate. As a rule, personal possessions were discouraged; Keith was free to keep games, snacks, and even a typewriter in his room.
School officials frowned on family visits, but Keith's parents dropped in at least once or twice a month on their way to Calgary for the premier's weekly "Bible Hour." They often took him along for a day trip. Instead of continual chores, Keith, in his late teens or early twenties, got piano lessons. More enviable still, Keith, who had an explosive temper, was handled with kid gloves. "They'd take him out for a walk and try to calm him down," recalls a former resident, Donald Passey, who ended up at the school despite a recent test that indicated he has an IQ of 113. "Or they'd go to his room and try to discuss things with him." In contrast, Passey remembers being disciplined by a staff member who pinned him to the wall and slapped and punched him; another resident lost part of his finger when an employee deliberately kicked a door shut on it. Even the most profoundly impaired children were sometimes beaten.
Keith Manning remained at the school for several years. Just how far the red-carpet treatment went to protect him from the Sexual Sterilization Act is unclear. He married in late middle age, though he remained childless, and succumbed to a brain tumour in 1986 while living in a nursing home in Edmonton. Preston Manning has firmly declined to be interviewed about his brother.
But there were other Keith Mannings, for kids from powerful families turned up surprisingly often at the school. At one point, as the Red Deer archivist, Michael Dawe, notes, "The premier, the MP [for Red Deer], and the MLA all had family members in there." There's no question that they got better treatment than other residents.
In return, their political-heavyweight parents backed the school. Thus did the attempts to right abuses fall on deaf ears. In 1963, for example, David Gravells, the NDP riding president for Calgary West, called for a public investigation of what he called a "mass program of sterilization" at the school which he'd been put onto by friends among the staff. His report to a constituency meeting hit papers as far away as New York and Birmingham, England. But the Social Credit minister of health, Donovan Ross, denied any wrongdoing. And other resistance, says Gravells, emerged from within the NDP itself. "One of the principal people in my organization had a child in the Provincial Training School and who had been sterilized. And he thought it was the most wonderful thing."
In the mid-1960s, surgeons at the old red-brick University Hospital in Edmonton began taking notice of a succession of young female ex-trainees – nearly a dozen over a three-year period – who arrived pleading tearfully to have their fertility restored. While little could be done for the women surgically, news of their plight soon leaked out and, in 1968, a University of Alberta geneticist brought the matter to the attention of Peter Lougheed's young legislative assistant, David King. King was eager to examine the Sexual Sterilization Act for himself, and searched for it in the Revised Statutes of Alberta. It wasn't there. He finally located it at the very back of a book in a small table listing inoperative legislation. "In other words, it had sort of lapsed from people's attention," says King today, "but not lapsed judicially or in terms of the statute." Indeed, far from being inoperative, the Eugenics Board was continuing to act under its power.
After forty years, MacEachran had finally stepped down in 1965, but there was a new chairman, Kenneth Thomson, an Edmonton psychiatrist who would become president of the Canadian Medical Association. In 1969, under his aegis, sixty-three Albertans were sterilized.
But Lougheed's Conservatives, who had committed themselves to reforming the province's mental-health system, began to push for repeal of the Sexual Sterilization Act. "The legislation was repugnant," says King. "If or when we formed the government, it would be one of the first things to go."
And so it turned out. The Conservatives won handily in 1971. The first bill they passed was the Alberta Bill of Rights. Right on its heels came the repeal of the Sexual Sterilization Act. In its forty-four years in force, 4,278 sterilizations had been authorized. A study by a law professor at the University of Alberta suggested a consistent bias against minority groups: Indians and Metis, predictably, but also Poles, Ukrainians, and other eastern Europeans.
In Red Deer, le Vann pronounced the repeal "ill-advised and regressive." Conservative officials simply ignored him. Closing wards and tearing down dorms at the old Provincial Training School, they were moving on to a newer development in the care of the mentally handicapped: open group homes in the community. Le Vann resigned in 1974. In 1977 what was left of the school was renamed the Michener Centre.
But for Glen Sinclair and hundreds of other survivors of Alberta's crude experiments in social engineering, the past is not over. Having fled from the school in June of 1970, with just sixty dollars in his pocket, Sinclair worried for years that someone would appear one day with orders to return him to the institution. For a while, indeed, while he was living in a group home in Edmonton, long before he finally moved back to Red Deer, a social worker did call from time to time. "He was always wondering where I was at, what I was doing. I finally said, 'I'm discharged now. Leave me alone. I don't have anything to do with you people any more.'"
But of course he has. Sitting in his small kitchen today, gathering up the faded clippings, Sinclair still feels the stigma of being classified a defective, the injustice of his sterility, and the utter humiliation of his confinement. People, he says sadly, always manage to find out where he's from.
Source | See Also: Mounties pinned me down in cell and tasered me, Manitoba girl says | Population control thinktank to Britons: Have less children | The evolution of baby-making | Remembering Brainwashing | Don't blame right-wing thugs for eugenics – Socialists made it fashionable | Canada hears of native abuse pain | Despite criticism, electroshock therapy commonly used in depression | Location of Mass Graves of Residential School Children Revealed for the First Time; Independent Tribunal Established | Government knew of HIV risk from imported blood | Canadian MKULTRA project mind control victim to tell of pills, shocks, brainwashing